Greet Them With Bread and Bring Forth The Salt!
Bay Area Ukrainians show their support through traditional folk dancing.
April 15, 2022
They wear flowers and ribbons in their hair that bounce around their shoulders, blowing in the wind as they twirl to the sounds of Ukrainian folk songs. Their dynamic dances and bravado stances are reminiscent of the Cossack fighters; the movements tell tales of battles from long ago.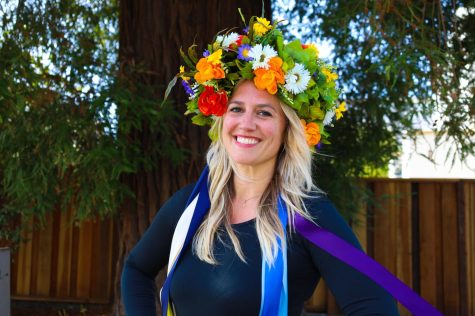 As the war between Russia and Ukraine continues to unfold, folk dancers try their best to preserve their culture and identity. During these times of struggle, resistance and war, one of the ways Bay Area Ukrainians have kept up hope is by holding on to their culture and traditions. 
"We're doing the best we can right here to raise awareness and to say, 'slava Ukrayintsyam,' glory to Ukraine. This shouldn't be happening to us, it's terrible, but we're trying to celebrate our culture here," said Billy Prusinowski, a founder of Zoloti Maky, a Bay Area Ukrainian folk dance ensemble.
Zoloti Maky, which translates to golden poppy, was founded by Tatiana Burdiak and Prusinowski when they, along with two other dancers, decided to perform in 2016 for Ukraine's 25th independence day celebration in San Francisco.
Prusinowski, a fourth-generation Ukrainian-American originally from Syracuse, New York and his wife, Allison, have a 3-month-old baby girl named Willow. She showed up to a Ukrainian fundraiser in Santa Cruz wearing an infant-sized vyshyvanka or traditional Ukrainian embroidered blouse. Prusinowski has been dancing since he was a child, and seeing his firstborn daughter wearing a traditional garment makes him feel proud.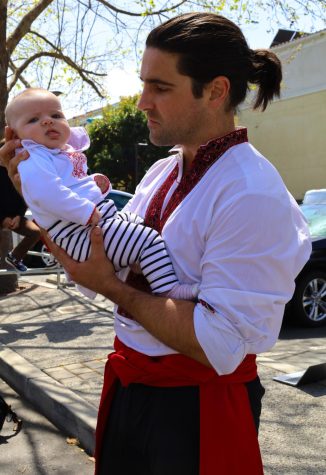 "There were a lot of emotions explaining to people what was going on and why we were raising money. There walks in my daughter with her mother in their Vyshyvanka. It was incredible to see," said Prusinowski. 
He doesn't know whether his daughter will follow in his footsteps and pursue Ukrainian folk dance in the future, but she did participate in the last dance along with her mom. Although his wife is not of Ukrainian descent, he says that she has incorporated herself well into his culture and has, in a way, become an honorary Ukrainian.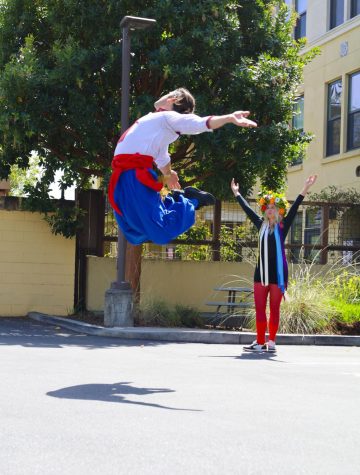 "I think it's really important to celebrate the culture, especially with everything that's going on in Ukraine, even if it's not my born culture. I get to be adopted into it, and I get to celebrate it and pass it on to our little one," Allison said. 
Prusinowski and the group have been very active in their efforts to show support for Ukraine and spread Ukrainian culture. 
On May 12, Zoloti Maky performed at a rally in Golden Gate Park, where they also celebrate the Ukrainian independence day festival every year. They performed as an act of solidarity with those affected by the war in Ukraine. Then on April 2, Burdiak and Prusinowski held a virtual fundraiser in Santa Cruz and managed to collect $2,100 that will be sent over to aid the Ukrainian people. 
"We had over 40 people sign up internationally. I actually don't know where everyone came from," said Burdiak. 
Burdiak is originally from Philadelphia but moved to California in 2016. She has been dancing since she was five years old and said that aside from a few cousins, most of her family is in Ohio. She added that she has a couple of friends still in Ukraine.  
"The thing about the Ukrainian community is that everyone is very interconnected. If one family is hurting, then we all feel it. In a way, we're all one big Ukrainian family," said Brudiak as she wore a Vinok or traditional flower crown.
She enjoys being able to share Ukrainian dance and culture with others. Folk dance is a form of healing for Burdiak and says that it's the one and the only thing that she has loved to do since she started and especially since the attack on Ukraine began. 
"Every single day, you're waking up, and you're afraid to look at your phone because you don't know what you may get," said Andriy Shevchuk, a dancer with Zoloti Maky.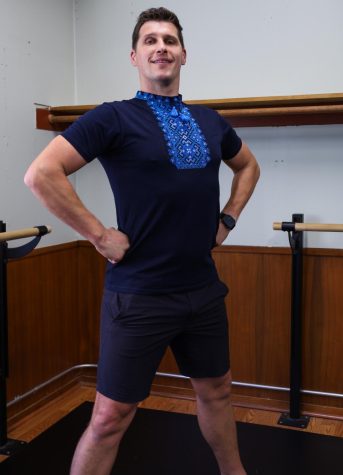 Shevchuk is from Vinnytsia, Ukraine and has been dancing for over 30 years. His sister and her family are still in Ukraine and have moved out of their town. He says that although the region where his family is from so far has not been extremely affected by the war, an attack can happen when you least expect it. 
Two of the most popular dances that Zoloti Maky performs are the 'previt' and 'hopak.' Previt means greeting or welcome and is usually the dance that the troupe starts off with where they present the audience with bread and salt as a gift. Hopak is their final dance and is more dynamic and acrobatic, especially for the men. The men jump, do high kicks and mid-air splits, while the women tend to have less acrobatic choreography. Instead, they incorporate intricate and fast footwork, spins and delicate hand movements. 
Ukrainian folk dance continues in Ukraine to this day. The most famous dance company is P. Virsky Ukrainian National Folk Dance Ensemble. It was founded in 1937 by Pavlo Virsky and Mykola Bolotov. 
"It's so important to keep going…it's a morale booster to both people here and people in Ukraine," said Natalia Halatyn Ellif, a dancer and instructor with Zoloti Maky, "It sort of keeps our minds off of the war, but at the same time keeps us really tied to Ukrainian culture and people." 
Halatyn Elliff has been dancing since she was 6 years old and said that it's part of Ukrainian culture to start teaching children to dance at a very young age. Her grandparents were born in Ukraine and her grandfather, Osyp Halatyn, was a Ukrainian folk dancing instructor from the village of Snovychi. 
He was a prisoner of war towards the end of World War II and was taken to a refugee camp in Germany. He met his wife in Halifax, England, after being resettling postwar and began a dance group there. Both of them immigrated to the U.S. in 1958, and they brought Ukrainian folk dance with them.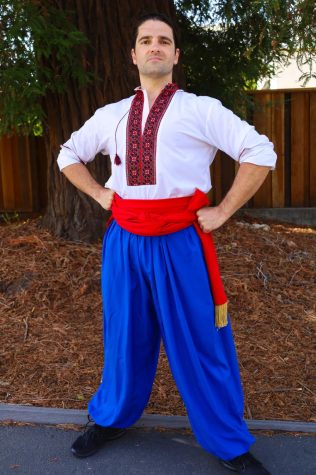 Ukrainian folk dancers aren't the only ones pitching in to help the people of Ukraine. 
Mengjun Chen is a principal dancer and teacher at Smuin Contemporary Ballet in San Francisco. The troupe held a virtual fundraiser on March 25 called "Class for Cause," where they raised $590 for Ukraine.  
"We donate the proceeds to worthy organizations that align with our values and try to just make an impact…the wonderful thing about dance and music is that it keeps you in touch with your emotions and your empathy, and that's universal", said Amy London, who is the Ballet Master and Education Program Director for Smuin Center for Dance.
Olena Kovtash is from Ukraine and began dancing when she was a child attending school. She was one of the dancers with Zoloti Maky, who performed at the Golden Gate Park rally. 
At first, her family in Ukraine did not want to leave, but they lived in Zaporizhzhya, where Europe's largest nuclear power plant is located. The reason that they did decide to leave was due to the fear of a possible nuclear disaster if the power plant was targeted by Russian forces. As of now, only her brother and her brother-in-law remain in Ukraine.  
"I was dancing in the Golden Gate Park, and it was kind of my dream but not under these circumstances. I hope next time we'll be performing for a more happy reason."