Skateboarding in San Francisco: No Longer a Man's World
April 15, 2022
Every time Layla Smith steps into a skate shop, she feels invisible. The men behind the counter often fail to recognize her as a fellow skateboarder, let alone as a customer. 
"If I'm with a man…no words to me at all," said Layla Smith, a female skateboarder living in San Francisco.
Smith started skateboarding at the beginning of the pandemic after watching her best friend find their passion for the sport. She was hooked after her first session. But it wasn't just riding the board that sparked her love. Through skateboarding, Smith found a sense of community, a new friend group and freedom from self-criticism.
But young women like Smith often feel they have to fight for space at the skatepark and for basic respect from their male peers — respect handed much quicker and easier to the men entering skateboarding. 
Angelica Rodriguez, a 21-year-old skater living in San Francisco, said that she doesn't skate that often these days because she feels that men don't believe she skates for the "right reasons" — in other words, that she's only skating to pick up men, not to learn and progress.
"I feel like I constantly have to prove myself," Rodriguez said. "When [a guy] is a beginner, they don't call [them] a poser. When a girl is, they call them a poser."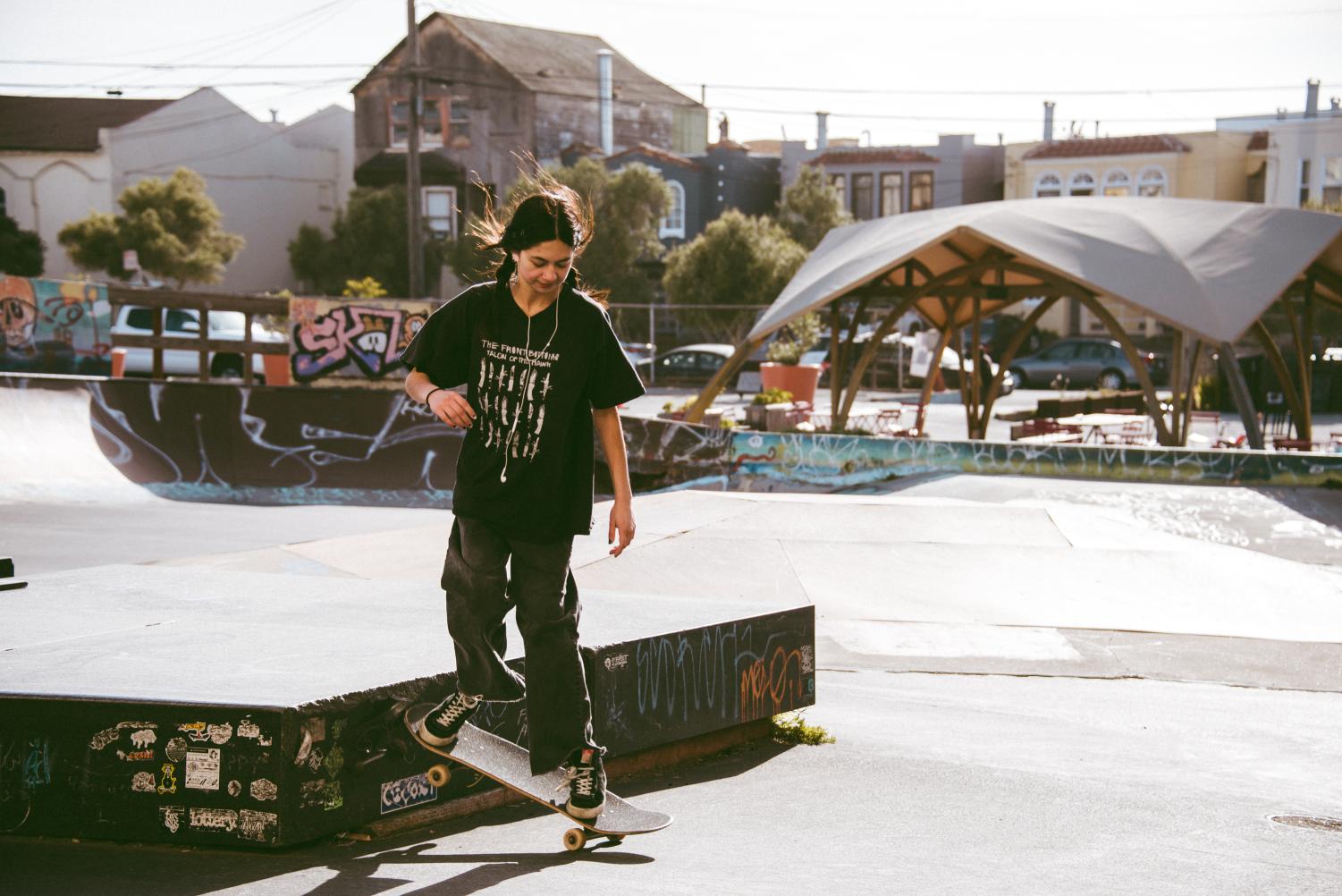 Rodriguez started skateboarding during high school in Southern California after her older brother came home with a board from Walmart. Eventually, her brother found more interest in video games but supported her skateboarding from the sidelines. Her brother's encouragement played a significant part in her pursuing the sport, serving as an outlet during her parent's divorce.
"At skateparks, these guys try to snake you out, try to push you out of places because we're learning," said Smith. "But I've always felt really welcomed by a lot of men, and that's really comforting when there are not men trying to mansplain when they're just supportive. There's a huge difference."
Skateboarding has seen an increase in popularity over the last decade, and as a result, there is an increasing number of women beginning to skate. Two of the last seven Thrasher magazines featured women on the cover. Before that, only three of the 489 issues since 1981 gave women the cover spread.
Despite being a sport born out of a community of outcasts, skateboarding is still plagued by a culture of otherness and exclusion. Thirty years after the explosion of skateboarding, women and other marginalized communities are still fighting for their space in this male-dominated community.
The first openly gay mainstream professional skateboarder, Brian Anderson, only came out in 2016, despite a two-decade-long career, most of which he was actively hiding his sexuality. This marked a turning point in skateboarding culture as it sparked a debate about the sport's inclusivity. 
Smith recounted the numerous times she has seen or experienced harassment and enabling actions by male skateboarders in San Francisco. She feels the sometimes predacious actions by male skaters towards women make the sport unappealing for women to even want to start. 
"I've seen so many people look past actual rapists, actual abusers, people who have hit people, people still skating for companies even though they're known abusers," Smith said. 
And for skaters like Smith, seeing skateboarders like Breanna Geering on the cover of Thrasher and watching other women stake their claim in skateboarding solidifies her passion and outlook on the future of the sport.
"It's so inspiring to so many people; to children, people who didn't think they could skate," said Smith. "I think it's definitely on its way."
Sophia Swigart and Rayann Elsarrag met in San Francisco during the pandemic and started skating together every day. They rarely go to skateparks alone and go as far as to avoid certain parks because of the atmosphere there. 
"You never know who's gonna get mad or be weird," Swigart said. "There are skateparks that I specifically don't go to because I feel judged there."
Elsarrag said she often feels uncomfortable and unwelcomed from what she perceives as degrading stares that she receives from male skateboarders. Both of them have had negative experiences at skate shops as well. They no longer go to the shops in the city, reverting to online shopping for their skateboarding needs. 
"We need a woman-owned skate shop, so girls will feel comfortable going, especially girls that want to start skating," Swigart said.
Despite the challenges, to Rodriguez and others, skateboarding is worth it for the friends they've made, the sense of community they've felt and the lessons they've learned along the way.
"It's fun, though. I wouldn't give it up for anything, I really wouldn't," said Rodriguez.