Cheers to Women-Owned Bars
How women-led businesses are setting the bar high in the Bay Area.
May 13, 2022
Jaime Hiraishi stands behind the bar at Wine Down SF and peers out at customers toasting and enjoying a glass of wine during happy hour. It reminds her of when she and her business partner Sarah Garand would go to happy hour after work and dream about what it would be like to open their own wine bar. 
Between pouring glasses of chilled Chardonnay, she enjoys talking to her customers; however, there is always one question that catches her off guard.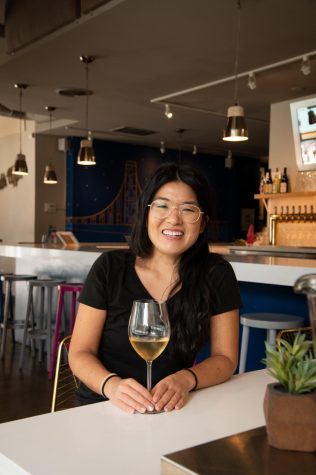 "Are you the owner?" 
This question is never directed towards Hiraishi but instead to her male bartenders. These customers are always shocked to learn that the owners are two women of color who built the business out of their love for affordable wine and happy hour. 
Women bar owners are changing the game by creating safe and supportive environments, and they aren't the only ones. The amount of women-owned businesses has increased over the last few years. The National Women's Business Council, a nonpartisan federal advisory board created to provide policy advice about women's small business issues to the President and Congress, reported in their annual survey that in 2007 women-owned businesses made up 28.7% of all businesses in the nation and it rose to 42% in 2019.
From the products to the decor, Hiraishi found that owning her own wine bar allowed her to do things differently. Hiraishi and Garand, opened Wine Down in 2016 hoping to create an inclusive space for everyone.  
"We're not speaking in a way that is inaccessible to anyone about wine because, at the end of the day, we really want to make wine approachable [and] accessible," Hiraishi said.
Hiraishi noticed that the walls of many bars are plastered with images of women that are overly sexualised, so, she traded images of pin-up girls with large breasts and a beer in their hand for images of strong women and inspirational messages. 
"We have a picture of Beyonce as a queen," Hiraishi said.  "She's like the center of our bar."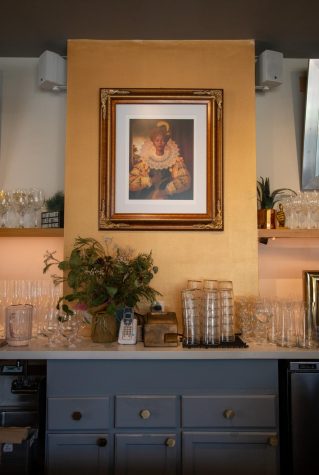 Next to the picture of Queen B is the other centerpiece of the bar: the wine taps. On tap is a crisp Sauvignon Blanc from women-owned Sans Wine Co. Hiraishi explained that they have made it a point to feature products made by women and underrepresented people on their menu. 
"We've been very intentional about being inclusive," said Hiraishi.
Melissa Myers, the owner of The Good Hop in Oakland, has been in the beer industry for the past 26 years. She started off working as a brewer, who brewed craft beer at other Bay area breweries, including Pyramid Brewing and Drake's Brewing. 
"I was brewing for a gentleman who owned a brewery who decided to hire a guy with far less experience than me," Myers said. "That was kind of my breaking point."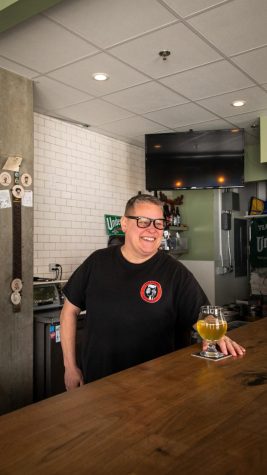 Even with some of these inequalities she experienced, Myers found that when she was  a brewer, many other brewers were more than willing to offer her support. 
"Everyone's like, 'Here, let me give you the recipe. Oh, take this shirt. Here are all the things I did'," said Myers. "And then when you come on the retail side, it gets really weird."
Myers, who likes to refer to the atmosphere of the retail side of beer as "douchebaggery," said she felt more supported when she worked behind the scenes. She believes this is because there is less competition on the production side than on the retail side.
Myers is always concerned with the safety of her staff due to where The Good Hop is located, on the corner of 24th Street and Telegraph Avenue. She said the bottle shop was recently robbed. Because of this, Myers requests that all of her employees text her when they get home safely. 
"Women tend to look out for each other," Myers explained. "No person left behind. It's not like you just walk away from the bar without your female friend."
Myers noted that some of her employees expressed that no other boss had cared as much that they made it home safely. 
"I want them to be safe. I want them to come back and work for me on their next shift." Myers assured. 
Much like Hiraishi and Myers, the idea of opening a bar was a dream come true for Hyeseung Woo, the wine bar owner of Ebb & Flow in San Francisco. However, her experience turned out to be a rollercoaster.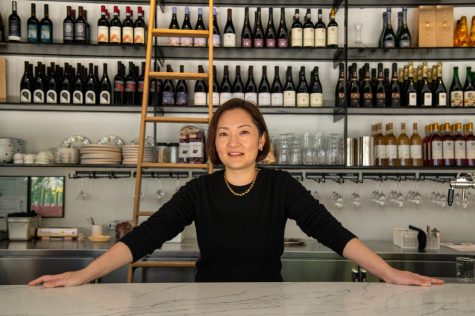 After switching career paths and learning the ins and outs of a business and wine along with the year and a half long process to get her alcohol license, Woo finally had her grand opening. But eight days later she had to close due to the COVID-19 pandemic. 
She reopened as a retail business, where she stood in it seven days a week trying to sell bottles of wine to make ends meet.
"I was very grateful and fortunate to build some regulars and a real customer base," Woo said, noting how many of her neighbors supported her throughout the years and how in 2021 those same neighbors brought in their own friends once the bar portion reopened. "It's definitely growing. Slowly and surely." 
She feels a sense of pride when her women customers come up to her and tell her that they feel comfortable and safe in her bar. The vibrant lighting coming from huge windows and overhead bulbs highlights her abundant spacious seating. The view from her bar seating displays a wall of red, white and sparkling wine with a slidable ladder for convenient access. Her sleek and mellow design radiates a calm and welcoming atmosphere.   
Though things are looking up for her and her business, getting there hasn't been easy. In the predominantly male alcohol industry, she has experienced discrimination of her own. She noted how she felt looked down upon by others in the industry. She said that at times when customers see male staff members, they think that they are the owner instead of her.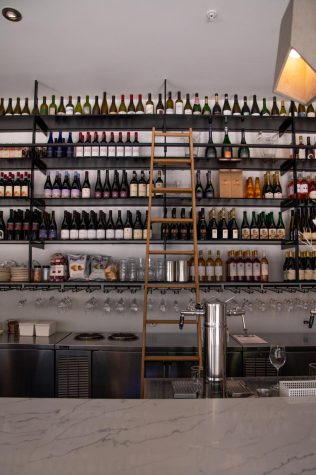 "In general, I think women get a little bit of a challenge when they get to a little bit more authoritative roles, or being a middle manager or even higher up when you have to give the instructions or disciplines to your staff or crew. I still feel like a lot of people expect women to just smile and be nice and agreeable," Woo said. 
She thinks that women who are shorter or smaller in size, like she is, are taken less seriously within any male-dominated industry. Due to her own experiences of being bothered or feeling awkward while by herself at a bar, she wanted to ensure that her bar was created with the idea of being comfortable alone when in public. 
"Doesn't matter, females or males, purple, orange, whoever it is, come in and plug yourself into this environment. Recharge and go out," Woo said.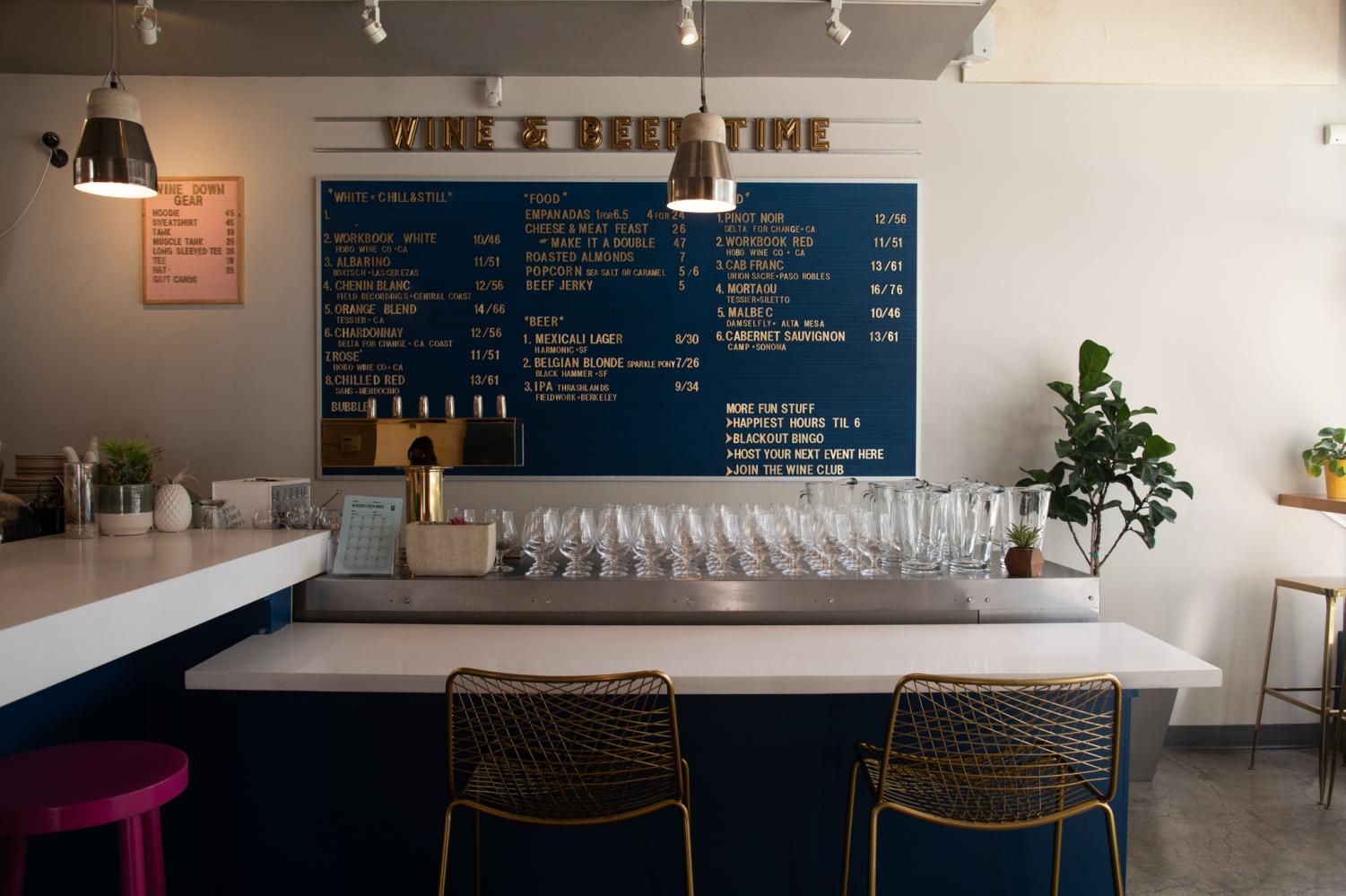 "And at the end of it, you don't need a reason to celebrate. Celebrate that. You're doing your best. You're trying to come in and have a glass of wine or bubbles and celebrate you. Everyone, everybody needs a little self-celebration." Woo said. 
Wine Down donates part of its income every month to different organizations that support women and underrepresented communities. In July of 2019, they hosted a Drink and Dine event to raise money to protect reproductive freedoms. Proceeds were donated to Planned Parenthood. 
"Where we put our money makes a difference," Hiraishi said. "Not only is it supporting us as a woman-owned bar but it's supporting this ecosystem of other women and underrepresented minority populations that we support too."
Hiraishi also joined the board of an organization called the Vanguard, a nonprofit that advocates for equity and community for typically underrepresented people in the alcohol industry. 
"We didn't have a big community to lean on during any of this but we're trying to create that," Hiraishi said. "I think that's why we got involved so heavily with the organization because we do wish that we had more when we were starting out and hopefully people can have that in the future."