Never Too Late to Go Back
Returning students at SF State prove you're never too old for an education.
When her alarm goes off at 7 a.m., Serena Gomez reaches for the snooze button. She lays in bed for another thirty minutes, pondering life and how she made it through another day. At 7:30 a.m., she gets up in search of coffee and begins her morning ritual. Today's a school day for both Gomez and her young kids. 
After reminding her kids to get ready several times, they head out the door. Following a smooth drop off at her kids' schools, Gomez heads to SF State to begin her quest for a parking spot.
Making the decision to go back to school as an older adult is no easy feat. Some may jump at the opportunity, while others struggle with the decision – perhaps due to lack of confidence, full-time employment or a family. Whatever the case, it's never too late to go back. 
According to Neela Koduri, an academic advisor for SF State's College of Liberal and Creative Arts Advising Resource Center, SF State saw an uptick in returning students in 2020 brought on by COVID-19.  
"The idea kinda clicked for people. With a lot of other remote work, the opportunity to finish your degree remotely also became popular, so with that we saw a lot of resurgence," said Koduri.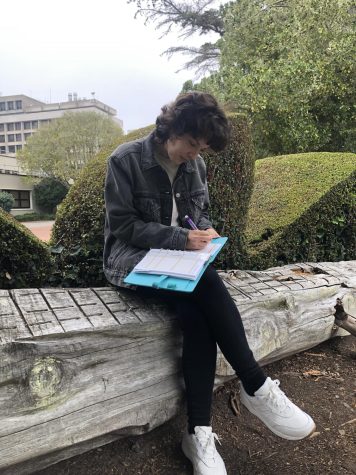 Gomez is a 37-year-old professional hair stylist from San Francisco and has two kids. She started her first semester at SF State this fall, and dove right into taking a full course load of 12 units. While she's attended both City College of San Francisco and Skyline College on and off since 2003, she's changed her focus several times, testing the waters in nursing, cosmetology and even auto-tech before landing on psychology. 
"I didn't really ever know what I wanted to be when I grew up," Gomez said. "I got into hair accidentally and ended up really loving it, but still found there was more – I had more curiosity about the world. And so I tried different things."
She left college for many reasons when she was young.
"I think I was not motivated, I felt like I needed to find out who I was in a way that wasn't in a classroom. I needed to do something totally and erratically different than high school and I wasn't going to find that by continuing on in school," said Gomez. "So I think I did it in my way and it was great and I'm happy."
Gomez returned to CCSF full-time in 2017 to work on her prerequisites for psychology. She's noticed many differences between attending a state school versus a community college, and feels somewhat of an age gap between herself and her peers — in maturity level and life experience. 
Gomez, who prefers pen and paper, admits to struggling with technology that seems to come easier to the younger students. 
"Basically, I need a class just on how to work this technology," Gomez said. "It's crazy!"
Going back to school has given Gomez a sense of purpose. She said that sometimes it's better to be older and more focused on what you want to achieve and why. 
Phyllis Moodie is 62 years old, and first came to SF State in 1978. After leaving due to a health issue, she worked for 20 years in the organic food industry, at AT&T and for the US Postal Service since 2005. 
"I've been wanting to leave ever since I got there," Moodie said while reminiscing about her time in the workforce.
The sociology student was driven to San Francisco in the late '70s after leaving Chico, California, and explained that her presence on campus today is a testament to her resilience.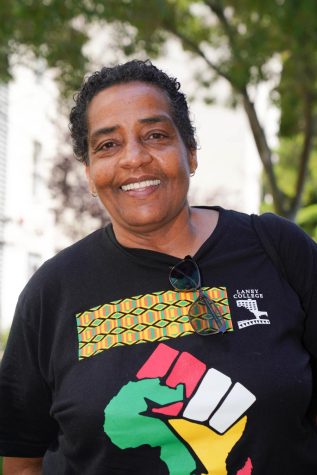 "Things were a lot different here than they were in Chico, especially in those days," Moodie explained. "I was run out of town for being the only Black person around. When I came here, I started taking classes by Angela Davis and some other revolutionary thinkers of the time. I didn't really know what I wanted to do at that time, but man, am I glad to have gone to school when I did."
Moodie says her transition back to school has had a few challenges, but on the whole has been easier than expected.
"I thought this would be hard, but I'm going here on a full ride," Moodie said. "I'm just here to get educated and keep the party going."
Mila Vasilyeva is originally from Belarus, and had to "start from scratch" when she went back to college at 39. Vasilyeva started college in Belarus when she was 17, but dropped out just one year shy of getting her bachelor's degree in economics and instead immigrated to America. 
That was roughly 20 years ago. Vasilyeva is now a full-time massage therapist in San Francisco and is attending CCSF part-time to become a psychologist, with the goal of one day getting her Ph.D. 
During the pandemic, Vasilyeva started seeing a therapist, who helped ground her and provided her clarity and inspiration. Vasilyeva's goal is now to get her degree in psychology so she can also help other people, just like how her therapist helped her. 
"I told my therapist, I'm probably gonna be 50 by the time I'm finished with school." Vasilyeva said. 
SF State Enrollment Services is reaching out and helping as well by contacting students who left and offering them a way back. 
"Our hope is that we create clearer pathways back for students who have stopped attending at some point," said Senior Associate Vice President of Enrollment Management at SF State Katie Lynch. "It's two-fold. It's not only re-enrollment, but re-engagement and making sure that if students return, they feel appropriately connected to the community and are set up for success." She added, "our goal is to remind students that we're here and ready for them."
Due to returning students' heightened interest in re-enrollment, SF State created a website full of sources with support in all areas, such as financial aid, advising and useful contacts.
"Each semester, it's been easier and easier for students to re-enroll at SFSU," explained Koduri.
When Alejandro Rios showed up to school dressed in slacks and a dress shirt, other students mistook him for a teacher. Rios, the associate executive director of Associated Students, is both a student and employee at SF State. Rios started as a SF State student in 1992 and dropped out in 2001, the same year he started working full-time for Associated Students.
"I became an organizer and eventually lost track of why I was here," Rios said. "I was organizing more than being in the classroom. I was learning more outside the classroom than inside the classroom."
Finishing college was always on the back of Rios' mind, but when he could no longer advance in his career because he lacked a degree, he had to switch gears once again. After not being a student for 15 years, Rios stepped back onto campus as a student again in 2016. He graduated with a degree in Latino Studies in 2018, and is currently working on his masters.
Meghan Hanebutt started studying graphic design at the University of Delaware over a decade ago. At the time, she was young and didn't know what she wanted to do.  
"When I was last in school, it was like you go to school and get your degree in this many years. I think it's a churn-and-burn mentality. Get in and get out in four years creates a sense of false urgency," said Hanebutt. "And now I feel like the program is supposed to take two-and-a-half years, but I might take five years. And that's OK, because it's easier for me financially, and it's easier for me emotionally and easier logistically,"
After 15 years of debating whether to go back to school, Hanebutt chose to enroll in the master's program at the California Institute of Integral Studies. She returned to school specifically for the therapy program. The mental health field runs in her family, and her fiancé and friends are all therapists and counselors as well.   
"I've been in the mental health field now as a patient for 15 years and through lots of different types of therapy or medication. Being a patient wasn't enough —  I wanted to educate myself and become a therapist," said Hanebutt. 
She hopes to apply what she learns to her current profession and is looking forward to working with and helping disadvantaged young adults aged 18 to 24.
Leave a Comment
About the Contributors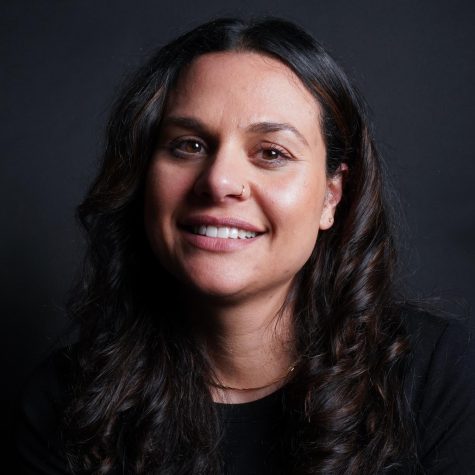 Angelina Casolla, Senior Reporter
Angelina Casolla, born and raised in San Francisco, is a staff writer for Xpress Magazine. Prior to attending SF State she attended Cal State Long Beach...