Turning the Quad into a Runway
Meet the fashion focused pair dedicated to documenting the outfits of SF State's student body.
SF State's quad is filled with the sounds of students greeting friends on their way to and from class, landscapers maintaining the plant life and music playing from any one of the speakers positioned throughout the area. But since the return to campus back in August, a new line has joined this chorus of sound. 
"I made it onto Fits of SFSU!"
Fits of SFSU is an Instagram account created at the beginning of the fall semester, and it has already amassed more than 2000 followers. The account consists of photos taken around campus of different student and faculty outfits. About ten people are exhibited in each post, all varying in their fashion style. The account's biography boasts a simple mission statement: "Capturing the flyest students at San Francisco State."
But who is behind the account? Second-year students Esperanza Vaquiz and Breanna Miller. 
"Literally, my favorite thing to do is people-watch," Vaquiz explained. "'I'm walking around campus one day and, in my head, I'm like, 'Damn, they look good. He looks good. She looks good. I need to photograph these people.' And so I literally made an Instagram with zero followers and was just was like, fuck it. It might be a flop, but who cares?"
At the beginning of the fall semester, the pair met at a social gathering for their sorority, Alpha Gamma Delta. They immediately hit it off. Despite only knowing Miller for a day, Vaquiz asked her to help with the account. 
Since then, the two set up in front of Cesar Chavez Student Center and Malcolm X Plaza every Tuesday and Thursday, stopping students and faculty alike to ask if they can post a picture of their outfit on Instagram. 
This isn't necessarily a new idea. The two are not the first to start a social media account dedicated to documenting college campus fashion. Accounts like @ucsc.fits and @ucbfits, for UC Santa Cruz and UC Berkeley respectively, have existed for close to a year now. However, Fits of SFSU account has gained more followers than both of these accounts combined in just two months, and consistently gets approximately four times as many likes.
"We're from LA, so when you go there, you know, people are walking and they have all those 'fuck off' faces," Miller said. "Maybe some of them have it here, but once you're actually like 'Can I take a picture?' They're like 'Hell yeah!' and [we] just start talking. That's the one part about San Francisco State that's definitely different from other colleges: People are actually open to getting to know people."
For two years, the SF State campus was left quieter than ever by the pandemic and the subsequent turn to hybrid instruction. But now, the quad fills every day with students wearing everything from 6-inch platforms to Birkenstocks. This surge of people from the return to in-person classes is likely to thank for the page's quick growth. Most posts have more than 400 likes, and the comment section is filled with students tagging their friends featured in the post. 
Even with their recent growth, the pair's mission for the page has stayed the same. Miller and Vaquiz recalled an early comment the page received requesting that they be sure not to discriminate against people or their outfits based on gender, class, race or sexual orientation. 
"Everyone has a different sense of fashion style. So I want all of it, as much as I can, to be included into that, so that they feel seen," Vaquiz said. "We really took that and were like 'for sure.'"
The pair behind the page show no signs of stopping. Since hitting 2000 followers, they have brought on additional admins and started holding themed events. For their most recent milestone, the page had students dawn their best Y2K-inspired outfits, a fashion trend focused on encapsulating the vibe of the mid to early 2000s. 
Outside of the Instagram page, the two hope to organize a flea market style swap meet to make a diverse range of clothing more accessible to students.
Leave a Comment
About the Contributors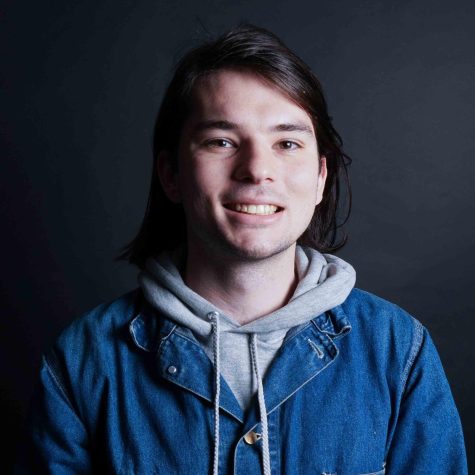 Oliver Michelsen, Multimedia Editor
Oliver Michelsen is a fourth-year journalism student with a minor in history. Born in Virginia, he moved around frequently throughout his childhood, living...