The Climb
Rock climbing is not just a fun hobby. For some, it can also help guide them through their mental health journey.
Lynna Davis, a pharmacy student in San Francisco, grew up not knowing anything about sports — until one day at the gym, she saw a climbing wall and it sparked curiosity in her. At first, she was hesitant to climb, since she had a fear of heights.
"I was just trying to find something to give me anything at that point," said Davis.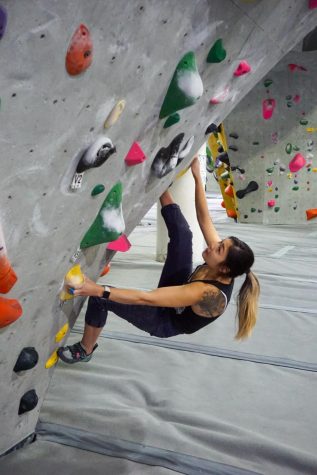 Davis went through a breakup during her undergraduate years at Cal State Long Beach that led her into a deep depression. She felt like she was in a dark hole of emptiness, unable to eat or sleep.
"I was able to slowly get out of my depression, because I not only found something that I could actually do and look forward to, but also, the mental aspect of it," said Davis. 
Studies show that physical activity is important in bettering mental health. This past May, a study in the National Library of Medicine found that physical activity positively impacted the moods of young adults with PTSD. 
The mental and physical aspects of bouldering, combined with the community that develops around it, has made climbing become a form of therapy for some.
In a study published by BMC Psychiatry, German researchers incorporated rock climbing as a therapeutic approach into some of their psychiatric hospitals. Patients attended a bouldering psychotherapy program for eight weeks. Afterwards, researchers found depressive symptoms improved by around six points on the Beck's Depression Inventory, a test used to measure severity of depression.
For Davis, climbing helped her to overcome her fears and strengthen herself mentally. But the community she's connected with within rock climbing has also been a game changer. 
"I was in such a bad place. I didn't really want to talk to people. But these people were so friendly, that it made it easy to build a connection," said Davis. 
Davis developed a passion for climbing, and says it has influenced who she is today.
When climbing, there is a lot of trial and error. Bouldering requires problem solving, because there are many different ways to achieve one route. Climbing styles, the level of difficulty, hand and foot placement and the size of a climber are all factors that make the way each climber completes a route different.
"Not only did I have to get over my fear of heights, but it's a constant challenge to figure out the routes. Each route on the wall is like a puzzle," said Davis. "And sometimes I might fail like a million times. But it's that mental challenge that gets me to keep going back on, to try it in different ways."  
As a student pharmacist, she maintains her mental health by making it a priority. Though she has a lot on her plate, Davis made a goal to climb at least twice a week.
"No matter how busy and stressed I am, if I go out and take that time to go climbing it will make me feel better and more productive. Like it's not an escape, it's a necessity," said Davis.
Rock climbing as a sport began across the pond in Cumbria, England, in 1886. But it wasn't until the 1950s that climbing's popularity rose in the United States. In 1957, 22-year-old Royal Robbins and two partners became the first people to climb Half Dome, a cliff towering almost 5,000 feet over Yosemite National Park. 
When Claire Miller was six years old, she and her two sisters were introduced to rock climbing by her dad, who is an avid climber. He would take them to indoor climbing gyms in San Jose. For holidays, her family would go outside and climb with her dad and his friends. 
But it took Miller a while to fall in love with rock climbing. When they were younger, she and her sister would only climb for a little while, and then play in the yoga room or hang out with front desk workers as they waited for their father to finish. It was another ten years before Miller became fully immersed in the climbing world.
"I started to like [rock climbing] really in high school because I didn't like to do other sports," said Miller.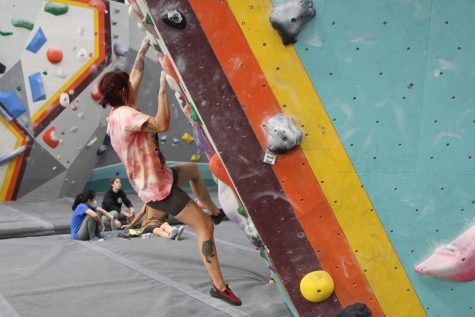 Miller discovered that climbing required complete focus on the activity before her, offering a way to get out of her head.
"When I first got really into climbing when I was 16, I was battling depression pretty severely. But I was at the gym everyday. It is good to use your body, use your brain, because it is problem solving on the wall," said Miller. 
Miller now works in the climbing industry, most recently at Pacific Pipe Climbing. She is a full-time route setter, strategizing and curating routes for climbers to ascend.
Miller says climbing has also helped her to be confident in her own body. 
"It helps me tune into my body and body confidence, trusting my strength and trusting my ability… trust my partners," said Miller. "Climbing has helped me… I need these strong muscles to hold myself on the wall. I like the feeling of being strong and to keep myself off the ground."
Kim Clint is originally from the Philippines, but resides in the East Bay with her husband and works as a barista. Hip-hop used to be her outlet to relieve stress and express herself, but when she came to the United States, climbing took its place. 
"When I was dating my now-husband, he got me into rock climbing," said Clint. "At the beginning, I'm like, it's not for me, I'm too weak for this. But I just kind of went with him just to have this bonding, quality time with him. And then I just fell in love with it. I go rock climbing more than him now."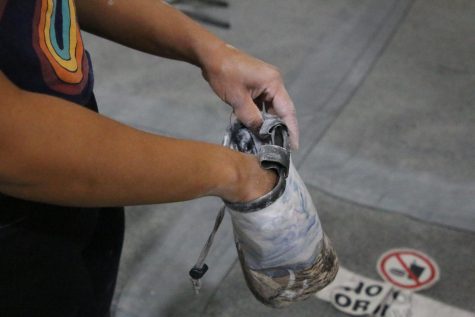 Clint always climbs after work. On one particular day, she was attempting a route that she had tried multiple times before but couldn't complete. During a break, she got a text from her boss about a stressful work matter. It added to her built-up stress from failing the climbing route. But after responding to the text, she completed the climb. 
"And it just goes to show, I've been holding something back like in my head. I'm not pushing enough. And that situation kind of pushed me. And in a way that [I didn't] hold back," said Clint. 
Clint started seriously climbing before the pandemic at V2 and V3 grades, which are considered beginner and intermediate levels in bouldering. She now climbs in the V5 and V6 grades, and now she's looking to ascend a V7, an advanced level. 
"It's just, for me, an outlet of whatever you're feeling at the moment. And the amazing thing about climbing is, it's not a competition. You're just competing with yourself and the wall," said Clint. "And that's the amazing thing, I used to compete in hip-hop, and I really got competitive… and switching to climbing, I'm just alone, talking to myself."
Rock climbing has changed the way Clint approaches obstacles in her life.
"I see this similarity of climbing and having a problem in life. Like, if you're climbing, you take a step back and look at the whole route," said Clint "You just don't stare at the start, you just don't stare at the tough part of the problem. You step back, you try to figure it out from start to finish."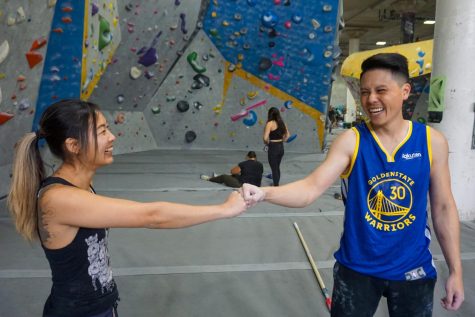 Timothy Lee, a San Francisco native and occupational therapist, began climbing at San Jose State University. Climbing was only a hobby with his friends during his undergraduate years, but he started taking it more seriously in 2019.
"Lifting weights was getting kind of boring, and you just kind of do the same reps over and over," said Lee. "But with rock climbing, there's a lot of problem solving. The people who set up problems do so in a manner that kind of challenges not only your body, but your mind."
Lee enjoys the climbing community's encouragement and fun, light-hearted trash talk. He usually climbs alone to work on his physical fitness and escape reality, but he said that the sense of community in climbing adds a different energy. 
"Sometimes when I climb by myself, you know, the stoke isn't there. It's that stoke and I get that hype from my climbing friends, and it can really push you past barriers that you thought you had where you thought you couldn't reach," said Lee.
The strong rock climbing community helps Lee cope with seasonal depression. During those times, he can feel like he'd rather climb and deal with his problems alone. But he pushes himself to engage with his community of climbers. 
"That encouragement, and having a good time with my friends, and looking forward to something. I'm looking forward to seeing them, looking forward to getting on the wall and challenging myself and forgetting everything, " said Lee. "It's a coping skill."
Lee feels his fellow rock climbers have gotten him through difficult times in his life.
"The community aspect can really pull you out of those trenches of depression," said Lee.
Map of outdoor climbing locations/facilities (Destiny Walker / Xpress Magazine)
Leave a Comment