Turning the Page on E-books
How local bookstores in San Francisco are thriving despite the ever-growing presence of E-books.
For a book lover, nothing is quite as delightful as stepping into a bookstore. There's the smell of hundreds of new books, the sound of crisp pages being flipped through and fresh spines being cracked, along with the comforting notion that everyone in the building is seeking a new world to escape to in between the covers. There's something solacing about a cozy book shop to a bibliophile, and it is exactly that feeling that has kept small-owned bookstores in business. 
According to the Census Bureau's County Business Patterns, the number of brick-and-mortar bookstores decreased from 12,151 in 1998 to 6,045 in 2019 across the country. Although these numbers look grim on paper, it seems the book industry and many local bookstores are thriving, with print sales up 8.2%, while e-book and audiobook sales have grown over 12%, according to a research summary by Zippia. 
To Potrero Hill staple Christopher's Books, selling books is a labor of love. The store is located on the corner of 18th St. and Missouri St., in a building that used to be a pharmacy back in the 1920s. Open since July of 1991, this quaint bookshop brimming with history has endured three decades of turbulence in the book business.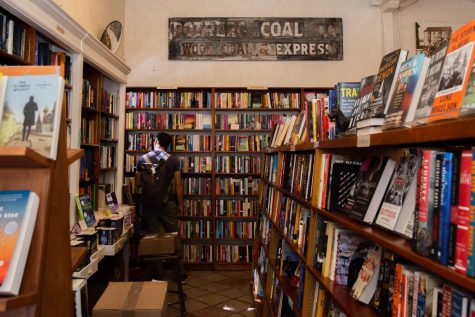 "First it was chains," said the sole owner of Christopher's Books, Tee Minot. "Then it was Amazon. Then it was e-books. Then it's just online shopping in general." 
Despite the rise in competition due to Amazon's e-books growing popularity, not to mention being forced to close during the pandemic, some small-owned bookstores in San Francisco have survived against all odds. 
In the past, small-owned bookstores only had Barnes and Noble to compete with. Yet Barnes and Noble stuck around long enough to turn from a villain to an underdog to root for. Mostly thanks to Amazon, Barnes and Noble's revenue had been on the yearly decline since 2012 up until 2019, despite being the largest book retailer in the United States. If the largest bookseller in the country was struggling, it's a true marvel that so many local bookshops have been able to keep the lights on. 
Before the introduction of Amazon and e-books, readers would have to either leave their house and go to a bookstore or order their book online and wait a couple of days for it. Thanks to online retailers such as Amazon's Kindle, all one has to do is press a few buttons on their phones, tablets or computers and the book is theirs to be read within minutes. 
"I prefer e-books over physical copies," said avid reader Tarazjanae Cooksey. "It's just a lot easier to scroll on my phone through books. I don't have to wait for a book to come in or go to the store, it's just all there at my convenience. Also, I like to be able to change the brightness and darkness of my books and I can make the text bigger."
It can seem almost impossible to compete with the easy accessibility of these retailers, but that is not something Minot wants to achieve with her shop. Instead, she focuses her attention on making each customer's trip to Christopher's Books one to remember.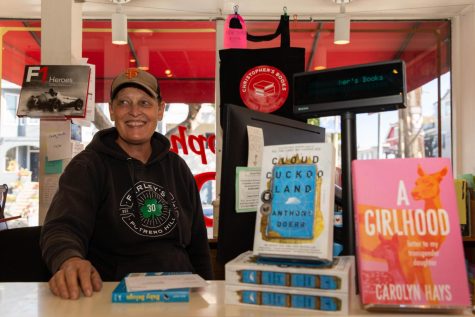 "I can't compete on a price point with Amazon," said Minot. "There's just no way I could do it. But I can compete by providing an experience for someone. And that's what we try to do. I have to think that that's something they're willing to pay for. I just try to give someone the experience that they're not going to get online." 
Minot touched on something that Amazon and online retailers can't compete with: personality. The Booksmith on Haight St. has no shortage of it with art-filled walls, mood lighting and gracious staff.   
"We decided years ago that we would focus on doing things that Amazon can't do well," said Booksmith's manager and lead book buyer Camden Avery. "Amazon is not great at making recommendations for what people are going to fall in love with. It's not great at hosting author events and community gatherings. So we kind of lean on that, we kind of lean on our personality, on our love of what we do and trust that will take care of it."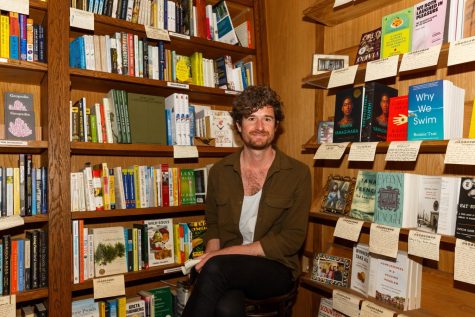 Avery mentioned another bookstore superpower — recommendations. This seems to be able to give local bookstores an edge over the online competition. In most small-owned, local bookstores nowadays, there are dozens, maybe even hundreds of handwritten notes that recommend and give a brief summary of whatever book it's attached to. They're almost like little love letters to future readers that tell them exactly what's to love about the book. Most of these recommendations are made by the staff and add to the amiability and warmth of a small bookstore.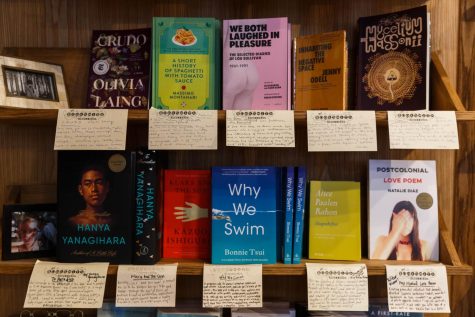 Minot and Avery also saw a rise in sales in 2020 after the murder of George Floyd and the boom in the Black Lives Matter Movement. Both booksellers hypothesize that in support of the movement, readers all over the city looked to educate themselves and learn more about the fight for Black lives, which proved to be true.
According to Forbes, there was a 6,800% jump in sales of the top books about race after the recording of Floyd's murder went viral. For example, White Fragility: Why It's So Hard For White People To Talk About Racism by Robin DiAngelo saw a 2264% jump in sales in just two months. The book went from 18,492 print copies in March and April to 437,289 in June. 
Nowadays, it seems to be almost impossible to succeed without the help of social media. Despite being thought of as the death of books as we know it, social media and the internet have actually proven to have a major role in the prosperity of book sales lately. 
TikTok, the sixth most popular form of social media in the world with over 1 billion monthly active users, has coined the hashtag #BookTok — which features viral videos where people recommend books, talk about their favorite tropes and authors and even post fan-made art. This hashtag has become a force in the book world, elevating years-old books to bestsellers seemingly overnight. 
"A bunch of our booksellers are on TikTok," said Avery. "We've definitely seen a lot of book trends in sales driven by conversations happening on there." 
Another San Francisco bookstore, Folio Books in Noe Valley, has seen the power that TikTok holds and has capitalized on it.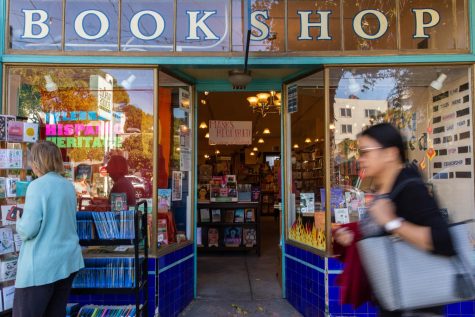 "We are definitely familiar with TikTok and #BookTok," said Martha Dietzel, co-owner of Folio Books in Noe Valley. "We try to keep up with all book news and reviews, no matter the source, so we definitely pay attention to what is trending on #BookTok. We have seen more people coming in for specific books because of TikTok, especially more high school students." 
"We see trends come and go in terms of what types of books are selling," said Dietzel. "In recent years we have grown our sales in graphic novels, romance, young adult and science fiction/fantasy sections. This is due partially to national trends like #BookTok, in addition to those sections all being near and dear to us and our staff." 
Minot of Christopher's Books said they even had to add an entire section of their store dedicated to romance, something she believes to be thanks to TikTok. Avid romance reader Kiara Rios is a proud member of #BookTok, and has even joined three book club groups on Facebook. 
"[The Facebook pages] are so cool," said Rios. "I've seen people post about what they would look for in a book and then people just comment all these crazy recommendations. And through TikTok, I've found so many books. I think I've read more books this year than I have in my life." 
Despite the internet depleting book sales in the past, it seems it has begun to redeem itself by helping drive younger, tech-savvy audiences to their local bookstores. These community-based bookstores have been here long before the rise of Amazon and e-books, and it's up to said community to make sure they stay around long after by choosing character over convenience. 
View Comments (2)
About the Contributor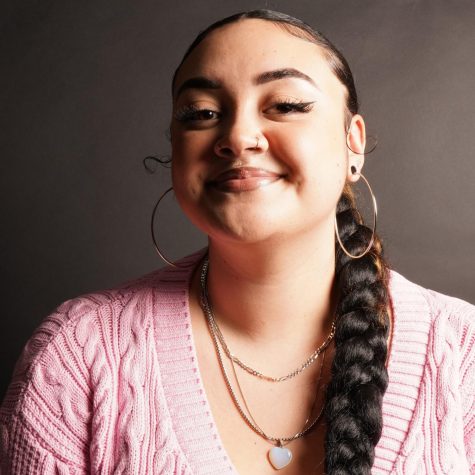 Ciara O'Kelley, Diversity Editor
Ciara O'Kelley is a current journalism major and Africana Studies minor at San Francisco State. This is their second semester working on Xpress Magazine...