Reduce, Reuse, Upcycle
A sustainable approach to fast fashion
Upon entering any retail store, wandering customers are greeted by rows and rows of brand-new clothing. Each piece is vibrant with expression and waits to be given a new home, hoping to be worn and styled for many years to come. But for many of these items, this won't be the case.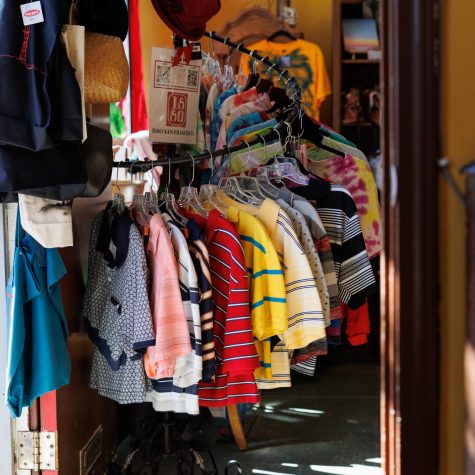 A study commissioned by Barnardo's, a British charity, revealed that articles of clothing are only worn an average of seven times before they are forgotten or tossed out altogether. In 2018, the US Environmental Protection Agency estimated that only about 15% of all post-consumer textile waste gets recycled, with most of the remaining 85% ending up in landfills.
This is due, in part, to the growing industry of fast fashion. Fast fashion is a branch of the fashion industry that imitates runway trends, quickly moving from design to production to retail. These garments are sold to consumers at an extremely low cost, after being mass-produced at an even lower cost — a practice better known as wholesale markup. Companies such as Zara, H&M, Forever 21 and Fashion Nova are just a few of the most notorious fast fashion retailers.
"They're in business to be successful, and no one knocks that," said Stephanie Currie, professor of apparel design and merchandising at SF State. "The problem is that they are overwhelming the consumer with product. Therefore, we have a massive amount of waste."
Fast fashion often overproduces apparel, meaning that corporations produce more products than they sell. 
According to the University of Alabama Institute for Human Rights Blog, fast fashion is unsustainable and unethical. Manufacturers, which are usually located in third-world countries, utilize the accessibility of low-quality textiles and dyes – on top of exploitative labor – to quickly distribute their products at a cheap, affordable price. This structure provides fast fashion companies with continuous new inventory, and allows them to introduce new collections at a rapid pace.
Traditionally, apparel production was limited to the four seasons. Designers, brands and companies would release seasonal collections of coordinated garments that could be mixed and matched. However, brands now produce designs and garments weekly, providing consumers with more to choose from. But it also forces other trends out of style at a faster rate, and leaving copious amounts of clothes to be discarded to landfills. This is overproduction — when corporations produce more products than they sell.
"Overall, the issues with fast fashion have to do with consumption," said Currie. "The fact that it exists is not as much of a problem as the fact that it is so inexpensive and so over-consumed. It's really driven by the consumer."
Combatting unsustainable fashion is a difficult task, given how mainstream it has become. But, it is not impossible. Educating consumers is essential to slowing fast fashion's growing power in the industry..
"It's understanding the clothing you purchase," said Currie. If you want to have a sustainable wardrobe, "then you buy better quality, you take care of it, you repair it and you make it last for years and years."
There are also alternatives that benefit the environment, such as upcycling.
Upcycling is the process of taking textiles or pre-loved clothing and repurposing it into something brand new and unique. Stores like Isso, a San Francisco-based boutique, specialize in producing upcycled clothing and curated vintage garments. 
Shopping more sustainably can be somewhat of a culture shock for someone used to fast fashion and the inexpensive products it produces. Marie Biscarra, co-owner and creative director of Isso, explained how she and her business partner, Ivy Chan, constantly have to deal with people questioning the prices of their inventory.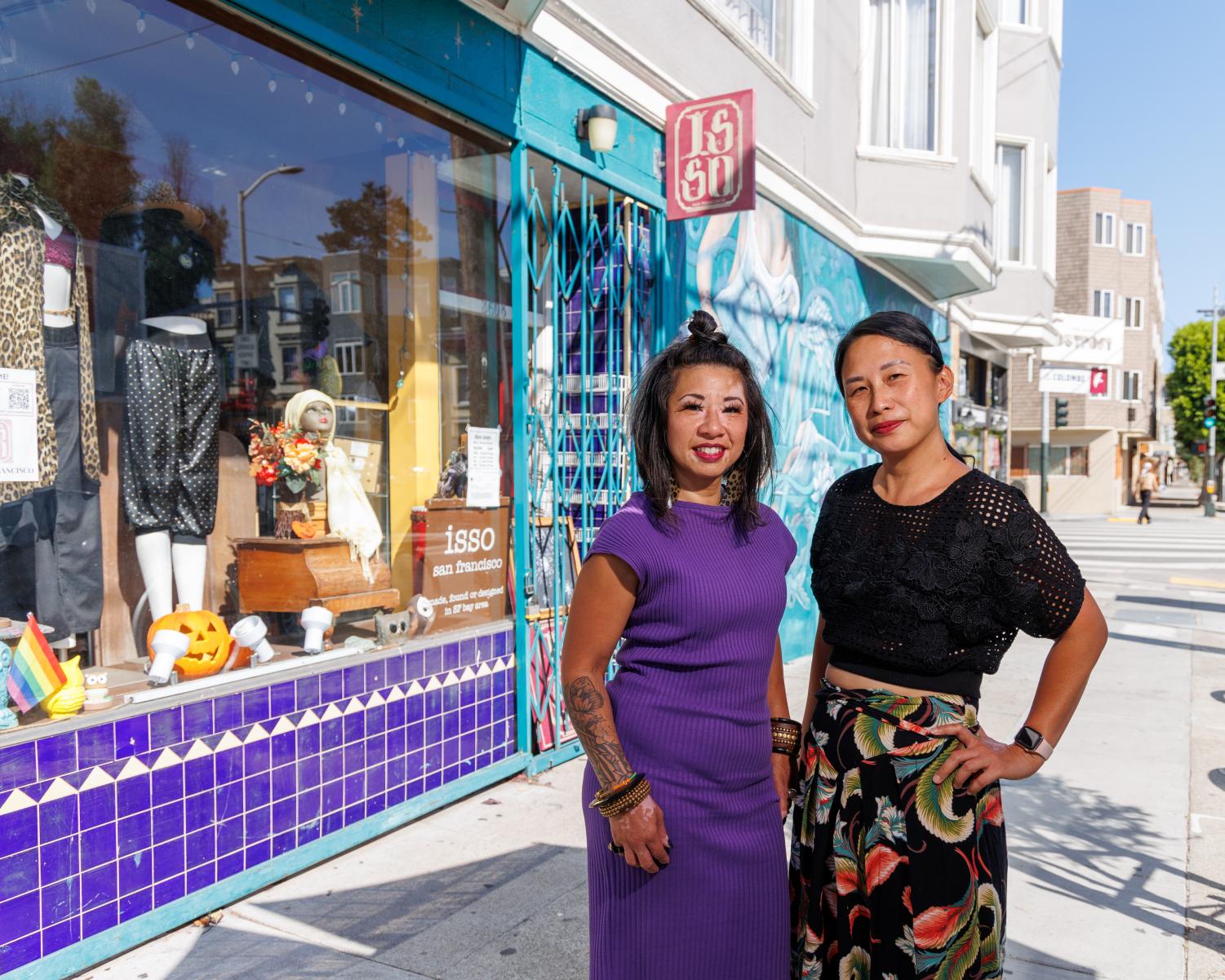 "I have to just break it down for them," said Marie. "This is my business. I am a small business. I hunt for this item, I clean this item, I cut this item, I sew this item, and now it's here, ready for you.'"
The production of Isso's upcycled goods takes much longer than fast fashion. As opposed to producing hundreds of thousands — if not millions — of garments at once using unsustainable means and non-recyclable textiles, the creative minds at Isso make about 20 unique pieces per collection. 
At Isso, plain old denim jackets are turned into works of art with embroidered jack-o'-lanterns, witches brewing potions in their cauldrons and silhouettes of bats flying across a full moon. Basic thrift-store polos are turned into stylish crop tops, and drab granny-sweaters are transformed into winter statement pieces. Upcycled goods never fail to spruce up wardrobes looking for excitement. 
Joanna Patterson, an apparel design and merchandising major at SF State, said she noticed the problems with fast fashion as she got older. This awareness, combined with not being able to afford many of the sustainable brands, made her want to learn how to sew.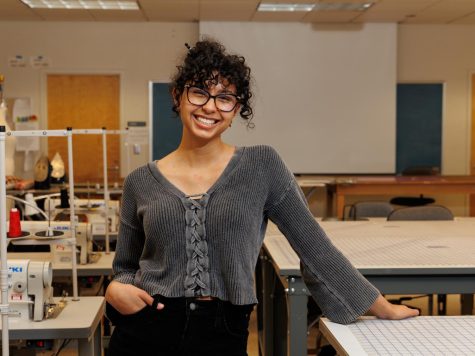 "While I'm here [at SF State], I'm learning the steps to make my clothes a little bit more sustainable," said Patterson. "As well as learning to love the clothes I have, and not feel pressured with all those TikTok trends with fashion right now."
While not a new concept, fast fashion has been in hyperdrive over the past few years, primarily due to the rapid pace of social media trends and fads. This especially prevailed in 2020 during the peak of the pandemic, when in-person shopping wasn't an option.
"I've seen so many TikTok videos of people buying hundreds of dollars worth of Shein," said Akari Yu, creator of jewelry brand Puresa Designs. 
Over the past few years, Shein has become one of the largest online fast fashion brands in the world. They provide cheap garments — both quality and price-wise — with an endless array of new designs hitting their page daily.
 Shein offers super-low prices starting at $0.99, ranging from random gadgets and gizmos to leather jackets and fur coats. As tempting as this sounds, they are also infamous for their terrible manufacturing standards. Even if people donate their used Shein clothes, the items are often made with such low-quality fabric that it is difficult to recycle it.  
"There's such a limited amount of apparel and fabric that can be recycled," said Currie. "The problem is that the materials themselves are fairly weak, inexpensive and don't hold up to wear and laundering."
Pure-fiber textiles, such as 100% cotton, silk or wool, are fully recyclable. However, blended fabrics, such as poly-cotton blends, are much more difficult to ethically dispose of. Comparing cotton and polyester is like comparing grass and turf. Both are woven fibers, but one material is natural, while the other is synthetic. In order to be recyclable, fabric blends — which are essentially two or more tightly bonded fibers — must somehow be untangled and separated.
Even with today's technology, there aren't many ways to recycle blended fabrics. The processes that do exist are still fairly new. Chemical textile recycling uses chemicals to separate the fibers in blended fabrics for recycling, while mechanical textile recycling uses a shredding process to tear up the fabric and separate the individual fibers. According to European Chemical Societies Publishing, companies are currently promoting chemical recycling "although it requires a lot of energy and does not save much CO2."
A 2017 report by the Ellen MacArthur Foundation revealed that the fast fashion industry increased demand for synthetic blended textiles for a "quicker turnaround of new styles, increased number of collections per year and lower prices." The report states that microfibers accounted for approximately 63% of materials found in the textiles being used for garments in 2015, with recycled material being less than 3%.
"In the long run, it's absolutely not sustainable," said Currie. "They're going to run out of raw materials because there's nothing you can do with the end product. Once you've used it, that's it."
Spending money on curated or high-end fashion won't necessarily get you hundreds of garments at once like fast fashion does. But investing in other, more sustainable brands is beneficial to your wardrobe, the environment and small businesses.
Leave a Comment
About the Contributors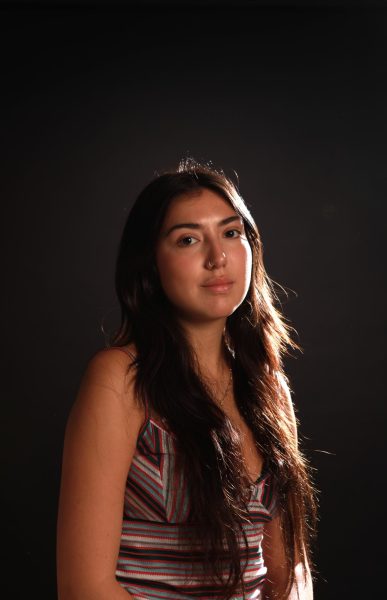 Giovanna Montoya, Staff Reporter
Giovanna Montoya is a writer for Xpress Magazine. She is a journalism major with a minor in media literacy. Giovanna was born and raised in Los Angeles,...