The Fight for Lot 25
The city of San Francisco and SF State consider a possible solution to long-standing RV parking issues.
If someone makes the short walk from SF State to Stonestown Galleria, their view might be blocked by what seems like a sun-bleached wall stretching down either end of Winston Drive. The sound of passing cars reverberates off of the peeling stark white paint of their aluminum exteriors. What some may perceive as a wall is actually bumper-to-bumper RVs that twist and scale the entirety of Winston Drive.  
For many years, Winston Drive was the unofficial parking area for RVs, but in recent years these RVs have solidified themselves as a permanent landmark of the area. RVs now spill onto surrounding streets such as Lake Merced Boulevard and Buckingham Way, both of which are used by students to commute to school. However, as the street's population increases, so do the complaints of their presence.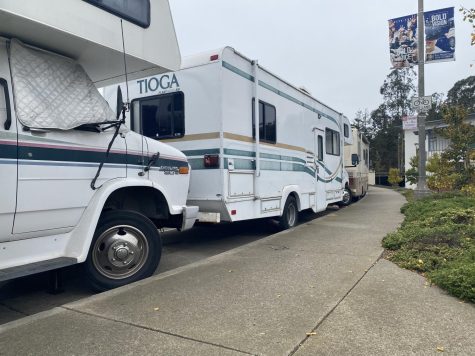 "We're here because we need to be here," Edith Alcaraz, an RV resident, said. "I had my job back in the days before the pandemic, but a lot of us lost our jobs and everything else. What we have is what you see." 
Alcaraz currently lives on Lake Merced Boulevard with her 15-year-old son, who she hopes to enroll at neighboring Lowell High School.
The US Department of Education found that during the 2018-2019 school year, nearly 271,528 public school students experienced homelessness. In July 2020, during the height of the pandemic, 31.3 million people reported that they had been unable to work at some point in the last four weeks because their employer closed or lost business due to the pandemic.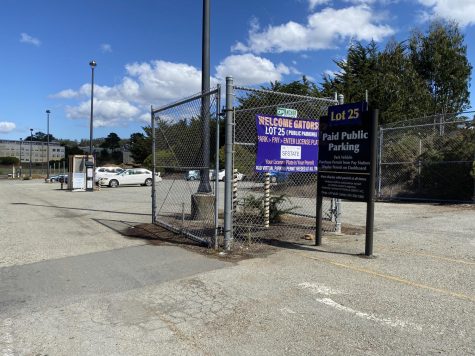 Recently, the city of San Francisco and SF State have been in talks about converting Lot 25, an underused university parking lot, into an RV parking area. The lot, located behind Lowell High School's football field on Winston Drive, would need to provide utilities such as water, electricity and sewage to accommodate the RVs. However, both parties are at a standstill with the project's location and timeline.
Those familiar with SF State know that parking can be somewhat of a commodity. Students often end up circling the streets surrounding campus like a mechanical shark. With the demand for parking only increasing, students and residents feel that the RVs would take up prime real estate. 
"It's kinda weird that they're parked there on the street, and parking is terrible here as it is," said Ibrahim Twist. 
Twist, who is in his fourth year at SF State, struggles to find parking around campus. When asked about the potential housing site for individuals parked along Winston Drive, he agrees that an RV lot would be a great solution to address the crowded streets.
This is only one of the locations that the city is considering for the alternative long-term street parking according to President Mahoney's office. 
"We're working to assess the future needs of the campus community," said Robert King, Director of Communications for the Office of the President.
As SF State works to gather more information on what the proposal would mean for their campus, their main focus is on whether or not the potential lot will interfere with the ability to accommodate students' needs.
The city's first ever sanctioned site for the unhoused and their RVs opened near the Balboa Park BART station in 2019. However, the space was shut down to make way for a 138-unit affordable housing complex in March of 2021 – which could be a similar outcome for Winston Drive. The city has committed to a two-year plan for the potential lot at Winston, with hints of an upcoming $2 billion housing development plan for Stonestown.
A problem that often arises when dealing with particular situations involving the unhoused is community opposition. The concept of Not In My BackYard, or NIMBY, seems to plague solutions like these, especially in quieter residential neighborhoods like Lake Merced. Some communities are willing to find a solution that may help people, but when that solution is located in their backyard, that eagerness to help often disappears.
Neighbors around the area of Winston Drive have filed complaints about the RVs. 
"We've been looking at finding a location for two and a half to three years, and many of the residents on Winston have been there for nearly that long," said Jennifer Fieber, legislative aide to Supervisor Melgar, whose district includes SF State and the neighboring community. "It's been the most stable housing they've ever had." 
Neighbors that oppose the RVs presence often say, "let's just start ticketing them," according to Fieber, but she argues that it's not a humanitarian response. Many residents are Latino families with children enrolled in local schools, with parents/guardians that are all employed.
Ariana Montoya, a local resident, is familiar with the RVs parked between Lowell High School and the university. 
"It seems like it would definitely be helpful. It seems like there's a lot of people living there, so I think any kind of provided housing could help," said Montoya. "I've seen kids playing around there and I think a safer designated area would be helpful."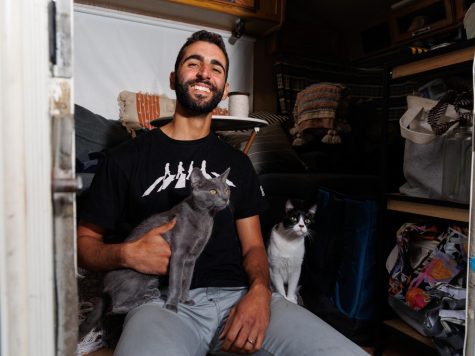 Kyle Azevedo is 25 years old and from Rio de Janeiro, Brazil. He made Winston Drive his home in April 2020. 
"Nobody wants to live on the streets. This is not a choice — this is something I have to do," said Azevedo. "I used to live in Foster City, I shared a 3-bedroom house with 5 people, but because of COVID we can't afford rent," he said.
As of January 2020, 161,548 people in California are experiencing homelessness, as reported by Continuums of Care to the U.S Department of Housing and Urban Development. Several RV residents along Winston Drive have dealt with evictions and/or other financial crises that have left them with no other alternative. 
"It's really important, for obvious reasons, that they get to keep their cars," Fieber said "A lot of them don't think of themselves as homeless. The RV is their home; it's the largest asset they have and it's keeping them from homelessness."
It is quite pricey to set up infrastructure for a live-in lot. To be able to provide a space that was never intended for that purpose is no easy task — especially if the site exists for only a couple years. 
"We're hoping for two years allotment, and then people can park there and hopefully move on," said Fieber.
The Point-in-Time (PIT) count is a count of sheltered and unsheltered people experiencing homelessness on a single night. However, given that the number of unhoused individuals is susceptible to variation, the count is an attempt at an estimate of the city's unhoused individuals. Under the 2022 PIT (Point-in-Time) Count, 7,754 people are experiencing homelessness in San Francisco. Of those people, 3,357 are staying in shelters.
Solutions to situations like this take time. Sometimes no matter what is done, pleasing everyone is improbable. Those that complain may see the RVs and assume the worst about those living in them.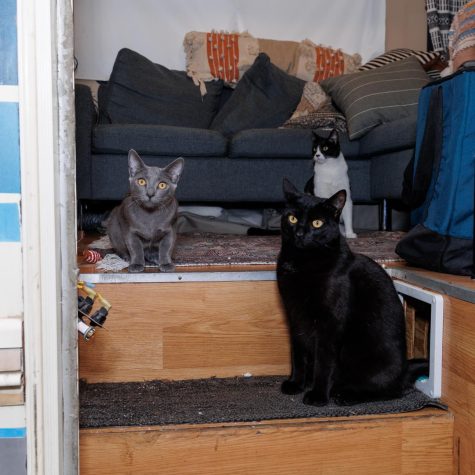 "There was a time when a city van was driving around here and they were offering syringes for us," said Azevedo. "I told them that there are only families around here, no drug use." 
If an agreement can be made, maybe it'll be to reevaluate public perception of the unhoused and focus on the person, rather than the problem.
Leave a Comment