Pop a Pasty
Historically overlooked plus-size burlesque dancers and strippers take the spotlight in San Francisco clubs.
*This story uses widely-known stage names to protect the identity of the dancers and sex workers*
Andy Rose nervously stands backstage behind a velvet red curtain in her light up rainbow pleasers, pounds of body glitter, fishnets and rhinestone-studded lingerie. Even after years of performing, she still feels the butterflies fluttering around in her stomach as the nervousness sets over her body. She starts whispering positive affirmations to herself as the rumble of the crowd pumps her body full of adrenaline. 
As her fellow dancers pass by they only have one thing to say — their equivalent of "break a leg"…pop a pasty!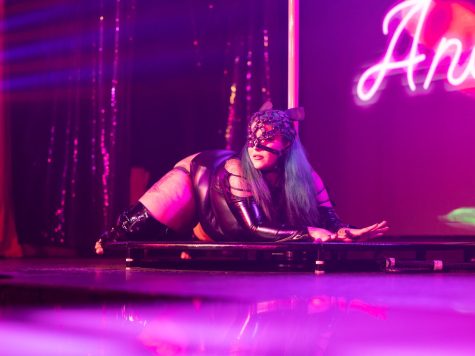 Burlesque dancing has always been a part of San Francisco nightlife. This style of performance can be traced back to Europe as far back as the 16th century. However, the modern style of American Burlesque emerged in the 1920s. These elaborate performances feature dancers in outfits glimmering with rhinestones and sky-high heels, seducing the audience with their enticing stage personalities and suggestive dance moves. Historically these dancers have been mostly skinny, female-presenting and white. Back then, society never would have dared to feature cellulite, fat rolls and 'non-traditional' dancers on stage. However, with the shift in society to become more accepting of all bodies, plus-size dancers are stealing the spotlight. 
ThiccTease, a Burlesque show in San Francisco which features plus-size and non-traditional dancers and strippers, was created in August 2021 by Shanelle Jones. 
"I was a stripper from 18 to 20," Jones explained. "When I was stripping, I was thinner. I was definitely more like the standard view of what a stripper would look like."
Jones remembered how easy it was to book jobs when they were that size. But that all changed after they gave birth to their child and their body was not what it used to be.  
"My body changed, and I couldn't work anymore," Jones said. "Nobody would book me, not even at the clubs that I had worked at previously."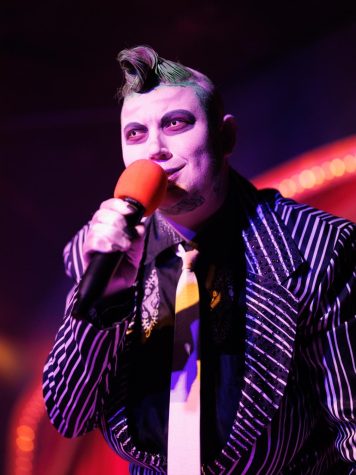 The frustration that came along with being overlooked for jobs and treated differently because of their body size fueled Jones to create a show that was not only owned and operated by sex workers, but also a safe-space, welcoming of ALL bodies. 
"The frustration and the hurt that I felt at being turned away, and seeing my friends still dancing in the club, was something that I don't want anyone to ever feel." Jones explained. "This team has just been healing for me personally. I think it's touched a lot of people."
Endless photos on Instagram of models and celebrities with the perfect hourglass figure, no stretch marks, tiny waists and flat stomachs flood society's view of what beauty is. Plus size bodies are often overlooked, because they do not fit into this mold. 
According to a study done by the Women and Equalities Committee, 57% of adults said that they "rarely" or "never" see people who look like themselves reflected in pictures on social media.
"There's no visibility for plus-size people," Rose, a dancer with ThiccTease, explained. "For the longest time, society has told us that we need to hide our bodies — that we should not be seen, that we need to cover up. You see any thin white person on Instagram wearing a bikini and everyone celebrates it. Then you put that same bikini on a larger bodied person, and there is an uproar. It's insane."
A study done by the American Psychological Association found that out of 50,000 adults, 60% of women were self conscious about their weight and felt they were too heavy. 30% of women reported being too uncomfortable with their body to wear a swimsuit, and 20% felt that they were unattractive. 
Strawberry has been a stripper with ThiccTease since its conception. Jones and Strawberry met at a sex-worker picnic and hit it off. They bonded over their mutual struggles and frustrations with not getting booked because of their size. Shortly after, ThiccTease was born— featuring Strawberry as one of their OG strippers.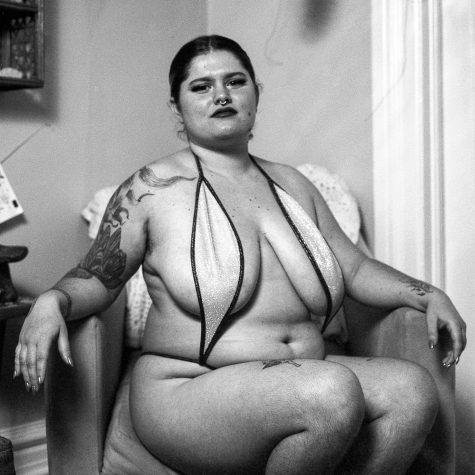 ThiccTease had their first performance at Good Mother Art Gallery in Oakland. Strawberry remembers how juvenile that performance was compared to the elaborate productions ThiccTease puts on today.  
"It was just so makeshift, and we did what was possible at the time," Strawberry explained. "It was difficult trying to find venues who understood the mission of ThiccTease."
A year after its conception, ThiccTease now has nine dancers, over 3,000 Instagram followers and performs at iconic LGBTQ+ San Francisco venues such as Oasis. Jones's idea of creating a safe space for all plus-size dancers blossomed into a full stage production with lights, poles, music, props — and of course, tons of glitter.
Even with a strong sense of self-confidence and bad bitch attitude, many of these dancers found the stripping world to not be all glitz and glamor, especially for people their size.  
After Rose gained weight, she was asked to leave the strip club she worked at. She recalled the manager telling her that if she could not lose a certain amount of weight, she would not be able to work there anymore because she was getting "too big."
"I almost didn't notice that I was gaining a lot of weight," Rose said. "It honestly took a huge toll on everything that I have built, all that strength, and I was super depressed for a while."
This triggered an eating disorder for Rose in her early 20s and forced her to stop dancing. Years later, when she rejoined the scene, she continued to find that she was still not getting booked for jobs because of her weight. 
Rose would pull all the tricks out of her bag, climbing the pole and suspending herself in mid-air. The crowd would go wild over her seductive moves, sparkly outfits and bubbly stage presence — but she still would not get booked for the job.
"I have tried to apply at strip clubs." Rose said. "Honestly, I've kind of given up on it.  I don't want to be a part of it. I want to be somewhere that I am celebrated. They can have their little dancers. I'm gonna go where I am wanted and loved and celebrated. Period." 
She knew she needed a change, so she started go-go dancing at LGBTQ+ bars such as Q bar in the Castro. Go-go dancers hype up the crowd at bars or events by dancing on some sort of elevated surface. Rose fell in love with being the life of the party, and fed off of the crowd's energy.  
"I was able to build my confidence back up again," Rose explained. "I started seeing more and more plus-size dancers and I finally felt like I found the community, I found a home. It wasn't just me. There were so many other beautiful, beautiful plus-size dancers." 
A year ago, Rose was approached by ThiccTease and jumped at the opportunity to perform with them. 
Strawberry remembers when they started dancing at strip clubs in San Jose and would also get turned away from strip clubs because of their size. They believe this was due to strip clubs only catering to the male gaze.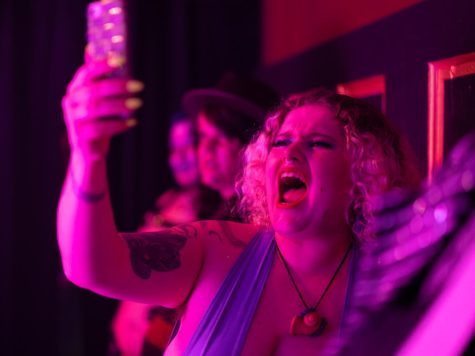 "The managers in strip clubs are just really stuck in their own understandings of what's going to cater to the male gaze," Strawberry explained. "Part of that has to do with people's own tastes that can be really affected by all of these 'isms and phobias."
Strawberry explained that the male gaze strip club managers cater to was very much stuck in the 2005 standard of beauty — blonde, fake boobs and skinny. This narrow view of beauty led to exclusion and discrimination in many strip clubs. 
"That excludes so many different people," Strawberry said. "There's also racial discrimination that's rampant in the clubs, as well as fatphobia, transphobia, etc." 
One of Jones's main goals when starting ThiccTease was to give a platform to not only plus-size bodies, but also for queer people and people of color. Jones felt that queer, plus-size and people of color weren't being represented in the burlesque/stripping scene, and wanted to give them a platform.
According to ThiccTease's unreleased 2022 Demographics report, 40% of their dancers are Black, 30% are Latino/a/x, 20% are white and 10% are Indigenous. 100% of the dancers identify as LGBTQ+. ThiccTease said their goal for 2023 was to hire more masculine presenting go-go dancers, larger-bodied go-go dancers and go-go dancers over the age of 40. 
"There's so many beautiful bodies out there," Rose — who identifies as Black, Latina, and Queer — said in regard to ThiccTease's goal of inclusivity. "I think something that we really need to focus on is uplifting our plus-size, trans and non-binary babes, because there are so many amazing performers that don't get any recognition… Burlesque and go-go dancing is not just for femmes. It is for everyone."
Strawberry believes that when Assembly Bill 5 passed in 2019, it sparked even more hiring discrimination within strip clubs. This law was meant to protect exotic dancers by requiring their employers to pay them minimum wage and overtime, as well as give them access to healthcare and the ability to join unions. But for plus size dancers, it did the opposite. 
"They see you as a liability if you're not able to fit into this really niche box of what they think is going to be successful in the club," Strawberry said. "That stereotype, that mold, is so exclusionary, and excludes all kinds of different people."
Through all the ups and downs of the industry, for some, dancing can be a form of therapy. 
Amber Lust made her debut with ThiccTease at the beginning of 2022. Lust is originally from Panama ,and has been burlesque dancing for nine years. After she created her own burlesque show —  which she admits was more like a variety show — in Panama, she decided it was time to move out to California.
Lust has always dealt with depression and body image issues. Through burlesque, she was able to embrace her body and transform all her negative thoughts into creating a badass performance.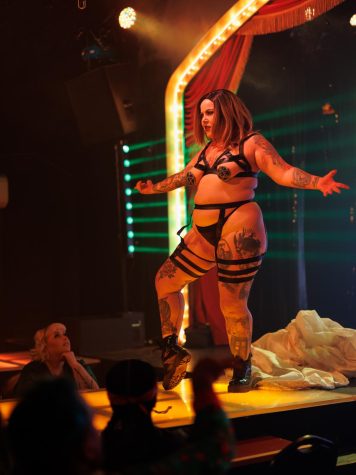 "It helps a lot with my confidence," Lust said. "It helps to have somewhere where I can put a whole bunch of feelings into one thing, you know?" 
Rose has danced her whole life. When she was younger, she was constantly bullied for her weight, and it took a toll on her self confidence. However, once she graduated high school, she decided it was time to make a change and reinvent herself — to have a clean slate. 
"I feel like this part of me has always been in me, but I was never able to set her free," Rose said.  "It was something that was very deep down." 
Rose started stripping right out of high school and also worked a retail day job. Through stripping, she was able to pay for college, support her family, buy her first car and start her own business — The Baddie Playhouse. But it also gave her a newfound sense of power. 
"A lot of people look at sex workers and strippers as a someone that needs to be saved, like the damsel in distress," Rose said. "But honestly, there's so much power once you hit the stage or the pole. I found a lot of confidence through stripping.
Burlesque and stripping has also helped Jones get away from abusive situations.
"It's a way for me to be independent and have a lot of income coming in," Jones said. "It allowed me to literally escape. I know that it's a really good form of financial stability for a lot of femme women or people. It's just important that everyone has access to that." 
Leave a Comment
About the Contributors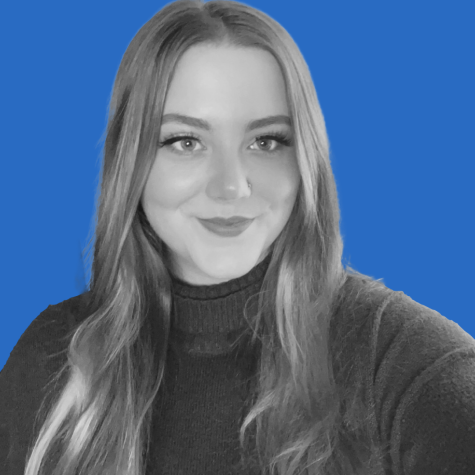 Caroline Raffetto, Staff Writer
Caroline Raffetto (she/her) is a Journalism major and Humanities minor at SF State. She has always been passionate about writing since she was able to...