The Road to Freedom
Protests against Iran's Islamic Republic regime continue world-wide after the death of Mahsa Amini.
"Did you know that letting your hair blow in the wind is a crime in Iran?" is written on a bright orange sign held high in the air. "Stop Killing Us" is written in white letters atop a black mask covering one woman's face. A variety of loud chants echo in the air across Iran: "Death to the dictator!" "Say her name!" "Women, life, freedom!" Women dance in the streets as some burn their hijabs and cut their hair. Their male counterparts protest next to them in support.  
Day after day for over a month, Iran's protestors have demanded freedom and met brutal crackdowns. A women-led revolution is underway. The trigger: the death of a 22-year-old Kurdish-Iranian woman named Mahsa Amini. 
Amini died in the custody of Iran's notorious guidance patrol, more commonly known as the morality police. The unit enforces the country's rule on a modest Islamic dress code. Amini, who was visiting the capital of Tehran from her hometown Saqqez in the Kurdish region, was taken to the morality police headquarters for an "educational class" for allegedly wearing her hijab improperly. Within two hours, Amini was in a coma at Kasra hospital. She died three days later.
Ever since the eyes of the world turned to Iran in September, the knocking on the door at SF State's Center for Iranian Diaspora Studies has been constant. SF State is the only CSU with a Center for Iranian Diaspora Studies. The Center, established in 2016, is the first organization of its kind, and it is dedicated to researching and teaching the historical and cultural experiences of the worldwide Iranian diaspora community
Several Bay Area news outlets have quoted the head of the center, Persis Karim, in their coverage of the protests, thrusting the center into public light. Karim encourages a younger generation of Iranians to speak out and share their stories. 
 "It's good that people are interested," Karim explained.  
 Amini's death caused large protests both within and outside of Iran. Iran's Islamic regime is now under global scrutiny for its treatment of women. Amini's death acted as the catalyst that sparked a feminist revultion, and Iranian women intend to never go back to how they used to live. 
Hundreds of people in the Bay Area have shown their support by joining protests, organizing teach-ins and signing petitions to bring awareness to the situation in Iran. 
Ferdos Heidari is an Iranian-born SF State student working towards her Master of Fine Arts. Protesting has become part of her weekend agenda.   
"I felt so empowered," Heidari said."I felt privileged that I can go out, and no one is going to shoot me in the face for saying that. I wish people in Iran had this opportunity. We are trying to inject hope for them. And it also feels empowering for us to be able to go out — and sorry for my French but — to say fuck the Iranian government."
Ava Parto, a pen name, is an Iranian-born student studying in San Francisco. She is unable to use her real name out of fear of punishment from the Iranian government upon returning home. 
"It was good to be able to protest without fear for your life —  just chanting and being heard.  And seeing Iranians from all different backgrounds and different beliefs coming together for just one cause. I think that was really beautiful, It's indescribable," Parto explains. "But you can't help but think about the people who are risking their lives by doing the same thing,"
For over 40 years, Iranian women have been coping with discriminatory laws and strict social rules. When the Islamic Republic of Iran was founded in 1979, Iranian women lost their right to choose how to dress. It was a freedom they had before that time — a freedom that many want back. 
Heidari, who left Iran when she was 12, recalls her encounter with the morality police. She was out with her cousin for a fun day of shopping. When she hopped off the bus, two women followed her. 
"They started to shout at me and call me a whore," Heidari said. "Imagine you are 13 and don't even know what that means."
Pedestrians on the crowded street turned to stare as Heidari cried and ran away. As a Christian living in Iran, these hostile interactions were not her only hardship. 
"We basically do not have any freedom in what we believe," Heidari said.  "On our second visit back after we moved out of Iran, the government found out about us being Christian, and now I am blacklisted. I cannot go back to my country. If I set foot in an Iranian airport, I will be taken to prison."
Parto explained the stress of normalized violence and feeling distrust in her own city after multiple encounters with the morality police. While she was still living in Iran, Parto was taken to the same center that Mahsa Amini was taken to. Although she was not physically beaten, she felt the verbal abuse and humiliation greatly affected her.
"I'm glad the world is seeing what we have always had to endure," Parto said.
 School yards in Iran have also now turned into protest sites, with teenage girls leading the movement, demanding eradication of the morality police and an end to the Islamic regime. 
Most recently, plain clothes militia officers ambushed the prestigious Sharif University of Technology  in Tehran on October 2, 2022.  Protesting students were trapped by security forces in a parking lot and tear gassed. As students tried to escape, riot police threw rocks and shot at them with rubber bullets and paintballs.  Some students barricaded themselves in their dorm rooms, taking turns keeping watch as the riots ensued. 
"These young women's mothers and grandmothers have had to deal with the erosion of their rights," said Persis Karim, Chair of SF State's Center of Iranian Diaspora. "There have been numerous efforts on behalf of women to change some of the discriminatory laws, to challenge the punishment of veiling practices and they haven't succeeded. So, for these younger girls and women, seeing the humiliation of their mothers and grandmothers and feeling like the Islamic Regime is not open to change —  I think it's the right mix of frustration and humiliation and recognition."
The Islamic regime is violently retaliating against Iranians participating in this anti-regime revolutionary movement.  Yet women remain on the frontlines, despite the risk of punishment or death.
"I don't know what non-Iranians know," Arsham Pourfallah, assistant to the Associate Dean of Student Affairs, said. "I think they know very little. They definitely don't know to what extent people are being brutally killed, raped and tortured. They're only seeing a very little glimpse of it,"  
Pourfallah was born in Iran and built a new life when he moved to San Francisco 12 years ago. 
"It is not safe," Pourfallah said. "The reality is that they're going around shooting people. You can't be just going outside. They shot a girl on the way to the dentist. They just shot her dead – everything is complete chaos."  
Pourfallah refers to Hanaheh Kia, a 23-year-old Iranian woman who, according to citizen journalism site Iranwire, was shot dead by security agents as she came home from the dentist.
Pourfallah remembers peacefully protesting during the 2009 Green Movement when he still lived in Iran. 
"Everyone was just sitting down peacefully in a square, just chanting and talking," Pourfallah explained. "The Islamic Republic police just started raiding. They started shooting at people.  They started throwing tear gas, and everyone got up and started running."
Pourfallah was paralyzed with confusion and couldn't understand why they would do this to peaceful protestors. He left Iran shortly after. 
"While we were running, I saw one of their cars run over an older man," Pourfallah said.  "The man was running away, and we were all running so we couldn't do anything about it." 
Freedom of the press is limited in Iran, and the regime continues to block internet access. News outlets only air glimpses of the events that unfold within the country. Social media is an important tool that provides an international stage for this movement. 
"The Islamic republic is shutting off the internet, because in that silence, they get to kill more people," Parto explained. " If the social media momentum dies, they will get what they want."
Pourfallah feels that one of the biggest issues with social media is the reliance on it for news.
"We're getting everything through social media, which shouldn't be the case. " Pourfallah said. "It's kind of hard to verify things, because where is the solid evidence?" 
How can we help
Spread the word and keep the hashtags going. #MahsaAmini #WomenLifeFreedom #Iran #IranRevolution.
Share information on posts and protests.
Sign a petition: Change.org is asking the international community to hold the Islamic republic accountable for the ruthless violence against protestors. You can sign the petition here: change.org
Call political representatives and ask them to prioritize human rights in Iran. Find your elected officials here house.gov/representatives and senate.gov  and ask them to express their support of the Iranian protests.
Join a protest
Educate ourselves and people around us about what is going on in Iran.
Leave a Comment
About the Contributor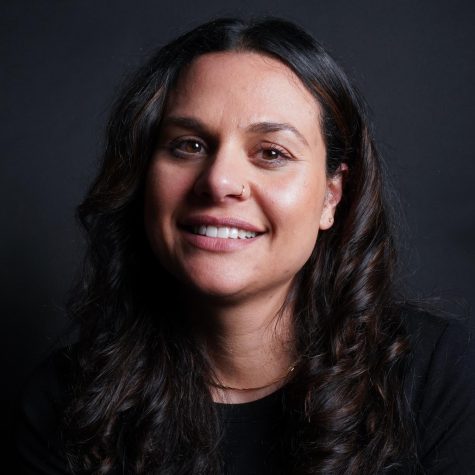 Angelina Casolla, Senior Reporter
Angelina Casolla, born and raised in San Francisco, is a staff writer for Xpress Magazine. Prior to attending SF State she attended Cal State Long Beach...