Wake Me Up When Winter Ends
Students battle seasonal depression as the air turns colder and the holidays approach.
As the sun goes down around 4 p.m. and the breeze hits frozen noses, classrooms  become empty. With only three to four students showing up, professors begin to wonder where their students are. The population of the once-flooded campus starts to dwindle as finals approach and seasonal depression makes an appearance. 
Seasonal Affective Disorder, known as SAD, appears for most around November, when the days turn gloomy and rain starts to pour. This type of depression alters one's mood based on the change of seasons, typically appearing in the winter. According to the National Center for Complementary and Integrative Health, vitamin D deficiency is a common factor in SAD — an effect of not getting enough sunlight exposure.
Jasmine Macalma, a fourth-year SF State student majoring in public health, has experienced seasonal depression since she moved to San Francisco from warm and sunny San Diego. Macalma noticed a sluggish toll would hit her in November, and juggling work and school became harder.
"I used to gaslight myself when daylight savings comes and seasons change into thinking why I act this way compared to summer time when I'm fresh and happy," said Macalma.
The empty chairs lead professors like Dr. Florence Uma Bhatnagar, a public health lecturer, to question where students have gone. Since winter comes with deadlines and finals, it becomes harder for students to keep up. Uma Bhatnagar understands the toll mental health can have on her students during this time of year, and believes mental health should come before classes.
In Macalma's public health classes, mental health is heavily discussed. She expressed how her professors help accommodate students when possible. But she also recognizes that there are other things she can do to help cope with her seasonal depression.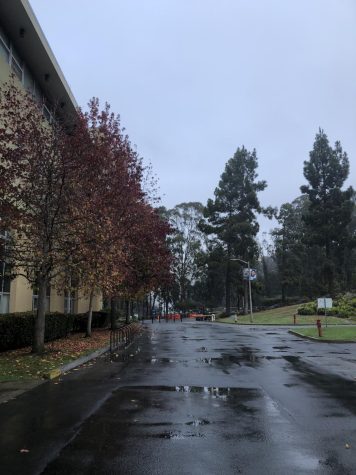 "I try to surround myself with friends because it helps distract me, and being around people helps me realize I'm not lonely," said Macalma.
According to UC San Francisco Health, the condition can happen in any season, but this disorder is likely related to limited availability of sunlight. For SF State students that come from warmer areas, such as Southern California, getting used to Karl The Fog and less sunshine can be a tough transition. The climate in San Francisco during winter mostly stays within 50 degrees and rains about every other week. 
"It's hard to get out of bed sometimes," said Macalma. "I'm usually the type of person to get up early and start my day, but there are so many days where I can't get up and sleep through my alarm. I get this mood change where I just can't do this anymore." 
Excessive sleep, negative feelings, anxiety and low energy levels are some of the symptoms that can be experienced while dealing with SAD. 
Insider Higher Education conducted a survey of 2,000 students to find the stressors students struggle  with most. The top three were keeping up with course work, feeling pressure to do well at college and worrying about money.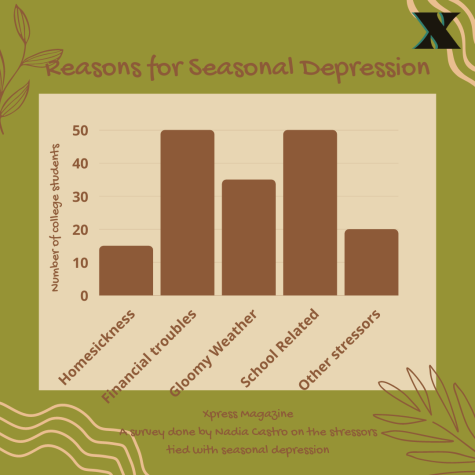 College students are at high risk for stress and mental health struggles as they transition into adulthood while simultaneously trying to pick a career path. SF State offers different health services to students that can help with mental health like Counseling and Psychological Services (CAPS).
SAD drains one's social battery, leaving their energy low and thus unmotivated to go out. Since there's hardly any sun during the winter, Healthline says sunlamps can help depression during this time. A sunlamp or light therapy box mimics the natural light outside so that users can absorb some sunlight even when inside. Dawn simulators have a similar effect, waking their user with a brightening light that simulates the natural sun.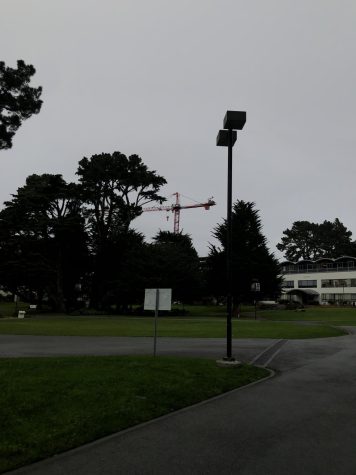 Another way to cope with SAD is to maintain a good routine with regular bedtimes. Students can also get energy from going for walks, eating food or doing other invigorating activities. 
  "I don't notice it immediately stop. I feel like I get sad until I'm reminded 'I can do this, I can go outside or to the beach.' I can do whatever, because it's more comfortable going outside now," said Macalma. 
View Comments(1)
About the Contributors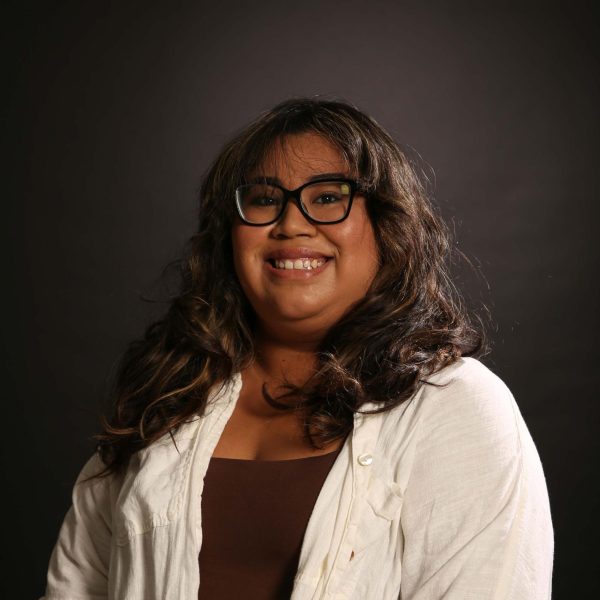 Nadia Castro, Diversity Editor
Nadia Castro (she/her) is the diversity editor for Xpress Magazine. She is majoring in journalism and minoring in business management.  She likes to write...