Krazy 4 K-Pop
For some Bay Area K-Pop fans, this music genre is more than just fun upbeat songs and colorful hair.
On most nights, SF State's Mashouf Wellness Center is filled with students and faculty working out, playing basketball and rock climbing. But on some nights in room 122, something else entirely is going on: dance workshops. And not just any dance workshops — K-pop dance workshops, with 15-plus fans that dedicate two hours of their day to learning the rigorous choreography of their favorite K-pop songs.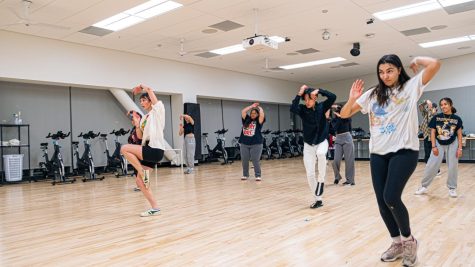 When the general public hears the word K-pop, the first things that come to mind are super-upbeat tunes and singers with colorful hair. But those who are active members in the K-pop community know that it is so much more. K-pop gives them a sense of belonging, a place to unapologetically be themselves and strength to carry on when life becomes too overwhelming to push through alone. 
The Bay Area houses a prominent K-pop community, featuring K-pop-themed events, fans who make and sell original merchandise and specialty stores that sell official albums all across the Bay. Not to mention SF State's very own K-pop club,  K-pop Adventures. 
Korean Popular Music — commonly known as K-pop — has surged in popularity in the U.S. in recent years.  The boyband BTS, one of the genre's most popular groups, became the first Korean act to be nominated for a Grammy in 2021. The group has now beat their own record, nominated for two more Grammy awards this year. In a 2021 study by Statista, 39% of respondents said that K-pop was very popular in their country, which was conducted in 18 countries. So, how exactly has this genre of music taken over not only the Bay Area, but the entire globe?
SF State graduate Yvonne Arceo was 11 years old when she was introduced to the colorful world of K-pop. It's now 22 years later, and she's never looked back.  
"It's given me a life," Arceo said. "I don't know what I would be without it, truly."
Thanks to K-pop, Arceo says she has found a community like no other, and was even able to study abroad in Korea — a chance she may have not taken had she not learned about Korean culture and language from the genre.
"I found out I'm really interested in languages," said Arceo. "It's allowed me to connect with friends too and make new ones, and I think all those things are special and provide a community for those that may not have it elsewhere."
This sense of community is incredibly important in the world of K-pop and is mentioned frequently by the singers — known as "idols" — as well as their fans. These idols have garnered unprecedented adoration across the globe, thanks to the dedication they have towards their craft and the charismatic way they interact with their fans. 
This level of devotion isn't usually shown for other genres of music or entertainment. When an idol has a birthday, fans across the world organize a variety of events to celebrate. The most common are "cup sleeve events,"  usually held in a cafe or boba shop where attendees get a free K-pop themed sleeve with the drinks they order. Cup sleeves provide a safe, fun environment for fans to celebrate their favorite idols surrounded by decorations, music and friends. Other fans decorate planes for their favorite idols or send coffee trucks to their label's buildings to celebrate their favorite's birthdays.
There was a cup sleeve event on Saturday December 3rd, 2022 at My Cup of Tea in San Francisco. This event was hosted by Magic Hour Cafe, a group of fans that also put on events in Castro Valley, Berkeley, Bakersfield, Fullerton and Los Angeles on the same day. The events all celebrated the 22nd birthday of Soobin, a member of K-pop boyband Tomorrow x Together or TXT.
In Korea, events called fansigns allow fans to meet their biases face-to-face. A "bias" is a nice way of saying your favorite member of the group. At these events, idols meet fans and sign albums. Fans can take pictures with the idols and even give the idols gifts. But what distinguishes these events from a Western singer's meet-and-greet is the way K-pop idols interact with their fans. Sure, American singers show love and appreciation for their fans — but K-pop idols take this to the next level by being overly sweet, loving and even flirtatious with their fans. 
While the love between idols and their fans defines K-pop, it can also lead to parasocial relationships. A parasocial relationship is a one-sided relationship where one person extends emotional energy, interest and time while the other is completely unaware of their existence. While some K-pop fans who behave this way, there are many fans who are not the stereotypical "crazed" teenage girls who think Jimin of BTS is their actual boyfriend. 
Joanne Auwae, known on Instagram as the K-pop Granny, is 73 years old and adores K-pop. Since becoming  a fan in 2019, she has attended roughly 120 K-pop events and concerts with her daughter and granddaughter. She says that the shared interest has brought the three generations of women closer together. 
"K-pop has opened a most enjoyable view of music and youth in this senior's life," Auwae said. "I am humbled by the enthusiasm and warmth of people, young and old, who have followed me on Instagram and who share the same love of everything K-pop." 
Auwae has become somewhat of a social media celebrity in the Bay Area and is almost always recognized at the K-pop events she attends. 
"Some of my fondest memories include meeting the many fellow K-pop enthusiasts at cup sleeve events and concerts," she said. "If only they knew I am more in awe of them knowing who I am than in their thinking that I'm a celebrity of sorts."
Kevin Chow turned his love of K-pop into a business venture. After becoming a K-pop fan in 2012 and joining a K-pop cover team, he met a friend and they decided to follow their dream of opening a K-pop store. Chow and his friend made that dream come true back in 2021, when they opened Kloud K-pop San Jose.
For Chow, his admiration for K-pop stems from finally seeing representation on his screen.
"I'm Chinese-American, and I was like, 'It's kind of cool that there's these Asian artists that are doing really cool things and are looked up to by a lot of people,'" said Chow. "That's what drew me in. In the U.S., you didn't really see that many Asian artists or actors in the mainstream media.  I really wanted to support that. Seeing that gave me a lot of confidence to do what I want to do without feeling judgment." 
Confidence, self-love, etc. are all popular themes in K-pop lyrics and give fans the sense that their favorite idols and groups are there for them through it all. The face of the genre, BTS, staged a campaign back in 2017 titled "LOVE MYSELF" aimed to protect and support child and teen victims of domestic and school violence as well as sexual assault around the world. 
Jessica Adena has been a fan of K-pop — specifically BTS — for five years now and has found comfort in their lyricism and messages.
 "Their lyrics and the way they convey their emotions in them is so powerful," Adena said. "There are songs that have literally saved me and changed my life because I could relate to it. Their songs offer a blanket of comfort, saying 'It's ok' and 'You're not alone.'" 
Leave a Comment
About the Contributors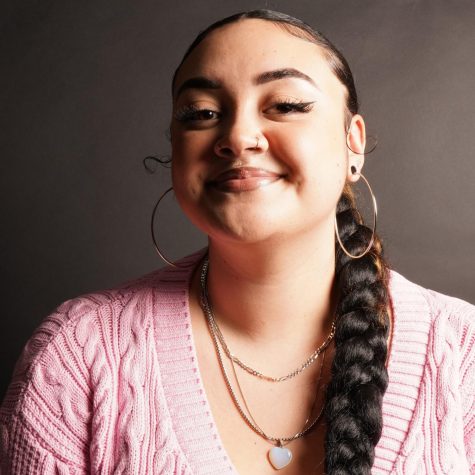 Ciara O'Kelley, Diversity Editor
Ciara O'Kelley is a current journalism major and Africana Studies minor at San Francisco State. This is their second semester working on Xpress Magazine...