The $1.6 Trillion Crisis
With Biden's Student Debt Relief Plan on hold, what are other loan debt cancellation resources for students?
Student loan debt continues to rise, and now lies at an amount inconceivable to most, $1.6 trillion. The 13-figure number is too large for even the iPhone calculator to compute. So, what could you do with a trillion dollars? Cure all diseases? Increase the average life span by 10 years? Combat global warming? End world poverty? The possibilities are endless. More practically, you could purchase 22 million Model Y Teslas, two billion iPhone 14s or pay the four-year tuition at SF State 51 million times. 
Since 1980, the total cost of a four-year college education has almost tripled, according to the White House. Back then, the price of college on average was $10,231 per year. Today, SF State's tuition totals around $31,000 per year. As the cost of college has increased over the years, so has the need for student aid to offset that cost. Student's debt on average for a four-year bachelor's degree is roughly $30,000 per student — though most students take longer, which only increases the amount they owe.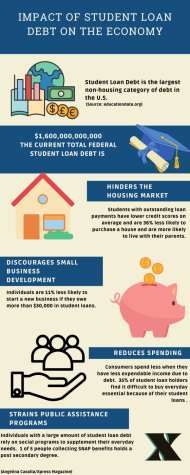 In August, the Biden administration announced their plans for student debt relief, potentially alleviating $10,000 to $20,000 for individuals who qualified. However, federal courts have blocked the debt cancellation initiative, leaving thousands waiting for their debt to be discharged. While SF State students have a lower debt average than most other college students, their average debt of over $18,000 still weighs heavily on them. 
Erica Pulley recently uprooted her husband and two kids from San Francisco to begin a doctoral program at the University of Oregon. Prior to that, she graduated from SF State with a bachelor's in environmental studies and a master's in broadcast and communication arts. It left her with $150,000 in student loan debt.
"I don't even know how I managed to do this," Pulley said. "I had a counselor in the student aid department, and she was like 'take what you need to and figure it out later.' So, I did that."
San Francisco's high cost of living coupled with the price of childcare, student loans were Pulley's only option.
"I took out as many loans as I could during my graduate studies, because we have two kids and were paying San Francisco rent," Pulley explained. "I took out all the public loans and it's now accrued a ton of interest. So, I'm at $150,000 for a public school education."
Pulley applied for Biden's debt forgiveness program before it got put on hold.  
"I planned for the max, $20,000," she said. "And it's so funny to me that that's not going to make a huge dent. It's a lot of money, it's not nothing," she said.  
With her menacing $150,000 in student debt alone, Pulley can't envision ever living a debt-free life. 
"I just don't let myself care because it's such an absurd number, and it's laughable, and I'm never gonna pay it off," Pulley said. "That debt's always there, and it's more symbolic to me than anything else. It's symbolic of the ridiculous cost of living in San Francisco. It's symbolic of the ridiculous cost of childcare. It's symbolic of the ridiculous cost of just existing."  
Natalya Bomani graduated last May from the University of San Francisco. She studied politics and sociology, and accrued $35,000 in debt during her time there. 
The amount of money Bomani owes in debt stood out to her, because it was above the national average. But not so surprising seeing how black women are the number one holders of student debt in the country, according to the ACLU. 
"I identify as a black woman," she said. "I love to tell people that, just so they understand that student debt and debt in general isn't just an economic issue, but it's a racial and gender justice issue as well."
According to 2022 research done by the Institute of Education Science, women possess nearly two-thirds of the total amount of federal student loan debt. Black borrowers are disproportionately burdened, mainly due to systematic racism. Black women find themselves at the intersection of these two groups. 
As a family, the Bomani's owe more than half a million dollars in medical debt. Her mother, a cancer survivor, had to pay out of pocket for chemotherapy and radiation — adding to the cycle that many black women find themselves in.  
"Thankfully, she's in remission, but the debt is causing a lot of emotional stress," Bomani said.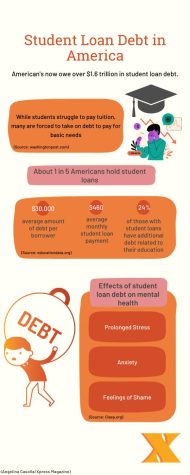 While Bomani thinks Biden's relief plan is a start and she filled out the application, she doesn't agree with the term "forgiveness."
"I think the narrative around financial problems is 'You did something wrong, you didn't budget well enough,'" said Bomani. "It's an educational system problem that's not reaching our under-resourced communities, so it's a systematic problem, not an individual fault. I shouldn't feel shame in saying 'I need help and I need to take this money to survive'."
From scrapping furniture from friends and family and sleeping on a cheap mattress out of a box, Morgan Butler managed to dodge the student debt bullet by making some strict lifestyle choices.
"I avoid any meal deliveries like Uber Eats," she said. "I take public transportation, because State has discounts to help me offset those transportation costs. It's tough. It's a constant mindfulness of where it is that you're putting your money."
Butler is currently working on her Master of Fine Arts and chose SF State because it was the only local college she could afford at the time. She accepted a full-time job as a budget coordinator in the BECA department for the free tuition waiver.
"I literally put no research into this. It was the one place I applied and the only place I could afford," Butler said. "Just to be able to get through school with no debt, I think will be nice." 
Butler would love to get her Ph.D., but only if she can "weasel her way into some kind of free program."
As Leila Harara boards the BART train for her commute from San Leandro to SF State, a dark shadow of student loan debt lurks in the corners. Harara owes over $35,000 in student loans and expects to almost double that by the time she graduates with a master's degree in political science.
Nevertheless, along with the financial burden comes personal gratification.
"A part of it that people don't understand is some people go to school to prove something to themselves," Harara explained. "My goal isn't just to get a good job and to be a good worker to feed into the capitalist America. Another part of it is proving to myself that I can achieve something and I can get something done."
Though she makes an effort not to dwell on the money she owes, fear of her debt reaching triple digits as well as a hefty price tag have put Harara's dream of law school on hold. 
"That's what has dissuaded me from going to law school, or wanting to get a PhD, just the idea of having triple digit debt," Harara said.
She submitted her application for the student debt loan forgiveness as soon as the application launched. Although her student debt sometimes feels like a cloud that looms over her head, some days are more sunny than others.
"I'm fearful of keeping the cycle going for the rest of my life," Harara explained. "Being a lifetime renter, always having debt, always driving an old car, having to only shop sales or go to food banks for groceries to make ends meet. The financial insecurity and economic hardship is definitely something I worry about a lot."
Jacob Victorio is a senior at SF State majoring in environmental studies. Although he owes more than $10,000 in student loans, he imagines the number is low because he started at community college. He won't have to make any payments until he graduates in the summer of 2023 and doesn't want to worry about it until then either. 
"I feel like it's 'out of sight, out of mind' for now. Once I graduate and they start asking for the money back, that's when it really hits you," Victorio said. 
San Francisco Rising, a grassroots organizing alliance, recently hosted a two-day student debt relief resource fair on campus. Their goal was to help students fill out the debt relief application, but they had to switch gears when applications were paused that week. Instead the group distributed their 'Student Liberation Manifesto', a student published zine that highlights the harm student loan debt has on people. 
As individuals continue to grapple with large amounts of debt, hindering their well-being, SF Rising outlined their vision for free college — something that states like New Mexico implemented earlier this year. 
"A huge part of this movement has been really humanizing the number," said Alex Lalama, SF Rising's lead student organizer. She graduated SF State with $27,000 in student loan debt after finishing her master's.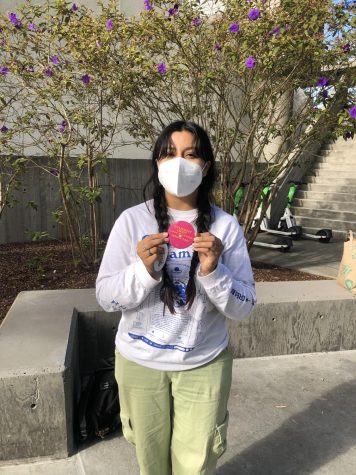 "We have trillions of dollars of debt – in the Bay Area alone, we have $26.6 billion of student debt," Lalama explains. "In the Bay Area, the places most impacted by student debt are predominantly black and brown communities. People look at that number and they don't humanize it."  
Lalama fears her student debt will interfere with being able to save for her future. 
"I think a big part about having debt means I'm not able to build any savings for myself. As I've gotten older there's always looming amounts of other debt – there's always that fear of what if something happens and I don't have enough money for it? Because I need to pay back my loans and pay back my debt. It's about being able to provide for myself and feel secure and safe. If I didn't owe $27,000 in debt, I would be able to do more things for myself," Lalama said.
Vanessa Torres, a third-year at SF State double majoring in sociology and race and resistance studies, is an active member of SF Rising and participated in the fair to help spread the message. 
"I've done all this work outreaching to people, trying to imagine a different society where college is free," Torres said. "To reimagine a different society where actually our basic necessities are met, including having free college for all. I know it's really hard, because we live in a society where we have to pay for everything." 
Like other cash-strapped students, Torres has managed to stay debt-free thus far because of financial aid. She fears that will change next time she has to fill out the FAFSA application because her family is now in a different tax bracket. 
"I know a lot of friends and families have taken out loans and have been impacted by it.  It affects their mental health," Torres said. "I see a lot of students on campus and off campus who have already graduated or in graduate school and they're suffering because of that debt. And it takes a really long time to pay it off."
Leave a Comment
About the Contributor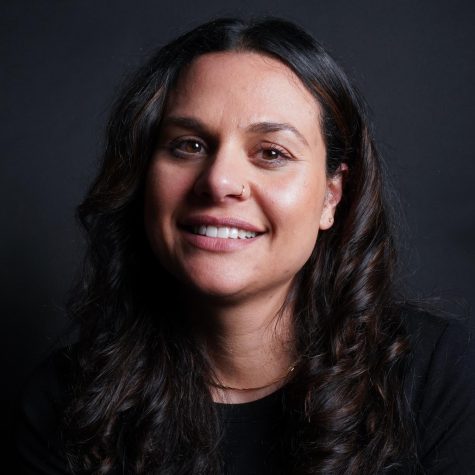 Angelina Casolla, Senior Reporter
Angelina Casolla, born and raised in San Francisco, is a staff writer for Xpress Magazine. Prior to attending SF State she attended Cal State Long Beach...