The Man Behind the Dance
The struggles an SF State student went through to create Banda Nite.
Lee este artículo en Español                                        Read this article in Spanish
While SF State's brightly decorated Latinx Student Center was bustling with the commotion of students, Alan Gómez sat further away in an office, deep in conversation with the center's director.
On any other day, Gómez can be found enjoying the center's main room. Its walls are decorated with multi-colored papel picado, Latino-related memes and student-designed artwork — an aesthetic that matches his outgoing personality.
However, the dark and distant ambience of the office he sat in better described his serious demeanor. He explained that he was focused on finalizing a plan to film a commercial for "Banda Nite," an on-campus event hosted by the Latinx Film Club and IDEAS (Improving Dreams, Equity, Access and Success) on Dec. 2 that celebrated Latin music and dance culture.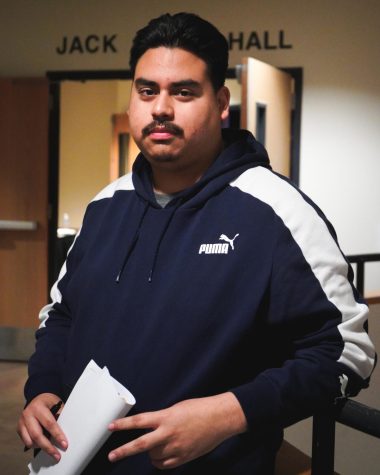 Gómez, a senior majoring in Broadcast and Electronic Communication Arts (BECA), is the president and co-founder of the Latinx Film Club. He describes the club, which was started during the Spring 2022 semester, as an open space for all students to explore their creative side through the art of cinema. Yet, the club decided to focus on a different type of art with their latest event.
"We wanted something where it could be a social space, something that would attract people or the Latino students on campus," Gómez said. "And I said, 'Okay people are thirsty for parties.' There are parties every weekend like in the dorms or like this and that. But what's the one thing that would happen? They get shut down. So we said, 'Let's bring the party to them.'"
And that's what they were able to accomplish.
According to Gómez, their event sold over 250 tickets online. Many more tickets were also sold at the door as students flowed in and out of Jack Adams Hall at the top of the Cesar Chavez Student Center throughout the night. The band named Nuevo Armamento played a mixture of their own music and famous covers such as Los Tucanes de Tijuana's 'La Chona.' Meanwhile DJ Mala Vida mixed music from famous regional Mexican bands like Grupo Firme and Alacranes Musical.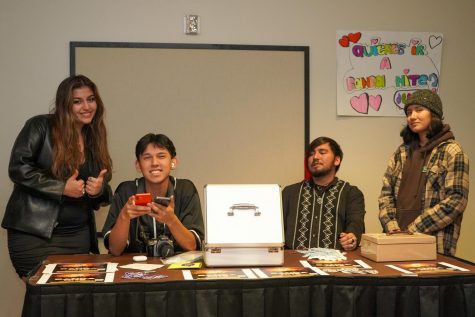 Some SF State students passionately danced quebradita, a traditional Mexican dance style, while others kept it to a more simple two-step. Yet, despite a clear difference of skill-level, the music that played throughout the night brought everyone together in celebration of the Latino community on campus.
"I think it brought everybody close together," Hanna Maaloul, the vice president of the Latinx Film Club, said. "There was even people that were outside of the Latinx community that were enjoying it and enjoying other people's cultures."
Even though the event was deemed a success by the end of the night, it did not feel that way near the beginning. During the first hour of the event, the dance floor was empty and event-goers hugged the wall. People were slowly trickled into a quiet and dormant room.
It was reminiscent of Banda Nite's creation.
The plan to create the event was finalized around the beginning of October and the Latinx Film Club and IDEAS proceeded to spend the next two months working to bring their vision to fruition.
Those next two months, Gómez explained, were incredibly difficult. Time management was his Achilles heel, as he had to juggle studying for midterms, attending Associated Students meetings, creating budget sheets, filming promotions and leading event planning. Fortunately for him, both clubs carried a shared passion for the event and created a foundation Gómez could rely on. 
Ricardo Sanchez, the president of IDEAS, attributes Gómez's passion for bringing Latino culture on campus as both clubs' motivation.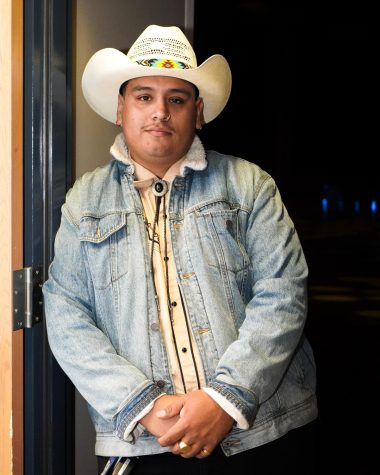 "Alan was just basically the backbone of the operation," Sanchez said. "He was just out there, putting the hard work. I was just out there following his lead and trying to catch up to him."
However, that passion for the event was tested when they opened ticket sales.
After only having sold two tickets after the sales launch, Sanchez described a conversation with Gómez where they had to make some hard decisions. They both agreed to shut the event down if they sold less than 50 tickets a week before the event.
"We started doing little promotions, little TikToks, just random videos … and that's when it started picking up," Sanchez said. "The event started that week. We sold our 50 tickets and we were like 'Oh, we're good.' Then the next day 75. The next day 100. The day of [the event] we had 200 sold."
For Gómez, it felt like this moment had come full circle, and reminded him of his creative journey up to this moment.
"It made me proud of the creative journey that I've had," Gómez said. "I actually made this event on campus. So I was very proud of myself to create this space."
Gómez went to high school in Vacaville, a predominantly white city near the Bay Area, where he first found his passion for the creative arts.
"In high school, I wanted to be a producer, kind of like a beat maker," Gómez said. "I would just make things, simple little beats, with my high school friends and start rapping to it."
However, high school was also where he first experienced being racially profiled.
"I grew up around a lot of active gang members, so it was kind of hard to really be seen," Gómez said. "I got profiled in high school by a faculty member. If you were part of this group, you wouldn't be seen like equal."
He also encountered challenges when researching paths to higher education at his high school. He recalled speaking to a counselor but feeling unsupported. The counselor recommended going to Solano Community College. Although Gómez believed it was the best decision, he still felt like the counselor just wanted to get rid of him.
Despite his negative experiences with the high school counselor, Gómez went to Solano Community College from Fall 2017 to Spring 2020, where he studied music theory, practiced sound recording and completed his general education. 
Then, when he transferred to SF State during the Spring 2021 semester, he discovered BECA and quickly changed his major from music to his newfound passion. Yet, he once again experienced discrimination due to his background.
"I really had to overcome and show a lot of people in my class my abilities because a lot of people were like 'but you came from a community college,'" Gómez said. "But I'm like 'Yeah? But it don't mean like that bro. I can probably do better than you anyways.' So I let my projects speak for myself." 
After a semester at SF State, Gómez saw a post from Daniel Tinajero on a Discord server asking if people were interested in a Latinx Film Club. Gómez expressed that he felt excited at the idea and quickly founded the club with Tinajero in the beginning of the Fall 2021 semester. 
Now, he uses the club to create a safe space where people can freely express their creativity without any judgment or pressure — which was the goal of creating Banda Nite.
"I think people are really missing that identity or that culture-like cultura," Gómez said. "They don't know what it is when they come here. So I'm like 'Look this is what it is. If you feel good about it then this is what it is.' You find that identity."
Leave a Comment
About the Contributors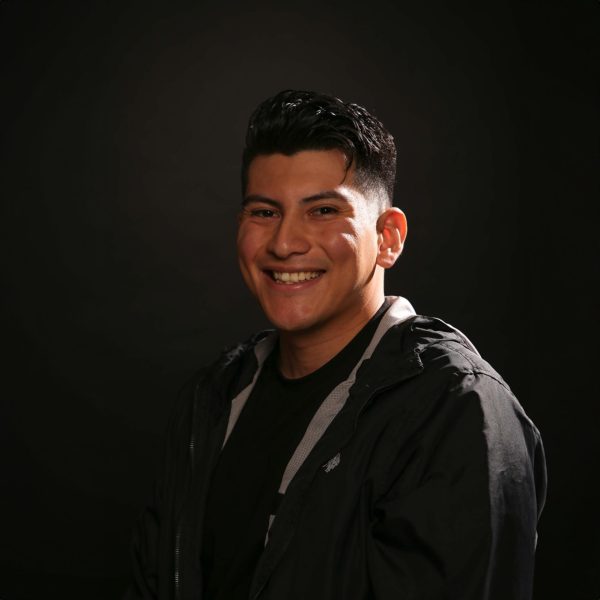 Daniel Hernandez, Spanish Editor
Daniel Hernandez (he/him) is a transfer student from the Inland Empire majoring in bilingual journalism. He also oversees Xpress' Spanish section. His...