A New Gym Culture
Shifts in gym demographics create a better work out space.
At 16 years old, Emilia Russell knew the pros and cons of working out in public gyms. On the positive end, working out meant better health, more endorphins and new friends at fitness centers. Getting catcalled and leered at by older men, however, made the hobby bittersweet.
Though in the past, gyms have not been overly welcoming towards women and non-binary folks, fitness centers across the United States have reported a dramatic increase in female gym memberships in recent years. According to a survey done by the International Health, Racquet & Sports Association between the years of 2010 and 2019, female members had a 32.2% increase, while males only increased by 23.2%. Unfortunately, the survey provided no data on the attendance of non-binary gym-goers. Women are more enthusiastic about fitness than ever before, and the result is a safer, friendlier workout environment for all.
Russell, now 25, has certainly felt the shift in the fitness world's acceptance of others. During much of their youth, Russell — who is transgender — experienced not only sexual objectification from others during gym workouts, but also hostility regarding their gender expression.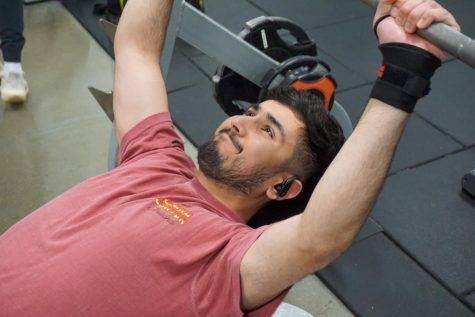 "Obviously, it is going to be more men, but you can't disregard that women can also be bad people," Russell said. "I have been intimidated before by a lady who finished up with doing her squats. She turned around, looked at me, and kind of scoffed. So that was, like, a little bit fun," she joked.
But in talking about their current gym, Russell enthusiastically explained the ways in which it ensures the comfort of all of its members. Russell describes the signs that the gym displays, encouraging everyone to use the restroom they identify with, as well as the abundance of staff members who do not tolerate bigotry or harassment in any form.
SF State, which boasts an extensive wellness center, also strives to maintain a positive fitness environment for the students, staff and faculty who utilize it. The official mission statement on their website says they "strive to create positive and supportive exercise environments in-person and virtually that inspire positive lifestyle changes."
According to Paula Rivera, an SF State student who works out at the Mashouf Wellness Center a couple times a week, that is exactly what they do.
"Compared to other gyms, I find it more safe," Rivera said. "I feel like when I first started going to the gym, around the age of 16, I would get stared at a lot by men, or catcalled. But here, there's a lot more employees around. More women around now, so I feel more comfortable being here."
According to Rivera, while her early gym days had a distinct gender imbalance in favor of men, lately, she has noticed lately a far more balanced distribution of people during workouts. Now that she almost exclusively works out at SF State's fitness center, she's noticed both more women attendees and a less hostile environment in general.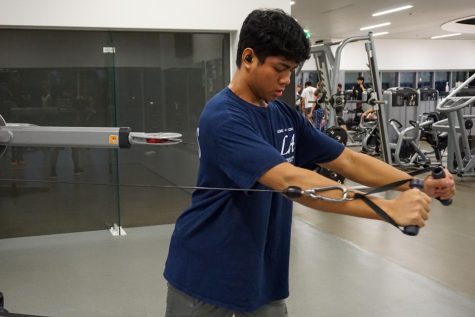 "Here, it's a variety of both [men and women] Even if I come early in the morning and there's some men here, I don't tend to get the same discouragement that I would get at other gyms."
Rivera speculates that this uptick in women going to gyms is due to a desire for better mental health. As for herself, Rivera began to work out because of her own fitness goals and insecurities. She has noticed that some people around her also want to reap the physical and mental benefits of physical activity.
"More people want to go to the gym now, especially women who want to work on themselves more, so I feel like they're coming a lot more." Rivera explained. "A lot of people go through mental health issues and they want to better themselves. That's one of the impacts."
Similarly, Russell believes that people of all demographics started working out in increased numbers during and after the COVID-19 lockdown. Russell explained that during the pandemic, they and their coworkers first started hearing about many different types of home workouts.
"I know there was Chloe Ting, Blogilates, a lot of online people who had playlists on Youtube for things to do at home while we were under lockdown for that long," they said.
Once lockdown ended, however, many people who had begun workout regimens during COVID wanted to keep up their routines. According to Russell, the pandemic started the fitness kick that many people are still on today.
"During the lockdown, I knew a lot of people that were working out and home and things like that, they just wanted to keep moving and I've had a few coworkers tell me 'Oh yeah, the pandemic really started my fitness journey'."
Whatever the reason for the trend, the results benefit many who seek a safe and respectful fitness environment. As men have historically dominated gyms and fitness centers, many women and non-binary people feel intimidated to enter that space. 
"If you're femme or woman-presenting, I think a lot of people just get kind of nervous around, I think, certain sections [of the gym] because of the 'gym-bro mentality.' It can be a little bit intimidating."
This "gym-bro mentality" that Russell describes can make it difficult for some to feel at home while taking part in the historically male hobby. According to Russell, it encourages an overly competitive mindset that places value on lifting weights and building muscle, despite the many different exercises available at an average fitness center.
"The gym-bro mentality would be like, weights and trying to do the best, and it's very patriarchal, almost," Russell explained. "Especially if you're a first-time person going to the gym. I feel like both men and women and everybody in between can get really intimidated by that."
Now, as these spaces fill with more women, the contrast does not appear so stark. Russell's gym, SF Fitness, appears to cater to more women than it does men, according to them.
"It is a really good balance," Russell said. "If I had to describe it, I'd say 60/40 women."
Leave a Comment