Serving More than Food
The role campus food workers play in creating community for latinx students.
Some quotes in this article have been translated from Spanish to English
As of 2022, SF state has a latinx student population of around 37%, according to President Mahoney. Alongside being named Hispanic-Serving Institute of the year by the US Department of State's Bureau of Educational and Cultural Affairs, SF State's campus is generally thought to have everything latinx students need to feel welcomed. This might be true for some. But for many, SF State still lacks that "niche" – that true sense of community that comes from being able to speak native languages freely and often, relate to cultural experiences and truly feel like you're surrounded by people just like you. 
So, how is that niche filled? Aside from the newly formed Latinx student center, campus food workers, specifically those who identify as latinx, help students feel welcomed and encouraged. 
According to Emmanuel Padilla, inaugural director of the Latinx student center, that's exactly what the students he sees come through the center are looking for. 
"I think the biggest thing is that they're looking for, and it's weird to say, is visibility…I think what it boils down to is they want to be noticed in any shape or way as in, 'Hey, how are you doing? Nice to see you. I see you working over there, printing stuff out.' And it's been students that just want to feel a sense of community because SF State has the commuter campus feel, and it is a commuter campus."
Latinx students on campus may be the first of their family to be working towards a college degree, or might be the first of their family to leave the nest. Because of this, students often find themselves feeling homesick, or unable to speak their native language as often as they might want to. Like many latinx students, Padilla also recalls a time in his life where he found himself away from his home, searching for that sense of community he loves so much. 
"When I went from San Francisco to Davis, which is an hour and a half away, I felt so bad. Like I had done something bad. Like I'd go to jail because I left my family….What we're [latinx people] are doing is entering that mind set of 'I have to do this', but sometimes we have to stop that to talk, and find that sense of community."
While it's always nice to be able to bond over mutual interests and that strong sense of culture, latinx students have also found solidarity in being around other latinx people who may have experienced the same struggles they have. 
Alexiz Romero, a chemistry student at SF State, has worked as a barista and is more than familiar with the types of jobs food workers on campus have to do. According to them, the services food workers on campus provide are invaluable, but they don't get nearly as much credit as they deserve. 
"It's nice to see students and others who are just like me, who represent the things that help run student's days. Because you know, you go to get coffee because that might get you through the day, and it's great to see other latinx students and faculty are the ones providing that….A lot of latinx students and faculty, we help to run so much. We do a lot of the work that a lot of people don't want to do because it's work, it's pay – even if it isn't the best….we're making the cogs turn, we're making people day's and we don't get enough credit or pay or anything for it."
Evelia Hernandez is an employee at one of SF State's many food stands — specifically, the bagel stand located right next to the bus stop on 19th & Holloway Avenue. She primarily works the register throughout the week, and can be overheard enthusiastically speaking Spanish to her coworkers before and after taking orders. 
According to her, her position at the register is strategic. Working the register is her favorite task because of the wonderful conversations she often has with other latinx students — many of which just stop by to say hi sometimes, without even ordering a coffee or bagel. 
"I always like to work the register because I enjoy talking to people! We always have students who are great people and super friendly…it's like students feel comfortable being somewhere they feel comfortable, especially when we can all relate to each other thanks to our shared identities as hispanics."
Hernandez has worked on campus as a food worker for about 16 years, and says that the biggest perk of the job is her schedule coordinating with that of her three children, who also go to school. 
"I've felt comfortable because I get to dedicate my free time to my children. That's why I like working at the cafe."
The relationship between latinx food workers on campus and the general latinx student population is one that isn't always noticeable. But delving into the community, it becomes clear that it's a tight-knit one — a sort of mutually beneficial relationship that makes the days of everyone involved just a little bit brighter. 
Leave a Comment
About the Contributor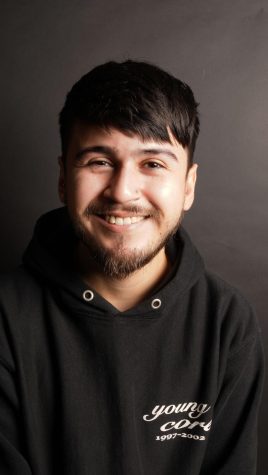 Eian Gil, Editor in Chief
Eian Gil (he/him) is a journalism & political science student at SF state, currently serving as Xpress magazine's editor-in-chief. Originally from...