Into the SF State-Verse
Marvel isn't the only place with superheroes who sling from webs. Dive into SF State's very own Spider-verse.
On Halloween of 2022, four different Spider-men strike the iconic crouched-down pose for a picture at SF State. What looks like a scene right out of a Marvel movie is actually something arguably cooler: a gathering of SF State's very own Spider-verse. 
SF State Spidey, SF State Spider-Punk and SF State Miles Morales are all students with a common interest: bringing joy to other students through the power of Spider-Man. There was even a Spider-Gwen, but she and Morales haven't been seen since Halloween. SF Spidey and SF Spider-Punk attend school events, music shows and support students in the face of problematic speakers  — usually religious antagonists with megaphones. On occasion, they'll also pose for pictures in their Spidey suits.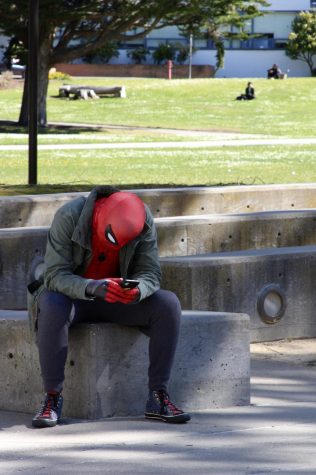 "Aside from taking pictures with people and getting to participate in random events in the suit, I love talking to the other Spideys about spidey stuff," said Spider-Punk, who takes after Peter Parker and prefers not to reveal his identity. "Like how we keep our identities secret and how we change in and out of the suits. Literally feels like the scene in 'No Way Home' when the three Spideys are talking about their craziest villains."
Not all of SF State's Spider-men hide their identities however. Brian Leon announced that he was the man behind the mask on Jan. 1 in an Instagram post that read, "If anyone's gonna reveal my identity, it's gonna be me."
People on campus were trying to "expose" Leon, so he took matters into his own hands. 
"I revealed [my identity] because it was getting exposed by people that despise me," said Leon. "So I decided to reveal it to take away the pleasure of them telling people."
Leon, aka SF State Spidey, says Spider-Man has been an integral part of his life for as long as he can remember.
"My parents brought Spider-Man into my life straight out of the womb," Leon said. "I've been dressing up as Spider-Man since I was a baby. It's kind of like my pajamas."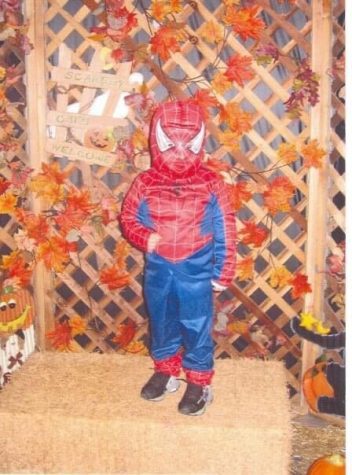 Wearing the suit means more to Leon than just cosplaying. According to Leon, it's become a way to connect with people on campus and even defend them from some uncomfortable situations.
Religious speakers have visited SF State's campus before, carrying signs with phrases like: "Warning, Jesus haters, drunkards/liars, sexually immoral, murderers/thieves, blasphemers, idolaters/ unbelievers, general sinners, eternal hell awaits! Repent and trust Jesus to be saved." SF State Spidey has made it his mission to make them just as uncomfortable as they try to make students feel.
"The thing I'm best known for is helping the campus get rid of the 'evil' Christians forcing their beliefs on the students of SFSU," Spidey said. "I pretty much make sure the students don't do anything that will get themselves in trouble. I ease the tension and make things funnier. I basically entertain the crowd and drag away the attention from the Christians. It's a sucky feeling to be told your way of living is wrong, especially when you're being told that in public."
SF State Spidey has inspired others to put on the suit as well. SF State Spider-Punk and SF State Miles Morales have joined the fun and walk around campus alongside Leon taking pictures with students — the two of them even wear their suits to class. 
"It wasn't till I saw SF State Spidey do it on campus that inspired me to actually do it," said Spider-Punk. "[Haters] may not understand now, and a lot of them might call me 'Ripoff Spider-Man' now, but that's OK because that's only temporary. Wait until the new Across The Spider-Verse movie comes out."
The new Spider-Verse movie is set to hit theaters this June and will be introducing even more new Spider characters throughout the multiverse, including Spider-Punk. 
SF State Spider-Punk spends most of his time in the suit attending punk music shows and jumping into mosh pits. Despite how fun it sounds, there is one drawback to being a mosher donning a full costume.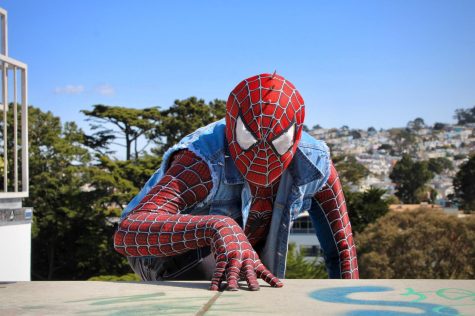 "[The lenses] of my mask fog up every five seconds and make it hard to see," said Spider-Punk. "It's frustrating when I go into mosh pits and I can't see at all. Thankfully another Spidey is helping me fix that problem."
Although SF State Spidey graduates in 2024 and is preparing to leave the suit life behind, he's made it clear that "anyone can wear the mask," and hopes that Spider-Punk and others keep this fun legacy alive. 
Leave a Comment
About the Contributors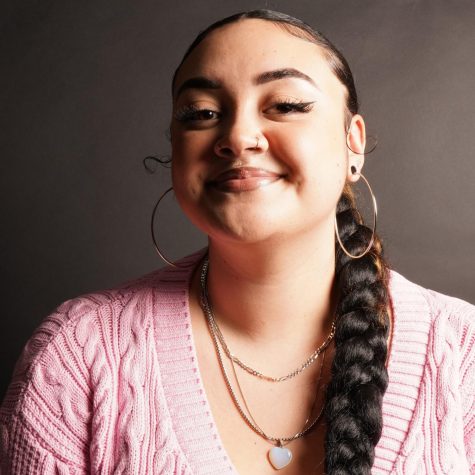 Ciara O'Kelley, Diversity Editor
Ciara O'Kelley is a current journalism major and Africana Studies minor at San Francisco State. This is their second semester working on Xpress Magazine...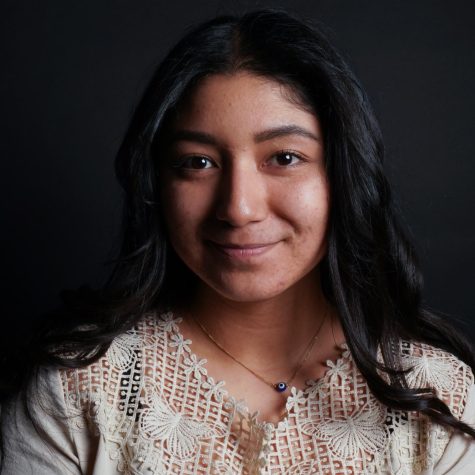 Leilani Xicotencatl, Staff Photographer

Leilani Xicotencatl (she/her) is a staff photographer for the Golden Gate Xpress and Xpress Magazine. She was born and raised in Anaheim, California....