Monumental Sins?
Statues comemorating Junipero Serra continue to be a contentious subject for Bay Area and California communities
Along one particular stretch of Interstate 280, hundreds of drivers pass by a statue of Junipero Serra — sometimes in pristine condition, other times covered in paint and graffiti marks. Statues from San Diego to San Francisco have been vandalized, defaced and toppled entirely because of the subjects they depict. Serra founded nine of Spanish California's 21 missions and has been at the forefront of controversy surrounding his role and participation in the mission system, which was responsible for much of the enslavement and genocide of Native Californians.
Los Angeles, Sacramento, San Rafael and San Francisco each had statues of Serra knocked down by protestors. However, even with cries from the public and anti-Serra groups, key questions remain: Whose history do we recognize and whose do we erase? Will removing these statues change anything?
SF State sits on the ancestral territory of the Ramaytush Ohlone, the original caretakers of what is now the San Francisco Peninsula. The Bay Area is also home to the Miwok, Yokuts and Patwin, as well as other Ohlone peoples. The arrival of the Spanish and their missions marked a cataclysmic change that saw nearly a third of the Native Californian population decimated by disease alone.
Salvatore Cordileone, appointed as Archbishop of San Francisco in 2012, defended Serra. In an article by the San Francisco Archdiocese, published Sept. 12, 2021, the Archbishop said there have been no serious, concrete claims by any historian that Serra or the mission system committed acts of genocide, enslavement, mutilation or assault. Assembly Bill 338, though, says otherwise.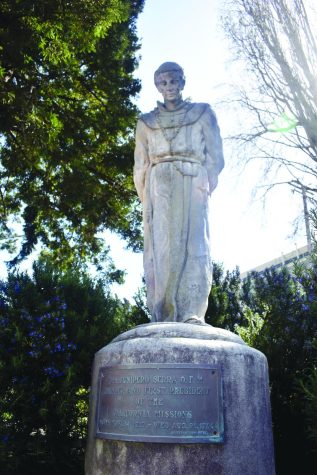 "One of the greatest gaps between history and reality has been the retelling of the mission period in Native American history and the role of Franciscan friar Junipero Serra," Bill 338 states.
Bill 338 passed and became law on Sept. 24, 2021. The bill "…would authorize tribal nations in the Sacramento, California, region, in consultation with the Department of General Services, to plan, construct, and maintain a monument to the California Native people of the Sacramento, California, region on the grounds of the State Capitol."
Historical accounts claimed that the mission's purpose was to "save the souls" of Indigenous Americans, and if this salvation included physical punishment, so be it. However, other texts claim Serra protected Native Californians from mistreatment by Spanish soldiers who committed acts of violence against Natives. Serra allegedly condemned the acts and even pleaded his case to the viceroy Antonio Maria de Bucareli, Viceroy of New Spain. Serra's requests for the punishment of the assailants were granted, and native populations supposedly enjoyed the same human rights as Spaniards.
However, many believe this to be another example of the Catholic Church's attempts to shape its image to appear "merciful" as they committed atrocities against native populations. In "Serra-Gate: The Fabrication of a Saint," Christine Grabowski states that in letters between Bucareli, Serra and Fages (a military commander), there is no mention of any protection afforded to Native Californians.
"Serra did not suggest any change that would accord the Indians greater independence or control over their lives," Grabowski states. "He neither suggested nor was granted 'rights' for Indians. What he was granted was exclusive control over the baptized Indians except with respect to capital offenses."
Serra, who was a Spanish, Roman-Catholic priest and missionary of the Franciscan Order, was born in the village of Petra on the island of Mallorca. He made his way to California with the intent of converting Native Americans and spreading the word of God to those without it.
"Close to 1,000 deaths and burials of the converted Indians are recorded in relation to the Sonoma Mission," said Patricia Cullinan, president of the Sonoma Valley Historical Society. The "Christian" names of nearly 900 Native people, including more than 200 children who died at the Sonoma Mission between 1824 and 1839, can be found on a memorial outside of the mission.
Paul Steward a professor of the American Indian Studies Department at SF State and a tribal member of the Elem Indian Colony of Pomo Indians of the Sulphur Bank Rancheria near Clearlake Oaks in Northern California. He was raised on the reservation until he was 10.
"Some Catholics and Christians uphold [Serra's] fame for what they think was good work by expanding the Catholic Church and faith into North America," Steward said.
However, according to Steward, there is evidence that men, women, children and elders were abused for any disagreement or resistance to the Catholic faith.
"His symbolism represents death and destruction to many California Native people," said Steward.
California Native people are then confronted by statues that represent a painful past.
"For a statue to be erected by a government branch, in a public space, seems insensitive and unlawful," Steward added.
Indigenous peoples across the country have endured genocide, relocation and forced evangelization. Now centuries later, some Americans may still be reminded of that brutality every time they drive down I-280 — "Junipero Serra Freeway."
"I don't like seeing him honored… he preached that my traditional Pomo tribal faith and spirituality were wrong and sinful," Steward said, "The missions and their soldiers caused the death of so many of my ancestors through abuse, rape, disease, malnourishment, ethnocentricism and colonization."
Melissa Guzman, an associate professor of Latina/o Studies at SF State with a focus on racialization and how social structures shape us, feels a connection with Spanish-Californian history.
In her Intro to Latino Studies class, she talks about recent struggles to remove monuments across the country. She feels it's important to offer students a way of realizing whose history is recognized and represented.
Guzman, who grew up in Mexico City and was raised in Michigan, realizes that she didn't have the typical "California Mission" history that many native Californian students have growing up. But Guzman recognizes that Mission history is "such an integral part of Latino students' lives, especially here in California."
Her own experiences while earning her Ph.D. in Sociology at UC Santa Barbara played a part in her view of the Spanish influence throughout the state.
"I remember taking my family to Mission Santa Barbara," Guzman said. She added, "throughout that process, I never got the sense that there was any counter-history being told about the Chumash people that were being evangelized by that particular mission. There was no mention at all."
Guzman points out that when we present these politically neutral perspectives on historical incidents that were far from neutral, we perpetuate the narrative that "venerates and celebrates the Catholic church for bringing Christianity to the 'heathens.'" Guzman feels that we do ourselves and those affected an injustice by not explaining different sides and showcasing the fact that missions exploited Native peoples and subjected them to forced evangelization.
Morning Star Gali, a member of the Pit River Tribe, located in Northeastern California, serves as Project Director for Restoring Justice for Indigenous People (RJIP).
Gali was born in 1979 to "very young, radical parents." Her father recognized that much had been stripped away from Indigenous Peoples through legislation and made efforts in the late 1960s to fight for justice for their community.
"We weren't able to practice our ceremonies and we weren't allowed to practice our religion," said Gali.
Looking towards the future, Gali came to the understanding that "if we wanted our future generations to continue and for our children to know who they are as Indian Peoples, then that is something that we had to fight for."
Gali notes that the toppling of the Serra statue in front of the Capitol in Sacramento in the summer of 2020 marked a turning point and a shift in narrative.
"Telling the truth of history, telling the truth of what actually occurred to California Indigenous People is where it starts," Gali said.
In 2015, Pope Francis I canonized Serra as a saint.
"That was not his role to California Indigenous People," Gali said. "That should not be the legacy that we continue to teach our children…this false narrative of who he was as this 'savior' of California Indian peoples that the Catholic church continues to push."
Through organized community movements and legislature, Gali helped in the "de-Serra-ing" of Sacramento and was directly involved with the removal of the statue in front of the Capitol building.
"We provided the space for California Indian tribal members to come up and share their stories and share the harm and hurt that they've experienced and the lies that've been told under this umbrella of colonization," Gali said. "It was very healing."
Gali stresses that her efforts ultimately work towards promoting the "visibility" of the California Indigenous Peoples.
"Shifting that narrative and telling the truth of who we still are currently…there's no acknowledgment of the people who still currently are very much here, still very much defending our way of life, for us to be able to live and hunt and fish on our land in the way we have for thousands of years," Gali said.
Guzman said that it doesn't matter whether these statues remain or get removed — what matters are the lessons learned from them and the policies enacted because of humanity's response to them — so that the actions of the past aren't repeated.
Monuments may seem innocent but can stand as a sign of separation of peoples rather than unification.
"We shouldn't erase, we should remember," Guzman said. "Remove the statue. OK, so we end racism right? No. It's not that, it's telling the truth, it's the process of coming to terms with that history."
Leave a Comment
About the Contributors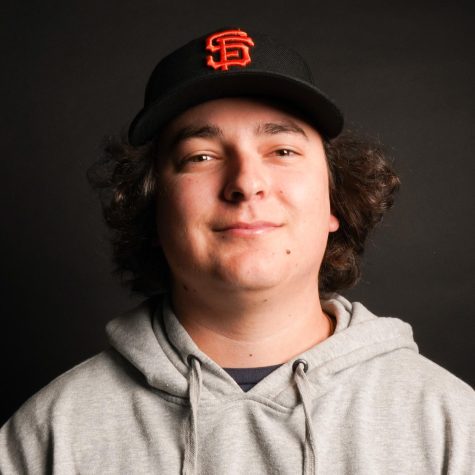 Chris Myers, Staff Photographer
Chris Myers (he/him) is a photographer for Golden Gate Xpress and Xpress Magazine. He is a photojournalism major with a minor in buisness administration....