A Tale of Tapes
Los Angeles video store Be Kind Video offers an assortment of VHS tapes and DVDs and is a welcoming community for film enthusiasts of all genres.
From an outsider's perspective, the idea of starting a video store in this day and age may sound particularly ill-fated given the sharp decline of Blockbuster and the rise of streaming services. But Be Kind Video's owner Matthew Renoir and Creative Director Aaron Therol are adept in a commercial market many overlook: the business of nostalgia.
"Instead of just another normal store, we are trying to provide people with an experience," Therol said. "We're giving you that nostalgia factor. When you walk into Be Kind Video, it's a walk down memory lane."
Therol owns Typewriter Connection, a successful Los Angeles store and service that rents and sells vintage typewriters. When Therol learned of his close friend Renoir's plan to open a video store in Burbank, he took an immediate liking to the idea and urged Renoir to pursue it.
"Matthew and I are always collaborating on different projects, and when he approached me with his idea, I said 100% go for it," Therol said. "I have a typewriter shop in the year 2023, so obviously selling VHS tapes isn't anything crazy to me."
Renoir's fascination with video stores dates to when he was a child growing up in a small farm town in central California.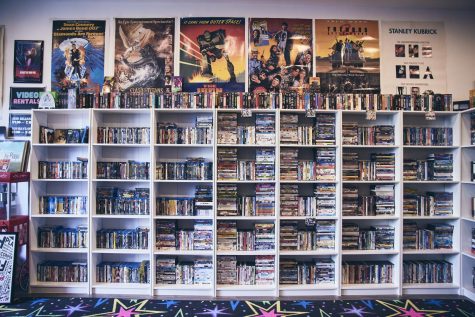 "Going to the video store was the most special thing ever growing up," Renoir said. "There's magic to going and picking out a movie, and I was always enamored with it. In high school, I was really thinking if I could open a video store." Growing up in the '90s, Renoir recalls an abundance of video stores.
"It was like every other block there was a video store, Blockbuster, Hollywood Video and all these little independent video stores," Renoir said. "Some of my most precious memories were at these stores."
Renoir went on to study film at SF State and graduated in 2008 with plans to establish a career in the film industry.
"The video store idea took a backseat because I was so enamored with film and wanted to make movies," Renoir said. After completing a few filmmaking opportunities for a children's hospital nonprofit, Renoir was offered an opportunity to work on a feature film. "It was terrible. There was no respect, no community feel and nothing that made you feel wanted," Renoir said. "It completely disenchanted me and turned me off from filmmaking completely."
After a break from production work in San Francisco, Renoir moved to Los Angeles where he spent the next 12 years working as a cinematographer, which he thoroughly enjoyed. "One of my first shoots in LA, I met a good friend (Therol), and we ended up kicking around the idea of a video store," Renoir said. "In May 2022, we started seriously looking into opening a video store and buying VHS tapes." As they grew their tape collection, Renoir and Therol began making connections in the VHS tape community. "We were meeting these tape heads (VHS tape collectors) and I realized this was such a great community," Renoir said. "Everybody was a fan, and it wasn't closed off or exclusive like the filmmaking world could be."
Prior to the store's inception, Therol and Renoir traveled to trendy, vintage swap meets around Los Angeles to sell the VHS tapes they had collected.
"[Renoir] and I would do these pop-ups, and we designed our space to look like little video stores at these open-air markets," Therol said. "We gave them that fun, retro video store vibe and that's where it started."
Renoir treated the pop-up sales as market testing for VHS sales, a period to determine whether investing in a storefront to sell these tapes was a possibility. When Renoir and Therol managed to sell a VHS copy of The Shining for $50 after purchasing it for just a dollar the day before, they knew a video store could be a potential business venture.
"I started Googling 'how do you get money for a business? How do you open a business?'" Renoir said. "It seemed to be more viable than I imagined."
For Renoir, the rising popularity of VHS tapes hit home when Tom Wilson, who plays Biff Tannen in Back to the Future, sold his first pressed, unopened VHS trilogy of the first three films for $75,000. "That was crazy, and I'd be hearing about other celebrity auctions where VHS tapes of Star Wars or The Goonies were selling for even higher than that," Renoir said. "And it was sensible to me because it's this product that isn't made anymore, and I saw there is this market for VHS."
Matt Landsman, who helps Renoir run the business, experienced a similar perspective on the rise of VHS tapes. "There was a huge collectibles boom during COVID so the tape market hit like a boom in terms of value," Landsman said. "There's certain films that I'm amazed at how they've skyrocketed in price just in the last two years. The demand is real…this is a real thing now."
Be Kind Video opened its doors in November 2022, following the completion of Renoir's business courses through the California Dream Fund, which provided him a $5,000 grant to open the business.
"The $5,000 really set me up, and it was a total lifesaver," Renoir said.
While it was a long time coming, Renoir recalled the process of opening the store as a scary endeavor. "I got in at a good time and it's working out but it was heart-wrenching and terrifying," Renoir said. "That I'm going to open a business and go all in."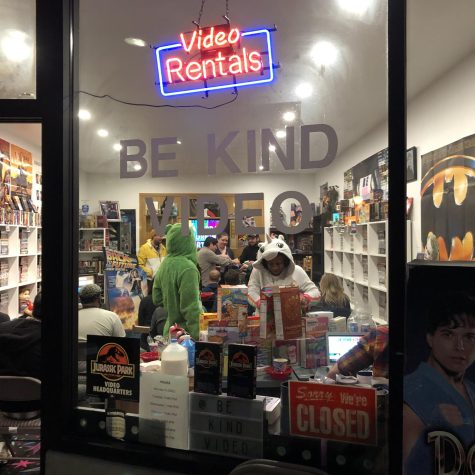 The store is fully supported by the community, and often receives tons of VHS, DVD and Blu-ray donations from supportive members of the public. Be Kind Video has quickly become a staple of the Burbank community and even attracts visitors from other states.
Additionally, a couple signed a lease on an apartment in the store's neighborhood just to be close by.
"Building a community in a gigantic, sprawling city is what we're really all about," Renoir said.
The store offers approximately 1,000 VHS tapes for sale as well as DVD rentals, consisting of movies across all genres and time periods. "Cartoons, horror films, anime, sci-fi, action and comedies all are quite popular at the store," Landsman said. "Jim Carrey movies and other comedies you grew up loving." However, older films, especially from the '50s and '60s, as well as Westerns, do not have much demand in the VHS community, Landsman said.
Approximately one-third to one-half of the tape collectors who come in to Be Kind Video are searching for horror tapes, Landsman said. Films like John Carpenter's The Thing and Halloween III: Season of the Witch have become highly sought after. "Films that were once B movies are now becoming staples for collectors."
Tape collector and horror film enthusiast Mark Keller owns nearly 1,000 tapes, and got his start collecting tapes from Suncoast Video stores in the '90s. "I feel like horror has a place on VHS…there's nothing like popping a classic into your VCR," Keller said. "Even though the picture can be pretty terrible and the sound wobbly at times, it just feels right." Over the years, Keller has received sizable offers for some of his tapes but promised to never let any of them go.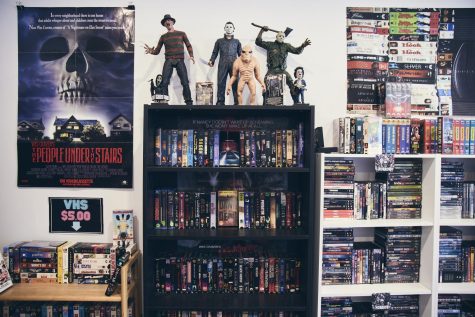 "Picking up VHS tapes has always been part of my life…the tapes themselves are stories," Keller said. "It's like any knick-knack you get from your travels, mine are just knick-knacks of a once thought to be dead media.
In addition to video sales, the store also serves as an event space for film screenings with interactive Q&As as well as stand-up comedy shows. "It's not just a video store, with the events we've been doing now it's like a community," Therol said. "It's a safe place to talk film, whether your favorite movie is Carebears or Citizen Kane, we love all films." These events, paired with the abundance of tapes and atmosphere of Be Kind Video, have attracted film lovers across all genres. The events are made possible by supporters of the store loaning the necessary equipment as well as decorations. "People contribute, donate and support, and it's been very heart-warming," Renoir said. "People want this store here, and they want this community space."
SF State Cinema Professor Joseph McBride, who at one time had Renoir as a student in his screenwriting class, is a major proponent of physical media, especially VHS tapes, DVDs and Blu-rays.
"People assume they can always access movies on streaming," McBride said. "They come and go though — companies lose rights to them and they go away." McBride highlighted the importance of owning physical copies of film when he shared the possibility that some films made today will be lost due to digital technology.
"The technology changes so much, and there are new machines every few years to transfer each film to, which costs time and money," McBride said. "If you can get your hands on a physical copy of a film you care about, hold onto it, because you never know what's going to happen."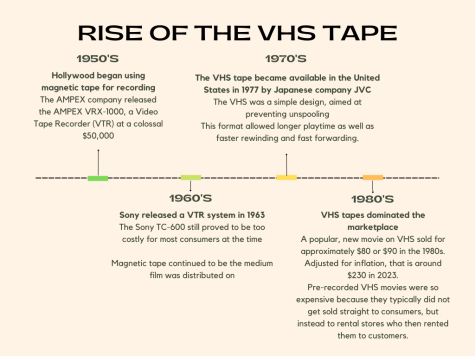 Leave a Comment
About the Contributors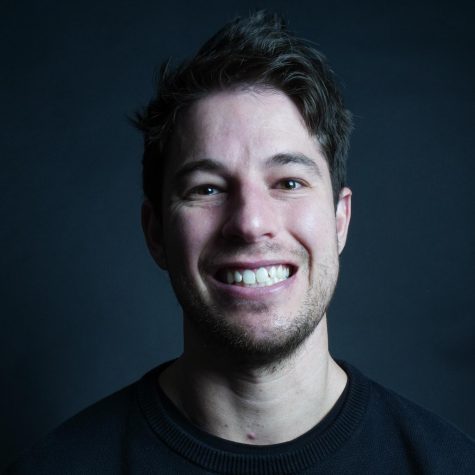 David Blakeley, Senior Reporter
David Blakeley (he/him) is a senior reporter for Xpress Magazine. He is majoring in journalism and minoring in labor studies. He was born in Orange County,...