The City Lights Legacy
City Lights Bookstore celebrates 70 years of literary rebellion and enduring legacy in San Francisco.
Stepping foot inside City Lights Bookstore in San Francisco's historic North Beach area brings forward an indefinable feeling of comfort and belonging. The building sits on the corner of Broadway and Columbus and adjacent to Jack Kerouac Alley, all connecting Chinatown to SF's own little Italy, North Beach.
After arriving in San Francisco in 1951, Lawrence Ferlinghetti, a Navy veteran and scholar, founded City Lights in 1953 with Peter Dean Martin, a sociology professor at SF State. Each invested $500 and leased out a portion of the 261 Columbus Ave. building, forming the country's first all-paperback bookstore — a fact that was revolutionary for its time, as most of the literary establishment only recognized hardcovers. This revolutionary streak would end up becoming synonymous with City Lights.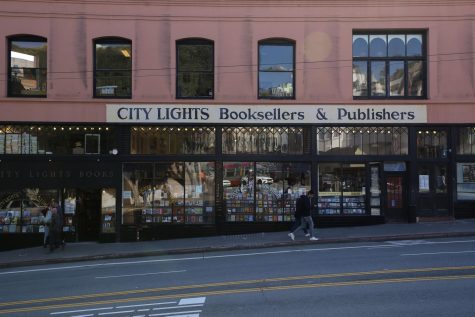 This year marks the literary institution's 70th anniversary and celebration of its longevity and influence in San Francisco. City Lights separated from the literary establishment early on, as Ferlinghetti chose to keep doors open late into the night, seven days a week — many bookstores of the time were open until 5 p.m. and closed on weekends, serving a mostly business clientele. But the masthead of City Lights reads, "a literary meeting place since 1953," and that is exactly how it feels. With Ferlinghetti taking over complete ownership after buying Dean out in 1955, City Lights looked to expand into the world of publishing and started the Pocket Poets Series, a small and affordable paperback print of poems. The first was Ferlinghetti's own Pictures of the Gone World (1955), but the most famous book to come out of City Lights Publishing was Allen Ginsberg's Howl and Other Poems in 1956.
Howl landed Ferlinghetti and City Lights into legal trouble after the publication was deemed obscene due to illicit drug use and sexual practices. Bookstore manager Shig Murao was arrested after selling a copy of the book to an undercover police officer, and Ferlinghetti was subsequently arrested for the publication of the book. The trial was widely publicized. Both Murao and Ferlinghetti were both exonerated after winning the case with the support of the American Civil Liberties Union.
Howl propelled City Lights to the forefront of the literary establishment, and with Ginsberg and the Beatnik writers of San Francisco associated with City Lights, its cultural significance soared. Howl ushered in the Beatniks to the cultural consciousness, but it was City Lights that gave the Beatniks the platform to be literary icons. 
Much of San Francisco and North Beach literary lore is through the eyes of the Beat Generation: Jack Kerouac, Allan Ginsberg, Bob Kauffman and Ferlinghetti. As the Beatniks grew to national fame, City Lights grew alongside them. The counterculture movement of the 1960s was influenced by the groundwork of Ferlinghetti and the Beats, and the bookstore became a beacon of light that a new era could follow.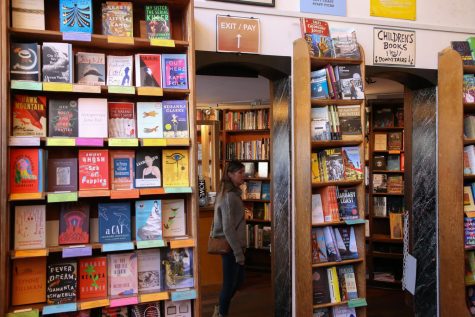 City Lights Publishing utilized the movement they created to educate interested readers in anti-authoritarian, progressive thinking, "of both literary merit and social responsibility," according to their website mission statement. As of today, City Lights emphasizes global teachings and translates many books so they can be accessed by a larger audience. The store's philosophy comes from Ferlinghetti, whose vision the current director Elaine Katzberger and staff do their best to follow.
Yet, with all of the success and status of City Lights through the 1970s, the 80s proved difficult. Ferlinghetti was a poet, not a capitalist, and it stranded the business in rough waters. To help guide City Lights, Ferlinghetti hired Nancy Peters to help edit Ginsberg's bibliography. Peters worked in the publishing house until she was made executive director in 1984 and was the only woman working for City Lights at the time.  Ferlinghetti and Peters eventually agreed to be partners, with Peters handling most of the business while Ferlinghetti traveled to speak and find authors to translate. 
Women have been a large part in City Lights success, but only two directors of the business have been women. The Beat Generation has always been labeled a kind of boys club, with texts like On the Road — Kerouac's quintessential coming of age novel for adolescent boys — at the top.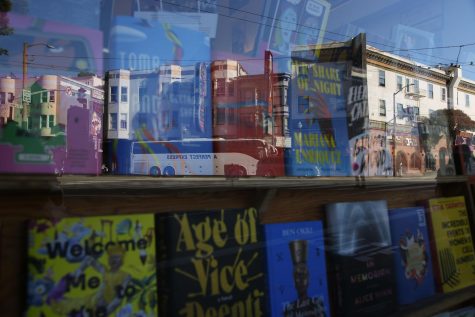 The bookstore is still looking for ways to connect its immediate community. Most of its clientele are tourists. 
"A lot of people that walk in find City Lights through their San Francisco guide book… and even though it is in a very important and thriving neighborhood, it isn't necessarily a neighborhood bookstore," said Caitlyn, a floor manager at City Lights. 
"But there are avid readers who "are giddy when they get [to City Lights]." Because of this, Wild is constantly thinking of new ways to include the city of San Francisco in its goals. 
Although City Lights may feel more like a literary landmark than a local bookstore, that does not keep San Franciscans from coming in and seeing what is new from City Lights Publishing. Friends Julia Bianchi and Madeline Lee were browsing the shelves of City Lights together on a Thursday night. Both of them are attempting to read a new book each week of the year.
 "We started this [reading] challenge over the pandemic to fill time, and have tried our best to keep it going," said Bianchi, "This [City Lights] is our neighborhood bookstore, and I try my best to find new books here, rather than just try to find it on Amazon." 
Lee, a San Francisco native, has been coming to City Lights for years, 
"This has always felt like San Francisco's book store," said Lee, "The history and movements that have started here still live on, and continue to shape the culture of the city."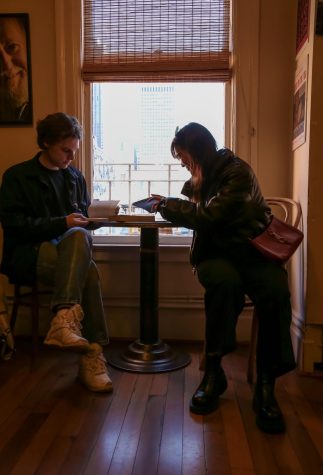 Both Lee and Bianchi fell in love with the upstairs poetry section, where Lee used to sit and read poems at the little table that overlooks Kerouac Alley. But since starting their reading challenge, they have found themselves looking at all of the sections downstairs and finding interesting reads that are recommended by the staff.
There is something about City Lights that draws people in. It is rare to find a business where the most recent hire is Wild, who has been at the company for eight years. Many other staff members have been at City Lights for decades, with Paul Yamasaki being the book buyer for over fifty years.
"I just remember feeling like there is something here and not knowing why," said Wild about her first experience in the store. Even after eight years, there is a love for the bookstore that she can not shake. 
Leave a Comment
About the Contributors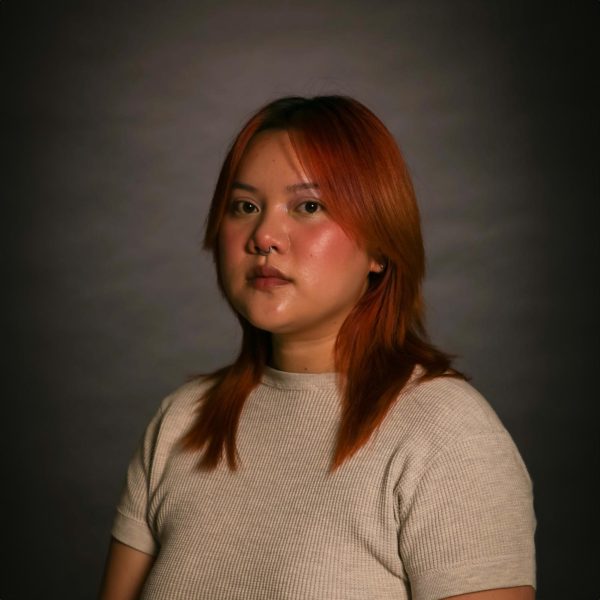 Tam Vu, Visuals Editor
Tam Vu (she/her) is a Vietnamese-American photographer for Golden Gate Xpress and Xpress Magazine. She is a photojournalism major with a minor in Asian...