Horsepower in the Park
Despite rising costs, enthusiasm for horse riding continues in these Bay Area ranches and stables.
On a crisp spring day, a breeze pushes through the high-reaching eucalyptus trees and fills the air with a sweet, earthy scent. People walk, jog, converse and enjoy the environment that is Golden Gate Park. Occasionally, four-legged companions join the stroll. In fact, horses are met with more "oohs and aahs" than the usual under-the-breath jeers when a herd of Segways pass by.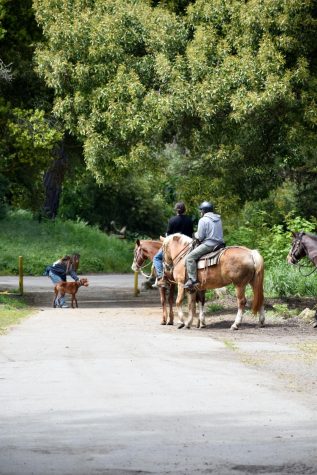 Horse tours make their way via the meandering paths through meadows and trees that capture the attention of both tourists and locals alike. Horseback riding can be considered a rather niche hobby with a high barrier of entry, which is why several passionate ranch owners are doing everything in their power to keep the activity alive — no matter the hurdles they may face.
Chaparral Ranch was founded in September 2009. In addition to their Golden Gate Park location, the ranch has expanded from its original Milpitas facility to other locations in Monterey Bay and Woodside. 
"Woodside and Golden Gate Park are our most popular," said Susan Pennell, owner of Chaparral Ranch.
As a child, Pennell's family lived in Sunnyvale, but her father had a business in Mountain View that happened to be on a five-acre plot of land. Her father bought her a pony when she was five years old — he converted the back acre into a stable, and Pennell's love of horses blossomed from there. She later went into the restaurant business in 1979, which lasted for 30 years until her retirement. But she always knew her true passion was for horses. Pennell visited a friend in Milpitas, fell in love with a horse, bought her and began looking for a trainer.
Pennell's current business partner, Shawn Mott, was working as a trainer for a different ranch at the time. She approached him and asked if he could train her horse. He did that for two years, and in the meantime, they both worked together on starting a ranch at Ed Levin Park in Milpitas. It wasn't until 2017 that Pennell saw on the news that San Francisco was doing a pilot program to bring horses back to Golden Gate Park.
Pennell emailed the San Francisco supervisor in charge and about two months later she was contacted and asked if they wanted to do Camp Mather in Yosemite. The camp, which opened in 1924, is a 337-acre summer camp within Yosemite National Park run by the San Francisco Recreation & Parks Department. The camp offers a summer camp program and cabin rentals within Yosemite.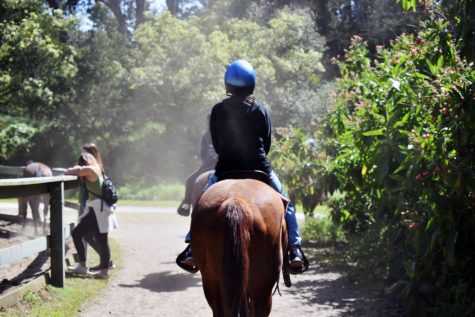 "We said yes and started doing that for the city," Pennell said. Then, in 2019, the city asked if Pennell would do the programs in Golden Gate Park. "We said yes and the horses were brought back in for public rides and lessons."
Horse care is very expensive. According to Pennell, the cost of hay has increased by 30% in the last year. The ranch has to pay for manure removal, farriers to have their hooves done, grain and supplements. Shots, miscellaneous vet care, wormers and equipment are all things that are added to the list when caring for our equine friends.
"We spend over 150k per year on those items," Pennell said. "But we also have a lot of horses."
Horses are often plagued with the same common ailments that affect humans. They experience things from arthritis to gastric ulcers and even allergies. Veterinary visits can cost about $150 per hour and treatments for any ailments don't come cheap. A 3-pound bottle of Cosequin, which supports joint health, can go for nearly $150, and a 4-pound bucket of "Lung EQ," a supplement to help with possible histamine responses and respiratory support, can cost up to $80, with the 12-pound bucket costing nearly $190.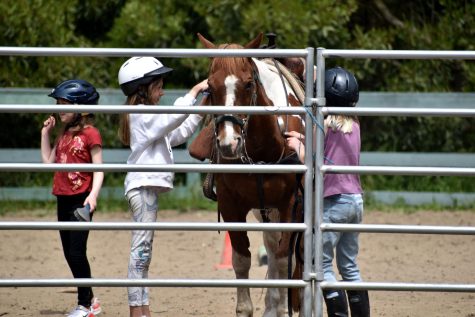 The ranch in Golden Gate Park offers a kids camp that allows children the opportunity to learn to ride and interact with the horses. When kids ride horses, their bottom and the saddle isn't the only connection made. "When you work with a horse, that horse will take care of you as long as you treat it with respect," said Pennell.
Pennell owns many of the horses that are split between the various sites around the Bay Area, and offers boarding at certain facilities. 
"We work for the cities and counties so for the Woodside location, we're required to offer boarding by San Mateo County," Pennell said. "They put in the Wunderlich site that used to be the old Folgers Coffee mansion and turned it into a park so we keep our horses there."
Pennell hopes to further develop the sites around the Bay and Golden Gate Park, she hopes to "offer more beach rides and bring more horses into the park."
Mott, the resident cowboy of Chaparral Ranch, has been working with horses for over 50 years and began when he was a young boy. He owns two ranches in Sunol and his son owns and operates a ranch near the outskirts of Las Vegas. "We ship our horses to my son when they're about a year or year-and-a-half years old, he'll keep them for a year or two and then he'll send them back to us," said Mott.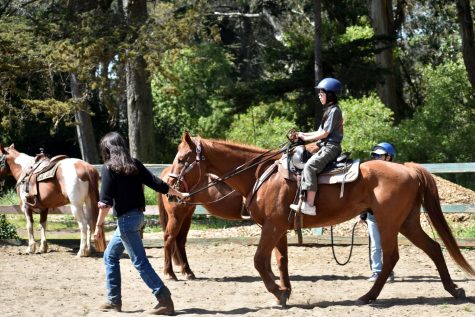 Mott is in charge of training the horses at Chaparral's various locations and instructing riders during their lessons. "I always want to make sure that the rider knows they don't need to worry about controlling the environment, they only need to focus on controlling the horse." Mott went on to explain that "it's not the people that are doing the horses a favor, it's the horses that are doing the people a favor."
Brenda Ingram, owner of Mar Vista Stables in Daly City, has had a love for and interest in horses as early as she can remember. "My path went in different directions, but at every opportunity I would enjoy trail rides whenever possible," said Ingram. Her journey in becoming the owner of Mar Vista is an interesting one rooted in her family's passion for horses.
"When my youngest daughter expressed an interest at the age of 8, I got her started with lessons and camps," said Ingram. The family in Santa Clara and Ingram's daughter became part of an educational program at Garrod Farms. When she was 14, she came to Mar Vista with her father for a trail ride. After their ride, the owner at the time approached her and offered her a Junior Wrangler position at the stables. "She was more than thrilled," said Ingram, "and started working there on weekends."
Ingram and her husband drove her to and from Santa Clara to Daly City. Over a short period of time Ingram's husband became more involved, riding new horses and helping them become accustomed to the trails. She followed shortly after, spending their weekends at the stables and eventually becoming the owners of Mar Vista.
At the stables they have American Quarter Horses, American Paints, Arabians and Thoroughbred crosses. "Most of the horses are rescues," said Ingram, "Taken out of unfortunate situations and rehabilitated at the ranch and given a new purpose as trail horses." Training and adjusting to their new surroundings can take time. "They each have their own personalities and idiosyncrasies…once you've earned their trust you can ask them to do anything and they are so willing to work with you," said Ingram.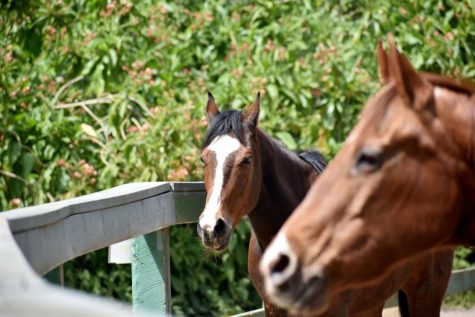 American Paint and Quarter horses have the stamina and build for trails and many of the horses, when rescued, are between 12 to 15 years old. "They have a good conformation and suitable personality…mostly," said Ingram. This allows for a smooth transition when bringing the horses to a new environment. "We do get some younger or older horses depending on their experience, health and personality."
Most of the horses coming to the ranch have been trained and are accustomed to being saddled and ridden. But they still require additional work to build their trust and get them accustomed to a new environment. "We work with them from the ground up and have a trainer accustom the horse to the trail and desensitize them to new things they may not have encountered like dogs, kites, paragliders, the beach and the ocean," said Ingram. The length of time it takes is different from horse to horse, but with consistent work, the average training time is about 6 to 8 weeks, "provided they've been trained or are not in a mood or feeling persnickety," said Ingram.
Aside from the time for training, Ingram admits her costs have gone up recently. "The cost of hay, grain and supplements have doubled in the last 2 years…but this is an industry you do out of sheer love…the current cost is a bit challenging to navigate at the moment but manageable."
Oftentimes, the less glamorous aspects of maintaining and caring for horses are overlooked — the business is viewed on a the surface level, with the amount of time, work and money it takes to give people a fun experience easily dismissed.
"Yes enjoyment is important, yet one has to realize that there's more to horses than just a fun ride," said Ingram, "horses teach us patience, trust, consistency, tenacity and love."
Leave a Comment
About the Contributors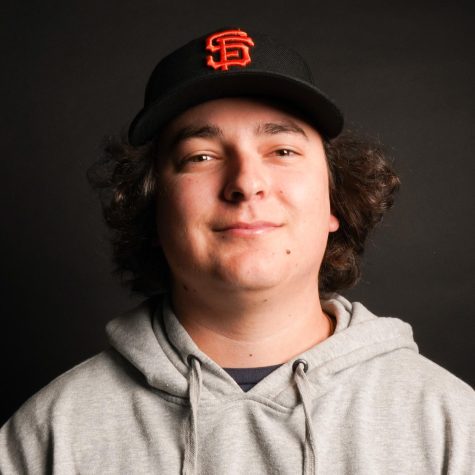 Chris Myers, Staff Photographer
Chris Myers (he/him) is a photographer for Golden Gate Xpress and Xpress Magazine. He is a photojournalism major with a minor in buisness administration....