From SF State to Super Bowl
The journey of coaching duo Andy Reid and Tom Melvin.
The football program sold hotdogs around campus for $1 apiece to help fund gas for roadtrips on the bus with a hole in the floor. 
They didn't complain about the lack of funding or the situation they were in. They embraced it. This is how things were for the SF State football program back in 1983, when Andy Reid and Tom Melvin were a coach and player on the team. 
Things have changed a lot since then for Reid and Melvin. Now Reid is the head coach of the Kansas City Chiefs and Melvin is the Chiefs' tight ends coach. This past season, after 24 years together as coaches in the NFL; an unlikely journey that started at SF State, Reid and Melvin celebrated their second Super Bowl victory together.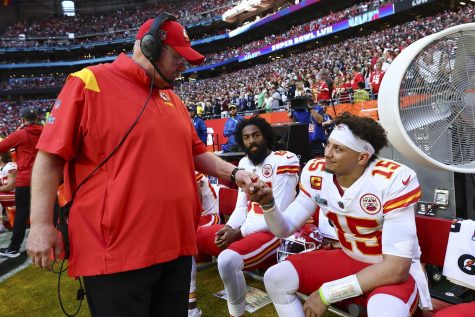 After graduating from Brigham Young University, Reid became the offensive coordinator for the Gators from 1983 to 1985. Reid and Melvin first crossed paths in the summer of 1983 during training camp. After making the team, Melvin played football at SF State during the same span and became Reid's first graduate assistant. 
"It was a great learning experience for a young coach to come in and be able to learn how to coach," Reid said. "I had a great mentor with Vic Rowen, who helped show me the way. It set up a foundation for me so I could continue on and move up the ladder. And I've maintained that foundation. It was simply being able to teach, which is a big part of coaching." 
Reid knew of Melvin's interest in coaching, so he created a graduate assistant position, which had not been a position that the program had before then. 
Melvin remembers the impact of the Gators football program being shut down in 1994 due to a lack of funding and opposition, among other reasons. Melvin found it to be a shame that opportunities dried out for players and coaches who weren't likely to make rosters at bigger programs. 
"It was very unfortunate, because obviously, that's where I played. And honestly, for me, without athletics, I would not have gone to college," Melvin said. "There's no two ways about it. I did it to play football because I enjoyed that. And that brought me to where, after two years of college, I decided that now I want to go and get a teacher's credential because I want to stay in this." 
When Reid became the head coach of the Philadelphia Eagles in 1999, he brought in Melvin as an offensive assistant and quality-control coach. In 2002, the team promoted Melvin to tight ends coach, a title he has kept ever since. 
Reid and Melvin then went to the Kansas City Chiefs together in 2013. They've currently racked up a 247–138 record. Reid has the fifth most wins by a head coach in NFL history and is just four wins away from taking fourth. Reid has 38 playoff games as a head coach, 22 of which are wins. Both are the second most in NFL history behind the legendary New England Patriots coach Bill Belichick. 
"I only knew how Andy did things and that kind of molded me and how I approached my coaching career," Melvin said. "He's got a connection to everybody. So I was fortunate to be the first one in that tree in having a close connection to him. And clearly, it's worked out for me going forward."  
Reid and Melvin formed a bond through teaching and a passion for food. During recruiting trips to Southern California, they mapped out the best route to a Californian delicacy: In-N-Out Burger. 
This is also how Reid formed a bond with former 49ers head coach Steve Mariucci when they were on the Green Bay Packers staff together from 1992-1995. If they weren't in their office studying the new West Coast offense, they'd often go out to eat together. 
One time, as Mariucci recalled, he and Reid went to the Prime Quarter Steakhouse in Wisconsin. They were informed if they ate their meal in under an hour, they'd get their next meal free and a picture on the wall. 
"People hated to see us walk in there, because, hometown buffet for $9.99, all you can eat, can you believe that? They didn't make any money on us," Mariucci said. 
The meal was enormous — a 40-ounce steak, baked potato, salad and garlic bread. Reid scarfed his down in about 19 minutes; Mariuci in roughly 30.

"We were well under the one-hour clock," Mariucci said. "They put a bib on ya and a baker's hat, you take a photo, because you just wolfed down a 40-ounce steak." 
Mariucci said that he is proud of Reid for all that he has accomplished since they grew together as NFL coaches back in 1992. 
"He's got a great perspective on life," Mariucci said. "He's level-headed and his players appreciate it. He's honest and fair, he knows when to push and when to pull back. He knows what talent is. He always supplies his team with good, young, fast talent. He does it the right way, I'm really proud of him."
Melvin grew up in Palo Alto before going to SF State and receiving his bachelors in Arts. Being a Bay Area local, he was a 49ers fan growing up, so beating them for his first Super Bowl title was storybook, as was their second victory against the Philadelphia Eagles.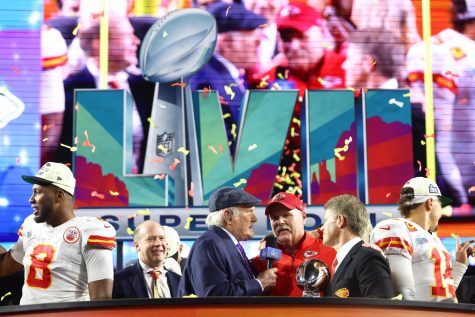 "That was my team. It was a little surreal," Melvin said. "My ex-teammates, I had to hold their feet to the fire a little bit. 'Who you guys gonna root for? Your team you've been rooting for all your life or are you gonna go for me and Andy?' That was a little difficult and actually this last one was too because I spent 14 years in Philadelphia with the Eagles; my kids grew up there and still live there. They're huge Eagles fans, so they were torn."
Looking back, Reid appreciated the opportunity that players like Melvin were given that a bigger school with more highly touted athletes may not have provided.
"It was a non-scholarship program. So I thought it was great for kids that want to play college football, but weren't quite good enough to get a Division I or a NCAA scholarship at that time," Reid said. "So it gave them an opportunity to play, and I've stayed in touch with the players. And that was a great experience for them, something that they'll treasure for the rest of their lives." 
Leave a Comment