We Were Hyphy
A conversation with SF State alum Laurence Madrigal and the process of producing his film, We Were Hyphy.
Podcast Transcript
Gina Castro: Growing up, Larry Madrigal has always been surrounded by movies. He'd remember watching movies late at night at his grandparents' house, being exposed to movies by his dad and buying an old camcorder at a garage sale and making short videos with his friends and brother. From there a passion for storytelling sparked. Today we will be speaking with Larry, an SFSU alum and aspiring filmmaker, as he discusses his time at SF State and later directing his first feature film, "We Were Hyphy." My name is Gina Castro, and you're listening to The Bleed.
Laurence Madrigal: I went to San Francisco State, I only got into state schools but SF State had the coolest cinema program out of all them and I always wanted to live in San Francisco. It was definitely challenging because this was 2007 through 2012, which was during SF States major budget cuts, so it was it was definitely there were things that were challenging about it. Getting classes and you know, stuff like that. But I think I definitely like the curriculum and learning about the school history and getting exposed to very different kind of classes that wasn't— I don't think are—typically taught in the public school system. You know, taking Latino Studies class, taking a ethnic- Ethnic Studies 101 class, learning more about that history of it definitely gave me a different perspective I don't think I would have got anywhere else. And there's just sense of resilience and SF State is a really special place. I don't think this movie would have been made without that.
Castro: Larry's first feature film We Were Phyphy was a music documentary about the hyphy movement, a Bay-Area-born Hip Hop subgenre that transcended music and was also about car culture, slang, dance and style. He talked to artists, journalists, professors, all involved in the movement that took the Bay Area by storm in the summer of 2006.
[CLIPS FROM THE DOCUMENTARY]
We put music to it but it wasn't about music. We was just rapping our lives man.
If you were at the party, and the song came on and we all going dumb, then we all going dumb. If you was in the car and then you just at the light and you decide to start yolking a little bit just to kind of play with the people around you. Then you doing that.
We celebrate each other, we celebrate in life. It was a microchosm of the hippies: Summer 2006.
Madrigal: "We Were Hyphy," is- I call it my first official kid because it was so much time, work and blood, sweat and tears. I was working at education company and I was working in the video department and my co-worker who's the producer of the film, Jason O'Mahony. He's actually not even from — He's from like Ireland. So he put he moved to the Bay, late 90s, early 2000s. And I would always tell him about like the hyphy movements and send them like sideshow videos and music. So he's like, "Yo, we should make a short documentary about this, if you want to direct it I'll produce it." So I was like, okay, it started as just like a two man team and then was just gonna be a short film that we worked on for like a month, and then it just kept evolving From there. We made it over the course of five years. Everyone that worked on it behind the camera would volunteered their time and their gear. Sometimes we borrowed gear from work secretly, but it was all a labor of love and we worked with the resources we had.
Castro: As a third-generation Bay Area native from Antioch. Larry knew this was a story to tell.
Madrigal: I wanted to use my craft to help write a love letter to the Bay Area and the Hyphy movement. To this day it's like the most influential time of my life. I was going finishing high school and going into my early 20s. That span, it was like my coming of age, so it just like was the soundtrack to that part of my life. And the the love I have for the music and the culture and the people that made something so beautiful, I think is what drove me to finish this project and continue when things got really hard.
Castro: I got to speak on the phone with Marshall Moses, one of Larry's best friends. They met at SF State in their freshman year and Larry describes him as the "Yin to his Yang." Marshall was also a story editor on "We Were Hyphy."
Marshall Moses: Larry was— he was definitely very authentic. And I didn't see any issue with supporting someone who was very passionate and idealistic about this. Being in a story editor role, what I did kind of approach it as was like, Okay, we're trying to tell the story, but we're missing this part of it, or do we need to move this part around, but ultimately, it's him, you know, making the decisions and calls. There's some decisions that I suggested that didn't make it in and I'm like, yeah that's fine. Like, obviously, this is your movie. We had a very personal connection to it so it is like a love letter to a time within our lives versus just like a more analytical approach to 'this song was big and this person did it.' I think he more or less poured his heart and soul and once I saw that you were using all the tools you have in your own personal career to make this documentary that you're passionate about a real reality and something that you'll be proud of and that you want also people from The Bay to be proud of.
Gina Castro: My name is Gina Castro and you've been listening to The Bleed.
Leave a Comment
About the Contributors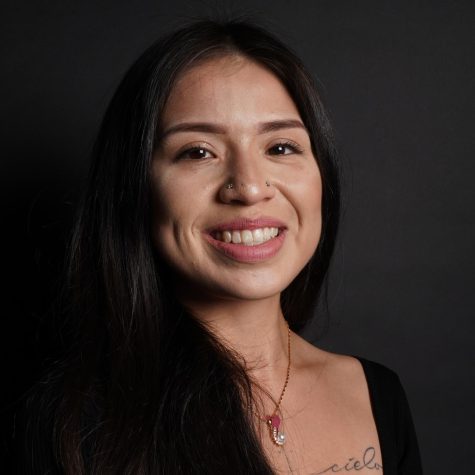 Gina Castro, Staff Photographer
Gina Castro (she/her) is a staff photographer for Golden Gate Xpress. She is a Mexican-American photojournalism major and Africana studies minor. She...