Sublet Survivor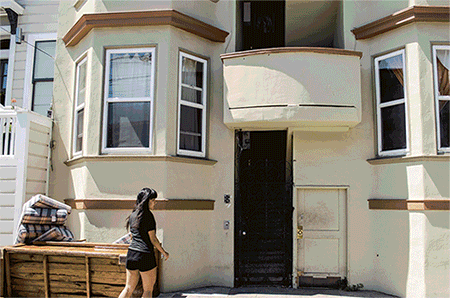 By Kenny Redublo
Photos by Virginia Tieman
Valencia street is alive as usual. Cyclists ride next to cars and trucks zooming by while couples walk their dogs on the sidewalks as they window shop at the local boutiques before stopping into a cafe for a coffee. It's a typical Mission day, except for the lack of sunshine. Valerie Luu sits on the patio at Four Barrel Coffee, taking a break from work. She holds a poetry book in one hand and adjusts her hair with the other. The wind is making the day colder than it looks.
This spot is familiar for Luu. Not just Four Barrel, but the Mission itself. It's her two blocks of comfort in the city, but they're not her home. It's been over a year that she's been on the search for a place to call her home, since a breakup.
"I felt like I had two choices after the breakup: find a Craigslist situation to fall into, which was probably going to be shitty, or go on an adventure," says Valerie Luu with a skateboard next to her.
"I chose to go on an adventure."
Luu started Sublet SF in March 2012 after the breakup. Sublet SF is her blog and personal project, where she subleases a room in eight different neighborhoods in the course of one year. She chronicles her different experiences with the residents of the neighborhood, showcasing conversations, photos, or achievements. Her idea came about when she visited Paris a couple years ago. The city of Paris is divided into twenty different administrative districts, or arrondissements. Luu thought it would be a great idea to live in a different arrondissement for a year, but as she was driving around San Francisco after her breakup, she realized she can do that in San Francisco. She just had to do it.
"Whenever I have a creative idea, it becomes implanted in my head and I can't get it out and I just have to do it," says Luu.
"I'm at a point where I'm able to [move]. I'm young, I don't have children, I don't have an apartment, and I need a reason for adventure."
An Educated Escape
Luu started her sublet obsession while she was in college at UC Santa Cruz. Between her junior and senior year, she didn't want to be stuck at a job or in school. She just wanted to experience living in San Francisco. She subleased a room in a house on Scott and Fulton Street. Out the window was a view of City Hall, she was in walking distance to the parks of Lower Haight, and she fell in love with the city.
"Every chance I got, every winter break or summer break, I would come and sublet in San Francisco," says Luu. "And that's when I became a chronic subletter."
When she finished college and moved out of Santa Cruz, subletting was already a part of her life and packing up and moving was commonplace.
The First Sublet
When she moved out of her ex-boyfriend's apartment in March 2012, she asked her friend Scott to move in with her for the inaugural Sublet SF move. She dreamed of living with her friend and working on art projects together and Scott felt the same.
"We're both dreamers," says Luu.
The first sublet of the project was a one bedroom apartment in the Panhandle on Baker and Hayes Street. Luu's place before the breakup was already in the Panhandle, the neighborhood that made her fall in love with the city. It's her foundation for San Francisco.
After the Panhandle, she moved to the Marina.
When In Rome
One of Luu's goals with Sublet SF is to absorb a neighborhood's culture. Each neighborhood has its own type of people, landmarks, ways of life, and to Luu, it's a way to find inspiration in the city she lives in.
"There's studying abroad, right? Well, this is studying domestic," says Luu.
When she moved to the Marina, a neighborhood of big houses, big boats, and big views, she ran with the culture of the neighborhood, literally.
"Everyone's running [in the Marina]! Everyone is in running pants!" says Luu. "So I went home, put some on, and ran six miles in the rain. It was so epic."
She made the goal of running 100 miles during her time in the Marina. Setting this goal one week into living in the neighborhood, she had three weeks to achieve this feat, in which she did, complete with a celebratory donut.
"I'm not a runner by any means," says Luu.
"Exercise makes me a little sad."
Urban Inspiration
According to Luu, people living in San Francisco have their "two blocks of comfort." As she sits on Valencia, she knows this is her comfort zone.
"My life is here, but it gets monotonous and I lose inspiration," says Luu.
In Chinatown, Luu found inspiration, and the flu.
She shared a bed with a friend and her friend's cat for two months while having the flu. She might be allergic to cats now.
Maybe it was the neighborhood seen through a fever dream but Luu saw Chinatown as this different entity and hub for urban living.
Chinatown has a grittier, more New York like, visual with more urban commercial streets, grocery stores, and merchants, all with apartments stacked right on top.
"That's living in Chinatown! Stacks on stacks!" says Luu.
She experienced different people, lifestyles, aesthetics all in one place since Chinatown borders the neighborhoods of North Beach, Russian Hill, and the Financial District.
"Being around so many lifestyles reminded me that I'm in a fantastic city with a lot of different people because it's easy to get stuck in the same two blocks in the city," says Luu.
"One of the main goals of this project is to have myself leave my 'two blocks of comfort' and see what other people's 'two blocks' are like and hopefully inspire other people to go check out Chinatown and North Beach."
Subletter's Rules of the Road
Luu's parameter for a new place is the monthly price has to be less than $800.
"That's the goal," says Luu.
According to the San Francisco Tenants Union, the annual allowable rent increase is 1.9% as of March 1, 2012 compared to last year's 0.5%. Rental prices from Padmapper.com show properties in Bayview cost more than SoMa. The rental landscape has changed.
"People say rent is expensive in San Francisco and it is. It's super scary and I think about it all the time because I'm constantly moving," says Luu.
"Everyone is afraid of leaving their rent controlled apartments, but there are still cheap rooms [out there] and my hope is that [they] will still exist in some way. Friends will pass it along to friends and friends of friends."
As a chronic Craigslist subletter, Luu's tip to find a room in San Francisco is to stand out among the hundreds applying.
"Sell yourself."
Luu looks for rooms in houses since finding a one bedroom sublet is out of her budget. The sublet in the Marina was the only place to break the $800 rule, with the minimum rent of the neighborhood being at least $1200.
With each move, she is heading toward her ideal amount of possessions. She still has more stuff than she wants. One item includes a box of her journals ranging from the third grade. Paper things are hard to tear away from.
"The ideal is to have a backpack, a suitcase, a bag, my bike, and my skateboard," says Luu.
"I would love to move on a MUNI!"
Barely Bernal
Luu's current neighborhood is Bernal Heights. Her experience so far: being domestic.
She calls her room the "Hobbit room." It's an attic room with two camping sleeping pads and a comforter on top, decorated with Christmas lights, with some company from the house dog.
Being domestic for Luu in Bernal Heights includes buying groceries at the Farmer's Market on the weekend, cooking at home, and going home at proper hours (before 2 A.M,). The lack of bars around the neighborhood help reduce her late nights.
Her Bernal room is also her first room by herself, which is a much needed break.
"I didn't realize there was going to be some unexpected psychological consequences to this project. Displacement, no feeling of home or security… no privacy, which I thought I was fine with."
Never Stay Stagnant
There are two neighborhoods left in the project: Tenderloin and North Beach. Though Luu set out to live in eight neighborhoods throughout the year, there's no telling if she'll stop there.
"There's a part of me that could continue this, like go to Bayview or Laurel Heights, whatever that means, Ingleside, Glen Park. What are these neighborhoods? I have no idea!" says Luu, laughing.
"But who knows? Who knows how I'll feel after I finish these last two neighborhoods?"
Luu's home is Bernal Heights for now, but with this project, San Francisco is becoming her home more and more. She skates around the city, learning its literal nooks and crannies, and reminisces on the places she's lived in. Bernal Heights is the "neighborhood where you can see all neighborhoods" and she sees the different chapters of her life from the hill.
"I have faith that by the last sublet, I will find the 'pot of gold at the end of the rainbow' and maybe I'll know what neighborhood I want to settle in," says Luu.
"Maybe I'll know who I am."
The changes to the neighborhood she sees during this personal journey reminds her of what her ex-boyfriend's teacher told him: "Life is all about having homes or creating homes, and then getting kicked out of them, repeatedly."
"The universe will always kick you in the ass so you can grow," says Luu. "Never stay stagnant."
View Comments (1)