Alternative Ways To Get Wasted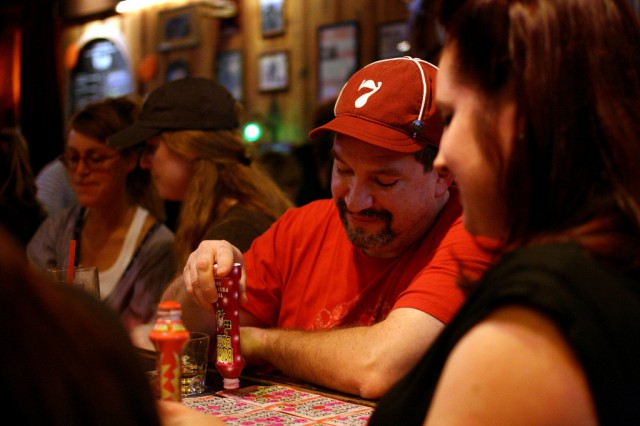 Alcohol makes pretty much any situation better. While bar-hopping and some dance therapy can help take the edge off, new and exciting ways to get your drink on works wonders.  Bar trivia nights are great, but these affordable events around the city are fresh ideas for a perfect date, a night out with the crew, or for meeting new people.
What: Rock, Paper, Scissors Tournament & Pub Crawl
Where: North Beach
When: Wednesdays 8:30 p.m. to 2 a.m.
Cost: Five dollars
The Rundown: This North Beach pub crawl and competition includes stops at four different bars, but they're all less than a block away from each other so don't let that deter you. Just remember the rules: Rock beats scissors, scissors beats paper, and paper beats rock.
NorthStar Cafe is the first stop and most hectic. There are so many people crammed in the bar that you can barely stand without rubbing up on someone, but it all gets better once you've paid five dollars for a discount drink ticket and game card.  Show up before nine o'clock in order to compete.
O'Reilly's is a dimly lit Irish bar.  You'll have to compete for a stool at the bar, but when you show your drink ticket to the bartender, house spirits and beers are two bucks. You'll be too distracted finding opponents to crush with your rock, paper, scissor skills to notice the muffled, obscure music selections.
Gino and Carlo is a more spacious, well-lit sports bar with pool tables, six TVs and some tables away from the bar where you can take a breather.  This is the last stop before you get to the finals. If you've won each round this far, you'll give your game card to the pub crawl leader where you'll enter to compete in the final tournament.
Tope is the final stop. All your hard work will pay off when you wipe the floor with the competition and win the coveted prize of a fifty-dollar bar tab. You'll be the star of the night and have first pick for dance partners because the night ends with a dance party.
The game forces you to interact with strangers, so it's a great way to meet new people. Since the event organizers promote at nearby hostels, there's a slew of tourists with sexy accents to get acquainted with. If all of this sounds too confusing, you can always just fork over five frog skins for the discount drink tickets.
What: Beer Olympics
Where: Horizon Lounge
When: Fridays 8:30 p.m.
Cost: Fifteen dollars
The Rundown: Beer pong, flip cup and relays at a bar. What more does a college student need? The people behind the rock, paper, scissors tournament and pub crawl also bring you some weekend fun with the Beer Olympics. It's free to play when you buy drinks, but you have to sign up by nine o'clock. Five beers cost ten dollars if you get there by nine o'clock. Bring your posse and compete against people in teams arranged by the country you're from.
What: Bingo
Where: The Riptide
When: 6 p.m.
Cost: FREE
The Rundown: Bingo at The Riptide is probably where you want to start off to pregame and ease into a wild night. Or a place you want to have a mellow night. This neighborhood bar by the beach is a dose of Americana with a combination of western, surf and pirate decor and a vintage jukebox.  Brick floors and a roaring fireplace gives it a cozy, home feeling.
An announcer calls out numbers over a PA and low-stakes prizes include an assortment of liquor swag like a PBR hat or an insulated beer sleeve. There's plenty of tables on either side of the U-shaped bar and, if you get there early enough, right by the fireplace.  If you can't find a place to sit, you can play standing with a clipboard. Three dollar pints of Blue Moon, five dollar tequila shots and free JELL-O shots whenever the announcer calls sixty-nine helps make a game normally played by senior citizens a lot more fun.
What: Painting to the People
Where: Temple Night Club
When: Tuesdays 7-11 p.m.
Cost: FREE
The Rundown: This EDM haven opens its doors for collaboration and creativity with a weekly paint party. It can be intimidating to walk up and start painting alongside someone working on a detailed portrait that looks like it should be in a frame, but that's what alcohol is for. Free paint and brushes are available next to huge blank canvases set up along the walls of the club's lower level.
If the DJ's eclectic mix isn't enough to get your creative juices flowing, the cheap drink specials will.  Enjoy five-dollar wells and three-dollar beers, but beware the twenty dollar minimum on credit cards at the bar. Painting and alcohol may get a little messy, so bring an apron to avoid getting paint on your clothes. If you don't feel like painting, you can express yourself on the dance floor, or lounge on the comfy couches. X
Leave a Comment