The Interview – a breakdown of the shakedown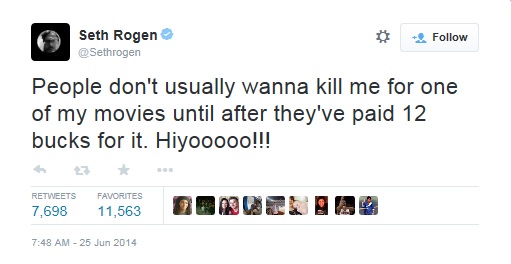 So, assuming that you're not totally disconnected from the media, you've probably heard that a certain movie that was supposed to premiere on Christmas Day is not going to be shown in theaters because of terrorist threats – and if you haven't heard the news, that sentence might sound a little crazy to you.
And, trust me, you're not alone on that one. It is something that you'd assume was in the plot of some sort of action filled thriller or off-beat romantic comedy, but nope – this is real life.
The movie sparking this wild round of controversy and threats is the comedy "The Interview," starring James Franco and Seth Rogen. Rogen was also a co-writer and director of the comedy. The plot focuses on a talk show host and a producer of a television show who manage to schedule an interview with North Korean Leader Kim Jong-un, and are then recruited by the CIA to assassinate him.
So, how'd we go from a comedy on a topic that's not completely foreign to the big screens, assassination of a dictator, real or fictional, (Team America, anyone?) to terrorist threats and cancellation of said movie?
Hopefully, this timeline helps break down some of the key events that have happened so far.
June 24th 2014 – North Korea's Central News Agency, the only media organization allowed in the country, condemned the film and promised "merciless" retaliation if the film was released. A North Korea spokesman was cited by the state KCNA news agency as saying: "Making and releasing a movie on a plot to hurt our top-level leadership is the most blatant act of terrorism and war and will absolutely not be tolerated," according to BBC.
November 24th – the first in a series of Sony hacks happens. Social security numbers, company passwords, and upcoming movies are all released by the hackers of a group who call themselves the GoP or the Guardians of Peace. Employees and their families are threatened through emails sent by the hackers.
December 17th – eight days before the planned-premiere of the film, Sony, the company producing "The Interview," is hacked again. This time, emails cite 9/11 type attacks of theaters that show the film.
December 18th – After the four main theater chains in the nation make statements refusing to show the film, Sony cancels the Christmas Day premiere.
December 19th – The FBI states that they have enough information to confirm that North Korea was behind the threats. "For example, there were similarities in specific lines of code, encryption algorithms, data deletion methods, and compromised networks," the FBI, according to NPR.
President Obama disagrees with Sony's decision to cancel its December 25th release, calling it a mistake and stating that they should have talked with him first. "We cannot have a society in which some dictator someplace can start imposing censorship here in the United States," the president said in his year-end news conference.
Sony stands by their call saying that they wouldn't have pulled the film if so many theaters hadn't refused to show it and that they fully support the First Amendment. They have been pulling advertisements and trailers for it off of YouTube and other sites, but state that their intention is to still have it distributed.
Obama discusses adding North Korea back to the State Department's list of state sponsors of terrorism, which it was removed from in 2008 by the Bush administration during nuclear negotiations.
December 22nd – The Verge reports that the Internet thinks that "The Interview" is the perfect movie. It has been rated 9.9/10 stars on the Internet Movie Database (IMDB) with over 22,000 reviews.
North Korea refers to the hack as a "righteous deed" but claims not to be responsible for it.
—
And that is all the news so far.
Sony hasn't announced a date for the release or platform it will be distributed on yet, but has stated it is their intention to get the film out there. If the world will actually ever see it, who knows.
Leave a Comment