Research And Activism At SFSU: Ideas Worth Standing Up For
Lindsay Faye sits in a big grey rocking chair, reading the Lorax to her two-and-a-half-year-old cousin Evelyn. As the last words of the poem approach, she chokes on tears.
"Unless someone like you cares a whole awful lot,

Nothing is going to get better. It's not."
For Faye, graduate marine science student, Scott Pruitt's appointment as head of the Environmental Protection Agency brings overwhelming emotions. As a response to the poem and the news, she writes her own adaptation of the Lorax, but darker, more reflective of reality. In it, she describes the land without the EPA, the land where
"The trees [are] all chopped down, the fish all were caught,

The oceans turned murky, the air became thick,

The critters who need them are all dead or sick."
Up until the dark poem, the world of art, science, and activism were separate for Faye.
But, "the link is being strengthen lately," she says, kneeling on the sofa with a cup of tea, as if warming her hands with it. The small coffee shop in Haight is humming while Faye, pausing the work on her thesis, talks about the point where scientific research and activism intersect.
"With all this political stuff going on," she says, "it seems like the scientific community feels their voices need to be heard, and the research needs to be widely spread and understood by the public."
A lot of the research San Francisco State University students and faculty conduct addresses one of the most important environmental issues facing humanity today — climate change.
Observing The Sea Critters
Most of the research happens at the Romberg Tiburon Center, an off-campus field station located on the San Francisco Bay shore in Marin County. A thirty-six-acre site houses ten laboratories, a molecular facility, lab and IT classrooms, and faculty and student offices.
One of the facilities, Stillman Lab named after the professor leading it, towers over the water, with plaster peeling from its roof like old skin that has endured the wind and sun for too long.
A sharp salty smell startles the senses before the visitor enters the lab. Rows of lights, a maze of tubes, an endless web of cords all welcome you in — and so do the waves, gently whispering outside, "The sea is ever present."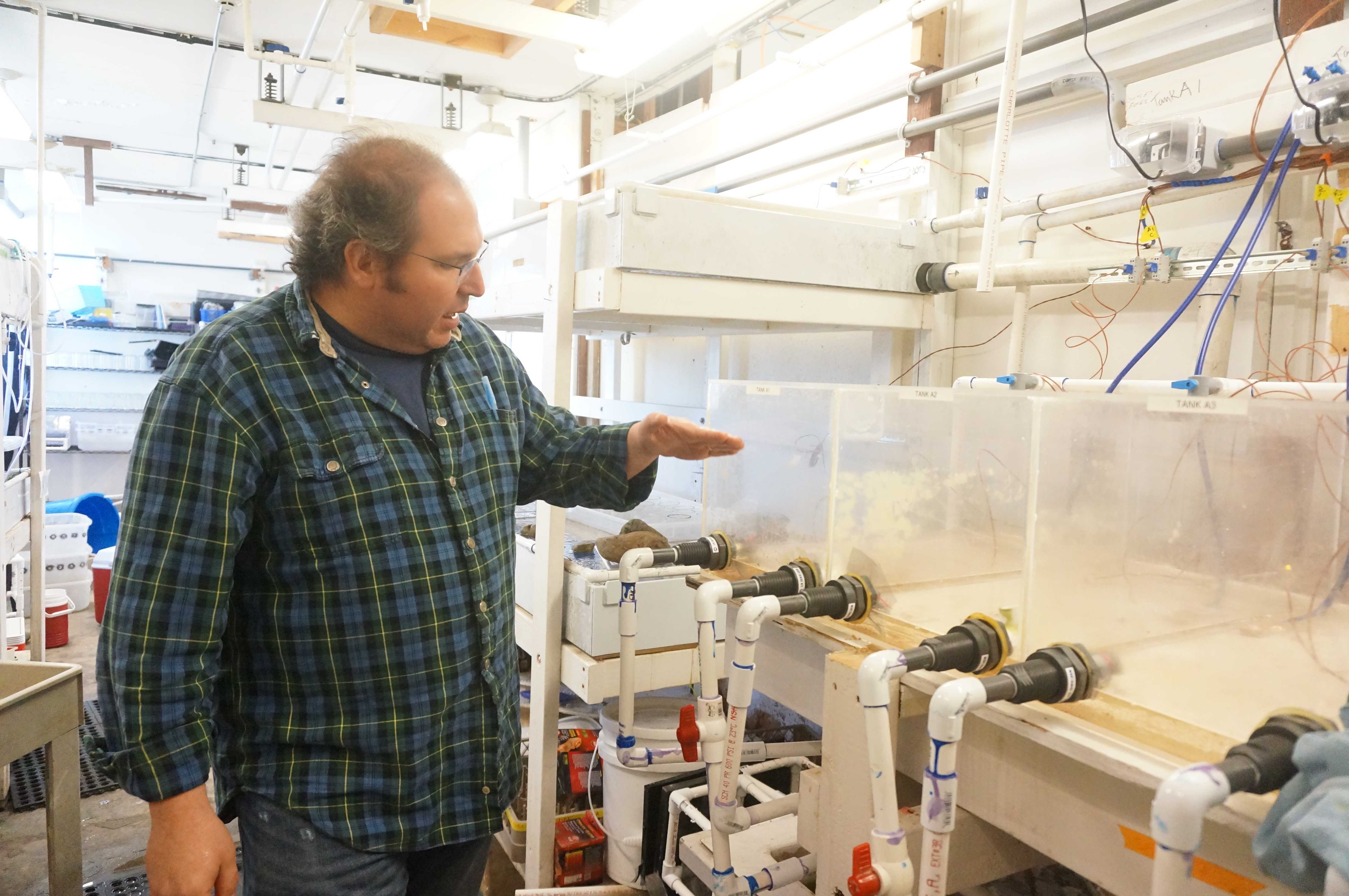 Under the socket of each lamp, like a hospital bed against a white wall, a small muddy aquarium houses its own habitat. Under these deadly white sockets, there is life.
The inhabitants are porcelain crabs, and how they hold up in the constantly warming tide waters is the center of research the Stillman Lab is finishing up. Other subjects the lab members study include sea hares, corals, and invasive clams — environmental physiology of aquatic organisms is the focus.
With so much data confirming global warming, research seems redundant to some, including Environmental Studies major Tom Evans. He plants the vegetables in SF State community garden and smiles, while speaking, but the corners of his mouth point down. Evans explains that by now, climate change is a fact, and policy is what is needed.
To Faye, however, the research is a way to get a better idea of what's going to happen to each ecosystem, and to the ocean as a whole.
"The more we know, the more we can prepare and protect the species," she says.
Dying In Warm Waters
The oceans are one of the most vulnerable environments on our planet, and to some of their inhabitants, the consequences of higher water temperatures are already lethal.
In the Australian Great Barrier Reef, the biggest biological structure that can be seen from space, almost 70 percent of corals died last year.
"It's essentially like a nuclear bomb flattening the greatest cities on our planet; it's like culture is being wiped out," says Jonathon Stillman, who teaches and leads research at both SF State and the University of California, Berkeley.
Stillman continues, squinting his eyes with arms crossed: "If you could think of the biggest losses in humanity — what if you destroyed all opera houses on the planet, and there is no opera anymore, or no one could make a painting again? — That's essentially what's happening in the marine environment. You're taking the most amazing tropical marine reef ecosystem, and it's being devastated by climate change."
What is happening in Australia can give insight to the advancement of climate change in our backyard — the Pacific coast, and that is what the Stillman Lab has been researching, by conducting experiments, and working in the field for two years.
"We are trying to understand all of what could happen with warming here, so that we can predict when that's going to affect our coast line, like it's affecting in Australia," Stillman says. "If we can predict at what level of temperature variation climate change will have a big impact, and we can map out where that's gonna happen, we can make decisions about conservation of natural habitats."
Almost all of the projects in the lab are finished now, with several people wrapping up their experiments in the near future. Writing the papers and presenting the results is what lies ahead in the next six to nine months, along with the starting of new projects.
Faye is one of the lab members who is defending her thesis this May after researching sea hares living in the San Francisco Bay. These small green creatures eat algae from eelgrass, and the process restores the habitat for other organisms.
Faye's love for the ocean began during the many trips she took to the beach with her family.
"You stand near the ocean, and look out at it, and it just looks like water, right?" she pauses. "And then you think of all the stuff that's under there! All the stuff that you can't see."
Dreaming to become a whale trainer as a child, she soon learned of the cruelties animals in captivity face and switched her interest, choosing biology as a major with environmental science as a minor at California Polytechnic State University. For graduate school, Faye chose SF State, because in Romberg Tiburon Center, most of the projects "have something to do with what's going on in the changing world."
Faye is graduating this semester and says she will do her best to find a career in outreach. Even though she understands the importance of research, she thinks more activists are needed to keep the public interested in science.
"The missing link is that we have all this research showing climate change is happening, and the oceans are in danger, and this is happening to these species, and the coral reefs are dying," she says, "but a lot of people just don't know [about it]. And this really drove me because I wanted people to care."
[ngg_images source="galleries" container_ids="6″ display_type="photocrati-nextgen_basic_slideshow" gallery_width="600″ gallery_height="400″ cycle_effect="fade" cycle_interval="10″ show_thumbnail_link="0″ thumbnail_link_text="[Show thumbnails]" order_by="sortorder" order_direction="ASC" returns="included" maximum_entity_count="500″]Standing Up For The Oceans
With the change of political atmosphere in the country, the need in both new researchers and activists is now more urgent than ever.
"I don't even know if we should call it activism; I feel like it's just getting people interested, it doesn't need to be pushing an agenda per se," she says and pauses for a second. "Although, that's how I felt before [president Donald] Trump's coming. … I just wanted people to care about the oceans. Nowadays, it feels like activism."
Trump's presidency signaled a change for the whole scientific community, but especially for those caring about the climate change. In his Budget Blueprint, Trump proposed to cut in third the budget for EPA, eliminating funding for the Clean Power Plan, international climate change programs, and climate change research.
"It's scary, to be honest, to me," Stillman says.
Despite the President's negative attitude towards fighting climate change, SF State's policies continue to address the issue. By 2020, administration plans to reduce greenhouse gas emissions by 25 percent through energy saving programs, composting and promoting alternative transportation options, according to the University's Climate Change Plan.
From the student stance, there is room for action as well.
Students formed Fossil Free SFSU to advocate for divestment from the fossil fuel industry, one of the major contributors to the advancement of climate change. Environmental Resources Center, among other things, hosts workshops teaching to compost and recycle, and even provides free bike maintenance.
Many members of the SF State Department for Environmental Studies participated in the San Francisco March for Science on April 22 representing Romberg Tiburon Center, says Outreach Coordinator for the center, Erin Blackwood.
"It's just so upsetting that you have to do or say something," Faye says. "A lot of us have reached that point where, well, we all just want to be happy and do our science, but none of us feel secure that its gonna be around if we don't start standing up for it a little bit."
With the Trump administration making it clear that they are not funding any research related to climate change, Stillman says he is worried about his lab.
The "dismissive or even hostile attitude toward climate science suggest that federal funding for it is likely to shrink for at least a few years," agrees the Chair of Department of Earth & Climate Science, David Dempsey. "If that happens, it will be harder for the three or four of our faculty members who do climate-related research to find financial support."
Faye says she fears that the disappearing funding can discourage young people from pursuing a degree in science.
"Having a secure career — everyone is worried about that," she says. "And then we can start loosing the new generation of scientists that should be coming in, and continuing this research, and being passionate about science, and getting other people to care. It's really scary. I wish I had something happier to say."
However, Dempsey says with the impact of climate change becoming more widespread and severe, "students who are planning on careers that require an understanding of how and why climate is changing, what the impacts are likely to be, and how we might be able to adapt to the impacts or, better, mitigate them, should in the long run be in increasing demand."
"At some point it's going to get bad enough that [people] are not going to deny it, and unfortunately it will be too late," Faye says. "But it's so easy to be like, 'Well, we're screwed, so I'll go and do something else.' Not giving up is important."
Planting The Seeds
The change, when it happens, starts in the mind.
To make more people stand up against policies jeopardizing climate change, Faye thinks it is crucial to educate kids about the environment, to teach them to question things, "be curious and want to explore the world."
The first step can be simple like learning about the scientific method: "you see something, and you wonder something, and you ask a question and do an experiment, even if it's a small one, like 'what's under this rock? what will happen if I turn it over?'''
Faye currently works as a student assistant for outreach at the Romberg Center, and on April 23, along with many other SF State students, she participated in Discovery Day, opening the doors of the Center to curious visitors, however young or old.
Learning about the experiments and conducting their own, taking careful measurements and playing games, looking at plankton under microscope and getting muddy while exploring — children enjoyed the activities the Center offered, noticing or not the learning coming with it, noticing or not, the change.
In a post Faye wrote on Facebook after writing the poem, she said, "Our future depends on taking care of this planet, our home. And if people like us don't care a whole awful lot, nothing is going to get better. It's not."