Tackling Masculinity with Self-Care
In the past few years, the idea of self-care has garnered quite a bit of buzz across social media. From thousands of videos on YouTube that show people's self-care routines to a popular hashtag that gains constant traffic daily—self-care is a positive trend that helps promote the betterment of someone's health.
However, the trend has unintentionally focused primarily on women's self-care. Searching the term on YouTube produces dozens and dozens of female-oriented videos, with only the odd male-focused one sprinkled throughout. Inherently, this skew is not a bad thing. The fundamentals of this trend—encouraging people to devote time to look after their wellbeing—apply to everyone. Nonetheless, the lack of this kind of content directed at men makes it worth considering the state of men's health as whole.
Taking care of oneself, especially when it comes to mental and emotional health, has always been a bit of a taboo subject for men. According to Karen Boyce, the Director of Health Promotion and Wellness at San Francisco State University, there is a stigma among men about talking about their emotions.
"A lot of self-care strategies are typically considered 'not manly,' which becomes a huge barrier for men to even consider practicing them," Boyce explains. "For example, men are often expected to stay strong, not cry, and/or suppress any emotional weight from different stresses in life. They are less likely to talk about their mental health with others or use mental health services."
The fact that men tend to be less likely to talk about their mental health could be a contributing factor to the high rate of male suicide. The Centers for Disease Control and Prevention, or CDC, found that from 1999 to 2014, the rate of suicide among men rose 20.7 percent—nearly four times the rate for women, which rose 5.8 percent in that period.
Self-care isn't the end-all cure to suicide or other mental health issues for men or women, but it is a step in a positive direction.
So, what is self-care, exactly? Boyce broadly describes it as any activity that elevates a person's general health.
"Self-care is an activity that we do deliberately in order to take care of our mental, emotional, physical, and spiritual health," Boyce says. "Good self-care is key to improved mood and reduced anxiety. It's also key to a good relationship with oneself and others."
Many people already practice some form of self-care, even if they aren't doing it consciously. Leo Avila, a marketing major at SF State, never considered some of his regular activities as self-care.
"I work at a swimming pool," Avila says. "So, I just swim and it gives me time to think to myself."
The physical benefits of exercise are fairly obvious: Regular activity keeps the body fit and healthy. But working out also flexes the mind. According to the American Psychological Association, or APA, exercising can greatly enhance a person's mood and help with long-term depression.
Other studies show that exercise releases endorphins, which can improve mood and act as a painkiller. The Anxiety and Depression Association of America, or ADAA, explains that stress not only affects the brain, but it also influences the rest of the body. So goes the effect in reverse: low-to-moderate physical activity can reduce stress and increase overall energy.
Like Avila, Nick Elias, an international business major, also turns to physical activity to improve his mental health. Elias says he goes to the gym regularly, practices Muay Thai, and has been skating for the past six years.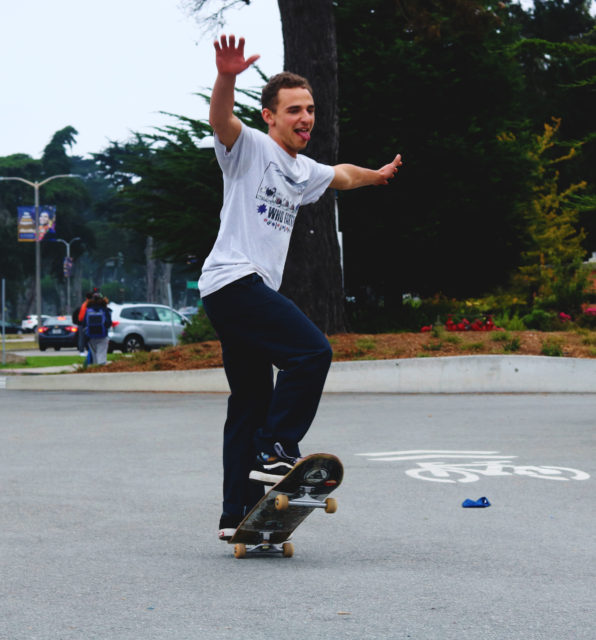 "I like to skate, I've been doing it for a while," Elias says while trying to catch his breath after skating. "I'm not, like, super good at it, but I really enjoy it."
Elias says that he does try to eat right and go to the school counselors occasionally, but his primary method of clearing his mind is exercise.
"It's good to sweat it out," Elias says, a bead of sweat forming on his forehead. "It helps keeps my mind clear and helps me keep in touch with myself."
But self-care doesn't just mean exercising. It varies from person to person. There is no one right way to care for yourself.
"Self-care is really what an individual enjoys doing and what makes them happy," Boyce says.
James Copes, a business administration major, deals with the daily strain of school and work by playing video games.
"If things get stressful I like to get on Grand Theft Auto and blow some shit up," Copes says casually. "You know, nothing crazy."
Violent video games tend to get blamed for causing people to commit violence in real life. To the contrary, a study by Dr. Christopher J. Ferguson, a professor at Texas A&M International University, shows that violent games have worked to relieve stress and reduce depression and hostile feelings.
The self-care trend has started to encourage men to become aware of their own health, both mental and physical.
Erik Kramer, a Cinema major, says he likes to relax by drinking herbal tea and indulging in a good bath. This kind of self-care is important to him, because men's needs are often forced to fit a macho culture.
"I feel like guys often have to put up this ultra-masculine mask," Kramer states. "It's just nice to be at home, and be yourself, and nurture yourself. It's a good way to be comfortable with you."
Boyce agrees. She says that men don't always get to reflect on the idea of what being a man should really mean.
"Part of self-care can be for men to reflect on this idea and identify how to foster a culture of care for themselves, other men, and the community so we all work toward bettering our health," Boyce says.
Due to societal pressures, many men neglect their mental and emotional health to keep up the appearance of being tough and strong. But those stereotypes are changing, helped in part by movements such as the self-care trend.
"It's okay to have feelings as a man in 2018," Avila says cheerfully.
Listen to writer Greg Ragaza go in depth on self-care, and how men sometimes neglect their mental health with our Multimedia editor Jacob Tucker on his latest episode for Beyond the Story.