The Coming Out Experience
At seventeen years old, Mar Pierce was nervous.
She had just realized that she was bisexual and, although nervous, built up the courage to come out to her mom. Pierce's mom accepted her bisexuality with support and admiration.
This was the beginning of Pierce's coming out experience, and it was the first time in her life she felt comfortable exploring her sexuality and gender identity. A year later, Mar realized she wasn't bisexual, but pansexual. And so she would, again, nervously come out to her mother—who responded in the same supporting way as before.
However, at the age of twenty, she had another realization. Mar was transgender. So, just as when she came out as bi and pansexual, she told her mother. Her feelings of anxiety and apprehension faded based upon her mother's previous support, but this time around, her mother did not accept her for who she was.
"Basically she was like, weirded out by it, and she was like 'are you sure?' and like 'this is a big decision,' like 'I need you to wait, and not do anything about this,' and I was like fuck that—
Fuck that."
The twenty-two-year-old cinema major with fiery-orange hair had made it clear; nobody will stop her from living her life. For Pierce, and many other trans people like her, coming out is both a liberating but vulnerable experience.
The realization came to Pierce one day while living in the dorms at SF State.
She was shaving her face one morning in the bathrooms when she thought, "I could just shave my armpits right now. I could totally do that and it would be so easy. So I did it, and it felt amazing. And I was like, what the fuck is going on right now?"
Pierce had an easier time coming out to her friends because of how accepting they were of her identity. "It was maybe strange for them at first, but they definitely got used to it." Her dad was also accepting in that he, in her words, "didn't give a shit" and was "totally cool with it." Pierce would giggle as she talked about how casually her dad acted to her coming out. For Pierce and many other trans people, support is one of the most important things in her life. Whether her parents or friends agreed with her or not, they cannot change who she is, but they can offer their understanding and acceptance.
Rae Sweet, a nineteen-year-old non-binary queer activist and public speaker, never exactly felt like they were "in the closet."
"When I discovered myself and as I was figuring myself out, I just kind of was open about it. It was very much accepted in my family and my close circles so it wasn't a big deal. It didn't feel like a whole coming out experience." Sweet explained that coming out to their closest people was as simple as saying they like a certain color.
At first, Sweet was open about their use of they/them pronouns, but they weren't so proactive on getting others to be strict with using them: "I was out as genderqueer and I told people I used they/them pronouns. . . [but] I told people it was fine if they called me my deadname [the name given to them at birth] and if they called me she/her 'cause I was scared of becoming a nuisance," they recall.
It took about eight months after coming out that Sweet started to realize they needed to enforce other people calling them by their correct they/them pronouns and chosen name.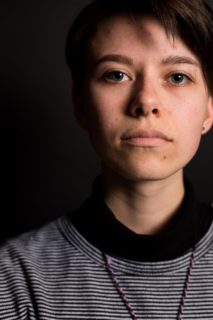 They/them are gender-neutral pronouns. Rather than gender being specifically blue or pink, there's actually a lot of purple in between—they/them is an option for those who do not identify as either male or female, but somewhere in the gender fluidity in between.
All while selling clothes, Sweet's job at the Human Rights Campaign has them educating others about the store, human rights, their role in the community, pronouns, and who Harvey Milk was while also advocating for LGBTQ rights. Rae also does public speaking at high schools, middle schools, and campus queer clubs about gender, sexuality, growing up queer, and being trans. Sweet is able to use their experience to educate others on what being trans is like and how to find support.
Unlike Pierce and Sweet, Jezebel Yana, a twenty-one-year-old trans woman from Los Angeles, had far less support during her coming out experience. Yana's family was resistant to her identity from the very beginning of her coming out experience, and they still have yet to accept her gender preference.
"Growing up in my family, I had been really honest and open about how I felt, and I was very fem. I liked she/her pronouns, and I would use them despite my parents not liking that." It wasn't until she was ten when she realized she didn't have to accept the masculinity that accompanied the male gender roles her parents wanted her to fall into.
"Once I learned I could rebel, I started doing that more and all the way up until I left [home] at seventeen, I'd been fighting them on that." Yana would try to get her parents to see her as a woman by embracing and being assertive of her pronouns. She would have a hard time coming out to anyone else at the time as her parents continued to suppress her identity.
In the days leading up to her coming out, Yana weighed the pros and cons and came to the conclusion to just tell everyone at once. "I was like, I just want to rip the band-aid off," she says while laughing a bit to herself. "I threw myself out there, and I did get hurt, and I did feel scared, and a lot of times it was kind of aggressive from where they were coming from." She faced misgendering and rejection from people she thought would accept her.
An article written by Kevin A. McLemore titled A Minority Stress Perspective on Transgender Individuals' Experiences With Misgendering says that, "being misgendered is an example of an identity interruption—a situation in which an individual receives feedback from other that is incompatible with one's own self-identity." He goes on to state that identity interruptions have a potential to lead to psychological distress. Examples of misgendering, as stated in the article include, "using a gender pronoun that is inconsistent with a person's preferred pronouns, gendering an otherwise neutral name, or denying a person access to a gendered space like a bathroom."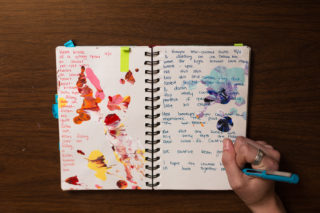 Once she left her parent's house, Yana took control of her own life and left that toxicity behind. "I wore what I wanted to. I started wearing dresses, started wearing a lot of fem clothes that I never got to wear." For her, staying true to herself is worth more than molding herself into the shape her parents want her to be.
Just like Yana, Rory Duran would also have to choose to be himself regardless of the amount of people that rejected him. The nineteen-year-old trans man came out in a small town and has one word to describe that experience: "Bad."
"This [town] was small and conservative. So, it was really hard coming out at home. It was kind of weird because my school was really LGBT positive and really open," he explains with a shrug and a heavy sigh as he runs his fingers through his short hair.
Duran's relationships would end up strained. His mother got Alzheimer's disease when he was in the seventh grade. His dad was a bad role model for him and an overall unpleasant person. So he ended up living with his sister, Ada, and her daughter. But they still wouldn't accept him for who he is.
"Every morning I would wake up, I would put on clothes that I felt comfortable in, and they would just be like, making fun of me." The constant verbal abuse and his family's refusal to accept his sexuality motivated Duran to move out of his sister's house despite not having another home to live in. He lived in a tent for an entire summer just to avoid her mistreatment.
His strength and will to live as himself is further proven by his decision to come out: "Either I was gonna come out and I was going to fight for who I was, or I was gonna commit suicide. And I came pretty damn close to suicide, decided that's not the way I wanna go. I wanted to fight for something, I wanted to fight for life."
After coming out, Duran explains that he no longer felt, "like a shell anymore." He says, "I felt like I could achieve like, being happy . . . I wasn't just playing the part of what I thought I was supposed to be doing. Instead I was doing things that I wanted, that made me feel better, that ended up making other people feel better too. Because, in the end we're all connected."
And Duran is right: we all are connected. But more than that, the experiences of coming out are, and can expose the hardships—or acceptance—trans people experience just by being themselves.
Andy Lopez is a twenty-one-year-old trans man from Fresno, California and unlike Yana's rip-the-band-off method, his coming out was a long process. "I really didn't start having that kind of conversation with myself until after I moved out, after I graduated high school."
He started off thinking he was gender-neutral with a slightly more masculine side. But over time, he was pulled more toward masculine things, and it wasn't until he met other queer people after high school that he discovered these things about himself.
Lopez speaks very fondly about his friends, and how their support has made his experience as a trans man even better. His best friend is also a trans man and his biggest supporter in the beginning of his transition. He also says that a lot of his support comes from his roommates that he lives with today.
"They were there when I got my first testosterone shots, they were there when I basically purchased a good binder, and every time I have news about my transitioning, they're always the first people to go and say, 'Wow dude, congratulations! I'm so happy for you.' So they've been really supportive," recalls Andy, his face lighting up as he thinks back to this time.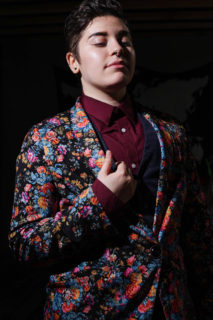 Lopez's support circle emphasizes the need to find people who will treat you as another human. Like Pierce and Sweet, his friends and roommates were positive support pillars in his life. They would also help him to further explore and learn more about himself.
For trans people today, coming out can mean many things. Rejection, joy, violence, liberation, uncertainty, or love. Although some are greeted with waves of support, others aren't so lucky.
However, "coming out" may be the wrong choice of words.
Perhaps, it is more of a "coming in" as they come into themselves with budding confidence in the person they have always been.