For the people, by the people
by Patrick Tamayo, archival photos courtesy of El Tecolote archives
March 20, 2020
A San Francisco plainclothes officer was shot and killed May 1, 1969. The officer and his partner had approached and confronted a group of men they suspected of possessing stolen items. A struggle ensued and one of the officers was shot dead.
Several days later — like the start of a bad joke — four Salvadorans, a Nicaraguan and a Honduran were arrested for the death of the officer.
The death, blamed on "coastal radicals," was just one of several instances where the community came together to fight against injustices — especially against black and brown people.
El Tecolote newspaper was born at a time when armed Black Panthers patrolled their neighborhoods and a police substation in the Haight District was the target of a bomb attack. Anti-war protests were familiar sights as the Vietnam War dragged on. Women's fights for equality coalesced at around the same time activists fought for farm worker rights.
The paper will celebrate 50 years in 2020.
"We are the longest-running bilingual, Latino, Spanish/English newspaper in the southwest," current Editor-in-Chief Alexis Terrazas said.
The beginning
The paper was formed at San Francisco State University by founding editor Juan Gonzales — current chair of the journalism department at City College of San Francisco — in the La Raza studies class he was teaching — as an effort to steer more Latino/as into journalism at a time when people of color were almost non-existent in most news outlets.
Gonzales and members of his class held fundraisers, a talent show and sought donations to cover the cost of printing the first edition in August 1970 — a four page issue with stories printed in English and Spanish.
"It's all we could afford," Gonzales said. "We raised $300 total. It cost $75 for four pages and we got 5,000 copies."
Since its inception, El Tecolote has attempted to give a voice to members of the community who may otherwise not have one. It strived to tell the stories of people that mainstream news organizations seldom highlight.
"There was very little coverage of the Latino community. We wanted to provide people [with] an alternative," Gonzales said. "The main newspapers weren't covering the neighborhoods and when they did, many of the stories were negative."
San Francisco's Mission District has changed drastically since the 1970s, and El Tecolote has been there over the years documenting the community, the lifestyles and the politics of the neighborhood that has been referred to as "the epicenter of Latino culture" in San Francisco.
While the paper has always had a minimal staff, the majority of reporters, photographers, designers and editors have been volunteers. Many come from both SFSU and CCSF, but they have even reached out to high schools in the area in the past to get their students involved.
Alexis Terrazas explained that a lot of the volunteers left for a variety of reasons after he came on board in June 2014.
"It took a long time to establish a pretty consistent flow [of volunteers]," Terrazas said. "When I got on, there were already a lot of volunteers but a lot of them left … that left me with basically having to recruit a lot more people."
Terrazas turned to his alma mater — San Francisco State University — where he had numerous contacts, including journalism professor Jon Funabiki. It was in Funabiki's Ethnic News Service class that Terrazas was first introduced to El Tecolote.
"My very first story ever in 'Teco was through Funabiki's class," Terrazas said. "When he found out I was editor here, he was like 'we need to do this class again.'"
Funabiki considers El Tecolote an essential part of the community and commends them for covering stories that most other news organizations do not report on.
"It's a very important newspaper," Funabiki said. "If they weren't around the Mission would have been ignored."
Terrazas started recruiting heavily at San Francisco State and spoke to reporting classes and participated in Funabiki's classes to get students' stories published.
"I really think that the main reason why we're still around and thriving all these years later, basically five decades later, is because we're different. We're very different from a lot of the other news outlets," Terrazas said. "And I think people here know that they have an area where they can work on something they feel contributes to our community."
Teco Familia
Mabel Jiménez, a San Francisco State graduate, started volunteering at El Tecolote in 2008 and became photo editor in 2011, a position she held through 2018.
"We have an expression, 'Teco familia' (Tecolote family), because it's very much like [a family]," Jiménez said. "It's a struggle keeping a newspaper going and keeping the quality going with such a small team requires a lot of sacrifice, sometimes a lot of stress. [It] sometimes requires you to work more hours than you're actually paid for just to get it done. So I think when you struggle together it makes you closer. It makes the team closer."
Positive community feedback added encouragement to the tight-knit staff. Jiménez said that staffers are often recognized while out on assignment and past volunteers will usually acknowledge them when they see their El Tecolote press passes.
"I can say personally it's because I love what I do. I believe in community journalism. I believe in our community [and] I believe in solidarity between communities. And it's not just me. It's our staff too," Terrazas said. "We might have differences in our passions for certain issues … at the end of the day we're all trying to strive [to make] this world a better place. And hopefully our small, 12-page, 10,000 circulation newspaper, hopefully we do that, and we try. We try really hard."
Teamwork and togetherness is not something new at El Tecolote.
Leonel Sanchez started his journalism career in 1983 at El Tecolote while studying journalism at San Francisco State and went on to have a successful 25-year career working at the LA Times and the San Diego Union-Tribune, where he spent the majority of his career. He covered Latino, border and immigration issues.
"I joined the staff of Tecolote in '83.The Chicanos there took me under their wing and they let me experiment with my writing. They helped me a lot with my writing," Sanchez said. "A lot of those guys weren't journalists per se, but they were writers. They were poets. They were artists. They were activists. They came from different perspectives and they encouraged me to write and gave me that support I needed."
Sanchez credits El Tecolote for giving him a head start before writing for his university publication. He believes the variety of topics he wrote about at El Tecolote helped lead the way to what he would eventually cover for the majority of his journalism career.
"I remember writing about the Vietnam veterans who were coming home with PTS (Post Traumatic Stress). And I remember writing about the sanctuary movement at the time. We were getting a lot of Salvadorians who were coming and telling their stories about being tortured," Sanchez said. "That blew my mind because I'd gone to high school with a lot of people from Central America back when they were coming from fleeing wars."
In 1999 Pedro Tuyub was hired as editor and said that at the time of his hiring there was no staff at the paper and only four or five volunteers.
"The impact [of El Tecolote] is immeasurable. Its existence is embedded in the deepest fabric of the community that one cannot imagine the Mission without El Tecolote," Tuyub said. "It's our voice."
Serving the Community
From the beginning, El Tecolote wanted to provide the Mission District community with news that benefited it. The early staff of the newspaper wanted to highlight an underserved, diverse community that had limited choices of where to get their news from and even then, the news they got had little to do with their own communities.
Acción Latina is the publisher and host space of El Tecolote. It is a non-profit organization "that is dedicated to promoting cultural arts, community media and civic engagement as a way of building healthy and empowered Latino communities," according to its website.
They're located in the heart of the Mission in the Latino Cultural District — an area of approximately 55 square blocks — at 2958 24th Street.
"We wanted to showcase popular culture. There were artists, poets, musicians [in the community] that got very little play in the mainstream," Gonzales said. "We wanted to give them some media attention. In many ways, we wanted to mirror the community and reflect who they [were]."
This sense of engagement has carried on through the years and El Tecolote has attempted to bring the community captivating and intriguing news that pertains to the community as a whole.
"We're going to cover the side of the story that most often goes untold or is buried. Because that's who we are, we're the voice for the voiceless. We make a conscience decision … let's see what voices are being denied and let's uplift those. A lot of the time it falls into the category of our Latino community," Terrazas said. "But sometimes that falls into another community category. Sometimes it will fall into the LGBT community. Sometimes it will fall into our community in the African Diaspora. Sometimes it will involve Asian folks."
Acción Latina also houses the Juan R. Fuentes gallery — which showcases various works of local artists and hosts multiple exhibits throughout the year — and presents numerous community workshops and educational events besides being home to El Tecolote's archives of past newspapers, photographs, illustrations and posters.
"A lot of people come back to the Mission even if they no longer live [here]. It definitely still holds a place in people's hearts even if they've been pushed out of the neighborhood," said Katynka Z. Martinez, Ph.D., Acción Latina's board president. "To be able to continue to see the newspaper there in the streets that they once called home is really important and to see themselves reflected both on the topics that are covered and in the language is something that I think helps the visitors or the residents feel more at home."
The new Mission
The Mission District has seen a steady decline of their Latino community as rents skyrocket, gentrification creeps in and a multitude of tech companies move into the community.
A 2019 Business Insider article ranks San Francisco as the №2 most expensive city, only behind San Jose. A Zillow search for Mission District apartments under $2,000 came up with only two listings, both were for studio apartments listed at $1,995 and $1,475 per month. The cheaper of the listings only comes with a shared bathroom, but it does have new mini-blinds.
"We understand that [the Mission District] is changing. We want to be here to document what is happening because we have a living archive that traces the history of the neighborhood and how it's changed," Terrazas said. "It documents the changes, which can be viewed as negative, but it also documents the victories of the neighborhood and we want to still continue to do that, especially in the face of gentrification and all the changes that are happening."
With Mission area residents being forced to move or leave the neighborhood for a variety of reasons, El Tecolote has attempted to cover other areas of the Bay where residents have moved to.
"We can no longer just focus on the Mission, because our newspaper was originally founded to serve the people [in the Mission] but if they're kinda being displaced … 'what do we do?'" Terrazas said. "That's forced us to cover other communities that are maybe being pushed out to other regions of the Bay."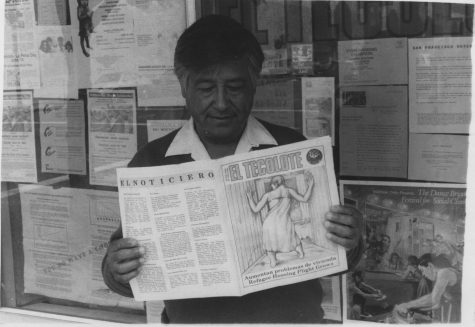 Terrazas emphasized that El Tecolote has always encouraged the community to come in and reach out to the paper.
"We have an open door policy and it basically means that our door is open to the community. If you got a story idea, if you got a complaint, you can literally walk through and let us know," Terrazas said. "Sometimes that has been not the easiest. Sometimes we'll be working and we'll have people come in and you know, complain. But we feel if we are going to be serving our community, we have to be held accountable by our community."
Bilingual Uniqueness
For El Tecolote, being a monolingual publication was never an option. From the start, the vision entailed having both an English version and a Spanish version of every story.
"We were bilingual from day one," founder Gonzales said. "If you were Spanish speaking or non-Spanish [speaking], you could understand what was in the paper. We wanted [everyone] to be able to get the information."
Terrazas feels that some newsrooms write about communities but the published product is sometimes not reachable to individuals that the stories are about.
"The founders really understood that we're doing these stories about our community for our community and it has to be bilingual," Terrazas said. "I'm really proud as the editor, as the latest editor in the long list of editors, that I'm able to continue that legacy."
The future
It is hard to tell what the future holds for the Mission and for El Tecolote. As the community changes and the methods of how readers get their news evolve, El Tecolote will be tasked to keep up with the changes.
Gonzales envisions a bigger facility and would like to see Acción Latina's current building be built upward, adding an additional floor that would allow El Tecolote's work area to be moved and opening up additional space on the first floor.
He'd also like to see El Tecolote become a weekly paper and conceptualizes it turning into a magazine or going fully online.
"The community is deserving of a weekly. It can have more of an impact if it comes out more frequently," Gonzales said. "But it will be dictated by where the readership [is] and it depends on the support."
Sanchez said that he has remained in contact with Gonzales over the years and appreciates the fact that he still around.
"He was a mentor to me and a friend and somebody I respected. [He was] somebody I knew everybody respected … He could have easily left the neighborhood and gone to work for a large media organization. I always respected the fact that he stayed home and he cares a lot about the Mission District," Sanchez said. "And cares a lot about journalism and he's lived up to those principles."