It's a Beautiful Day in the Neighborhood
A documentation of porch decorations and yard nic nacs found around my neighborhood.
Story & Photos by Malakai Wade
April 16, 2020
I've been going on a lot of walks during isolation. Having limited at-home workout resources and space, taking a brisk 3-minute stroll around my neighborhood is a great way to get a little exercise. I often go out at dusk, right before the street lamps come on, mainly so I can see the sunset, but also because there are fewer people to avoid. I use this time to listen to music, reflect, ponder, and take in my surroundings.
I live in a neighborhood that is very monochrome. Parkmerced is known for having a large student population and a severe lack of parking. I've known it as home for the last two years. On my walks to and from school, I never really saw areas of the neighborhood the way I do now. The streets were just a passthrough rather than an escape from my apartment. Parkerced has a lot of life for being such a quiet area. Now more than ever, I see kids playing outside with their siblings, more people going on walks, and oh so many dogs.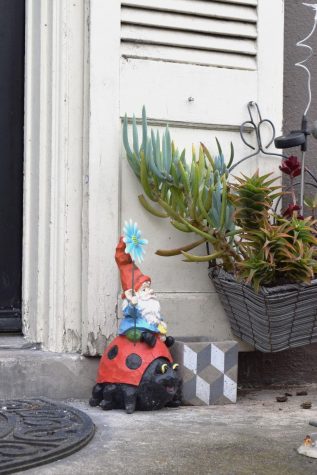 After going on countless neighborhood walks, I've started noticing the decorations that adorn people's porches and front doors. These details really stand out against the backdrop of townhomes nearly devoid of character.  A two-feet-tall statue of Batman looking out on the street, two metal flamingoes stuck in the grass, or a little garden gnome holding a flower and watching over his home. Sometimes, seeing what gives others joy can evoke the same feeling inside ourselves. I have no decorations on my porch and many surrounding houses are also bare. The houses that have little nic nacs strewn across a small patch of concrete help make this neighborhood feel lived-in. 
I'm moving home to live with my family while we weather this together. I'm leaving one colorful neighborhood for another. I won't be returning to Parkmerced to live here anytime soon, so I'll miss walking around these streets. It's easy to wander and get a little lost among the rows of townhomes, and I enjoy that existence. I don't mean for this to be a goodbye letter to Parkmerced, but we've all had to say goodbye to the lives we knew. For now, I'm going to go on another walk and enjoy the little things.