Deciding who is essential: how the virus has impacted small businesses in Texas
Editor's note: As a Texas native, Patrick Tamayo wanted to cover how the stay at home orders were in effect in a different state and its impact on small businesses
Patrick Tamayo
May 1, 2020
As the highly contagious novel coronavirus spread across the nation, small businesses have had crucial decisions to make — regardless if they were labeled essential or non-essential. Being deemed non-essential basically forced business owners to cease operations and close their doors if they could not conduct operations remotely. Essential businesses, on the other hand, were forced to adapt to never before thought of ideas in an effort to maybe keep their businesses afloat.
Business owners who remained open faced their own set of problems, high on the list, finding ways to keep their employees and customers safe, at least the employees who managed to keep their jobs. Those forced to close, while still having the burden of trying to stay healthy and safe, have also been tasked with the pressure of figuring out how to keep operating under certain restrictions.
The state of Texas appears to have so far been able to contain the number of infections and deaths related to the COVID-19 pandemic. As of this writing, there have been 28,728 confirmed cases and 812 deaths, according to Johns Hopkins University.
Texas Gov. Greg Abbott has also advised that he will let the state's shelter-in-place order expire on May 1, which will allow malls, movie theaters, places of worship and restaurants to open, but with 25% capacity and several restrictions still in place.
Yet, many businesses — including hair salons, gyms and bars — will not be allowed to open at the beginning of the month and most will likely have to wait until at least mid-May depending on the data that comes in over the first two weeks of the month, per the governor's direction.
Businesses across the state not allowed to open, will continue to have to wait as bills mount and employees sit at home pondering what the future holds.
South Texas
In Brownsville — which is located at the southernmost tip of Texas next to Mexico — Katie Gomez owns and operates Limelight Dance Academy.
For the past 11 years, Gomez, who has been dancing since elementary school, has taught various forms of dance — including ballet, tap, jazz, hip-hip, pointe and contemporary among several other forms — at her academy.
Unfortunately, her business was deemed non-essential and forced to close mid-March and her doors have remained closed to students since then.
"Our schedule right now allows for about 150 to 175 kids," Gomez said. "Before the coronavirus we were doing great."
Gomez has been teaching out of her current location for almost two years after moving to make room for new students to join the clientele and following that she gained over the years.
"We … have had to move in order to accommodate all of the kids," Gomez said. "Because [there was] a waiting list for a long time before we moved."
Gomez rents her space at a business plaza that includes a Pizza Hut, an eye doctor, an ice cream shop, a salon and a taekwondo school. She said that communication with her landlord has been amicable.
"They've been very, very gracious to everyone. They basically just said, 'you know, if you can pay, pay your rent and if you can't … the balance is basically just going to sit there.'" Gomez said. "They're buying everybody time that needs it, which is nice."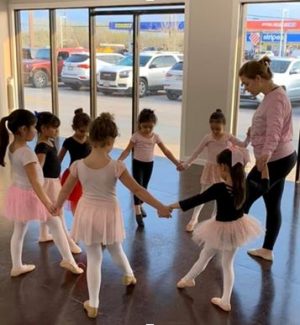 Gomez has moved instruction over to Zoom — a platform that doesn't necessarily work well for dance instruction — after recording, editing and uploading lessons via YouTube in an attempt to have their students take classes on their own time.
"When you're teaching dance, everything is about correction and being able to visualize the students and their bodies," Gomez said. "There is a lot of … downtime or you're missing that … you know, personal interaction. And Zoom is a very, very cool … platform like for what we're doing now."
While Zoom has proven to be a go-to choice for businesses and academia during the pandemic, the video software is not the most compatible option when it comes to dancing.
"The second that I stand up and try to dance, I'm going to come off camera," Gomez said. "It makes it really difficult."
The academy has two other teachers and a secretary that work alongside Gomez. All four have had their work cut out for them during the shelter-in-place while still trying to give their students as much personal attention as possible.
They've run into difficulties due to students' various home situations in regards to dance space, technical and electronic setups, as well as some students not having internet access.
Despite the setbacks and new challenges the staff has worked together to make lessons available for their students.
"It's been nice … I'll come up with a syllabus of what we're going to do … and then as I'm teaching it [the other teachers] are my demonstration," Gomez said. "Then I'll go over to our big desktop screen so that I can stand there … and I can correct the [students] while [they] are visually seeing my assistants."
While the non-essential classification has disrupted operations, in Gomez' eyes her staff are indispensable.
"I tell my girls all the time, that they're essential to me," Gomez said. "Granted we are not [an] essential business at all but they are very essential to me."
Yet, uncertainty lingers for the small business as it is unknown how long it will take for students to return even when they do reopen.
Gomez thinks business levels will depend on people being able to return to work after temporary layoffs and companies having scaled down due to virus concerns.
"I guess it'll just be, you know, touch-and-go for each family," Gomez said. "Every single family is a different circumstance."
While the state is scheduled to begin allowing businesses to reopen May 1, Limelight Dance Academy will not be one of them. Gomez and her staff will have to continue teaching remotely while waiting for the OK to open back up.
South Central Texas
Jenn Pope has operated her eyelash business — Jenn Pope's Lashes — out of a busy San Antonio business park since January 2019.  Her salon was deemed non-essential and has sat closed since March 20.
The former insurance representative said she was prepared to retire from her previous insurance job and was never really into the beauty industry until her prior employer mandated a new dress code.
"They made this rule. 'OK, you know, from now on guys we're going to have clients coming into the office. You got to do your makeup but you know, [you] really got to look presentable,'" Pope said.
Not knowing how to put on fake eyelashes, Pope turned to YouTube.
"I was like 'they're just putting like the lash on every lash' and so I started doing my own [lashes] and I would go to work and people were like, 'Oh, I like your lashes,'" Pope said. "I started doing co-workers' and then co-workers were like, 'Oh, my cousin wants you to do their lashes and … that's exactly how it started."
Pope opened her shop after being overwhelmed with the clientele she had built up.
"I was on my own. It was just me in a suite doing lashes and then over the years I just got so busy, which is great, but I just couldn't. I took on a lot of clientele," Pope said. "And I just couldn't handle all of it. But I didn't want to stop."
While big lashes are the current new trend, Pope said her salon specializes in natural lash extensions and gives their clients whatever their natural lash can hold.
"Natural lashes shed two to five lashes a day," Pope said. "So women come in every two to three weeks to get a fill."
Pope said that her salon had seen a steady flow of business over the last year that has kept herself and her staff — three lash techs and a salon manager — extremely busy until she was forced to close because of the virus.
"We went from being a business of all of us being back-to-back booked all day. There have been times that I was there at five o'clock in the morning and didn't leave until five o'clock at night [booked] back-to-back," Pope said. "Up until [our closure] my girls got paid very well. Every single one of us … got paid a great amount of money and now we're down to nothing."
Pope has attempted to keep in touch with her clients over social media and has been doing "lash camps" online where she gives tips on how to do and maintain lashes in an attempt to keep her customers up to date with the shop.
"I don't want them to think that we fell off the face of the earth or anything like that," Pope said. "I want them to keep us in mind for when they're ready [to come back in]."
Since their closure, Pope and her staff have not been in their salon and their space has basically been used as a storage unit. Although they haven't been able to work or generate any revenue, their rent is still due and conversations with their landlord have not gone far as they're still expected to pay rent on time.
"They're still expecting us to pay. … They're wanting to know; they're definitely reaching out and wanting to know. How do we, you know, expect to make payment," Pope said. "And the response is always, 'I've applied for these loans and nothing has gone through.'"
Pope has attempted to apply for various government loans that she should qualify for as a small business owner but was told that loan maximums had been reached, then directed to a different lender. She has fallen into an endless cycle of applying and not being denied, but instead told that lenders have reached their maximums.
"There's not a way for me to provide any kind of other options for my girls to make money and it's just a lot," Pope said. "It's a lot of stress. … They've also applied for unemployment benefits, [but] haven't heard anything. It's just a lot of stress."
Pope fears that any extension to the timeframe of when she can reopen could be detrimental to her salon.
"I'm just afraid that I'm going to lose my business … if they extend any further than May 1st," Pope said. "I feel like it's going to put me in such a hole to bounce back from because I know that when we do start [back] up … that rent that was missed is going to be expected someway, somehow."
Jenn Pope's Lashes will not be allowed to reopen May 1 and Pope and her employees will be forced to wait on being given the OK to reopen, and then wait to see if customers are ready to return.
West Texas
Josy's Grill in Odessa was allowed to remain open when the state's shelter-in-place order went into effect. The locally owned family restaurant — owned and operated by Belinda Rangel Carrasco and her husband Jay Robinson — was able to continue doing business, but they did have to tweak their normal operations to continue to function.
"We are considered essential," Rangel Carrasco said. "But we did have to close our doors to regular business."
Customers were allowed to come in but only to pick-up. Josy's Grill also started to offer curbside pick-up and operated under modified hours.
"Daily we were trying to reinvent [and] figure out how we could keep rolling … which was take-out, call-ins … and then we are offering curb service," Rangel Carrasco said.
Josy's Grill also started offering select items in a "mini-mart pantry" that they set up after moving several unused tables. Rangel Carrasco said they put out some selected items that customers were allowed to purchase, which also generated some extra revenue that otherwise probably would not have come in.
The pantry has been stocked with basic items like rice, beans, bread, eggs, a small vegetable selection, as well as chicken breasts and ground beef. They also added bulk steak options and burger kits that come with patties, buns and toppings.
Rangel Carrasco was unsure but said that the mini-mart pantry might become a permanent feature as customers seemed to embrace the idea.
As business levels dropped at Josy's Grill, so did work shifts.
"We kept a minimal staff. … Unfortunately, we are down to one cook, which is my husband, and we have one server that we rotate out," Rangel Carrasco said.
The staff at Josy's Grill took it upon themselves to help out their fellow co-workers who were in the most vulnerable situations.
"Fortunately for us, most of [the staff members] are very understanding. They understood the situation and they voluntarily sat back," Rangel Carrasco said.
The staff at Josy's Grill allowed co-workers from single income families and single parent households to be the ones that rotated shifts while they waited out the situation at home.
Rangel Carrasco said they thought about scaling down their menu but instead chose to create a take-out menu, an idea they'd wanted to do for some time.
"I seriously thought about [scaling down the menu] because I thought that was the thing to do … I realized that it wasn't very necessary," Rangel Carrasco said.
With changes in business levels, Josy's Grill consolidated product orders and so far they have been able to procure the majority of their regular items. After some initial delays in obtaining cleaning supplies they eventually were able to receive everything they needed.
Rangel Carrasco said customers have been appreciative when coming in to pick-up their food and have thanked them for having stayed open.
Scenarios similar to the ones at Josy's Grill, Jenn Pope's Lashes and Limelight Dance Academy have played out at almost all businesses across the United States.
Businesses — both small and large — not just in Texas, but across the nation, have been forced to make difficult decisions during these unprecedented times.
What lies ahead is anyone's guess. At this point, we can only hope for some resemblance of  normalcy that we once knew.
In the end, we'll have to wait and see what small businesses were able to make it through this unparalleled event.