Exploring the digital frontier of large-scale entertainment
Streaming digital jams might be the closest you get to a live show
Capturing the emotional impact of a live performance through a small box on Zoom is a problem that worries the founder and artistic director of The Marsh Theater, Stephanie Weisman. The Marsh Theater in San Francisco provides varieties of live entertainment and is described as "a breeding ground for new performance."  The shows came to a halt when the shelter-in-place order issued in March shut down all music venues and theaters in an effort to stop the spread of COVID-19. This abrupt predicament forced live entertainment to resort to using online streaming as a lifeline.
Thanks to companies such as Zoom and YouTube, groups and venues are able to entertain their audiences. As organizations struggle to fulfill their mission statements in front of their fans, they've had to step back and figure out how to recover from the losses.
Weisman and The Marsh made beneficial changes in the transition from the tanking revenue to the growing streams of August. Regardless of when The Marsh is allowed to reopen, Weisman says the new revenue streams are here to stay.
"We still can't wait to get back in the theaters, but on the other hand I'm not interested at all in giving up this aspect of it. So it'll just become another arm of The Marsh whenever we can start developing live things," Weisman said.
For performers, the stage may remain virtual until the year 2021. However, live streaming offers benefits to the hosts, performers and audiences.
Upsides to streaming live entertainment
Although performing online doesn't fully translate the same way as an in-person performance, it does offer social engagement one might not receive at a live show. Essential features like the chat box on Zoom allow the audience to connect with the performers throughout their performance. 
"People really feel part of this whole experience because they get to say things in the chat box. Sometimes we bring them up on the camera to answer questions," Weisman said. 
Streaming is widening the market for artists and organizations by freeing geographic restrictions and allowing people from different parts of the world to tune in and perform. Instead of turning down performers and or having them fly in, streaming allows establishments to host artists locally and across the globe from their computers. In March , downtown San Jose's Hammer Theatre Center successfully streamed a mime troupe, Mummenschanz, from Switzerland.
"Wouldn't it be great to then offer a lower priced opportunity to those people who couldn't get tickets to watch at home? […] thereby making what we do on stage much more accessible to audiences," said Chris Burrill, executive director of the Hammer Theatre Center. 
Challenges of streaming live entertainment
Capturing the energy of a live performance without an audience is difficult. Since the room isn't filled with cheering fans, it strips away the liveliness and intimate ingredient of a traditional show.
An orchestra group called One Found Sound is rooted in providing inclusive classical music performances in various locations throughout the Bay Area. The shelter-in-place order forced the group to pre-record performances and livestream ongoing events.
"It's been really tough to figure out. I mean, we play for audiences, and part of One Found Sound [is] we love being close to our audience," said Sarah Launer, a member of One Found Sound. 
A bad internet connection can also ruin shows by cutting off performances midway. For example, a musical performance by Sylvie Simmons took place on The Marsh Stream in August. In the middle of the performance "she just disappeared," Weisman said.
Ticket sales, merchandising and food and beverage generate the bulk of revenue for the entertainment business. These sales cover the cost of production and artist proceeds. Artists also miss out on promotional opportunities such as gaining exposure by growing a fan base. 
Now, the primary way artists and venues make money through streaming is donations. Similar to the Hammer Theater, many have also initiated campaign fundraisers in efforts to stay in business. Venues such as the Hammer Theatre have been able to financially survive until they can reopen their doors by reaching out to loyal customers, former attendees and fans.
Live Streaming won't be going away any time soon
Livestreaming pushes the creativity for many independent artists, music venues, and theaters. As vaccines for COVID-19 remain in the works, the possibility of returning to large in-person gatherings in the U.S. remains far in the distance. When venues do reopen, many organizations plan to continue livestreaming while continuing to provide in person shows. 
SoFar Sounds, a music events startup known for hosting "secret concerts" around the globe, is reimagining live music through streaming. They film from personalized locations using a wide range of camera angles in an attempt to capture the artist's music in a visually engaging way. SoFar produced a somber yet vibrant performance with its latest stream, from artist and producer Mackeson. 
"It was like a music video," said Matt McDonagh, vice president of global commercial partnerships for SoFar Sounds.
When venues closed in March, live entertainment came to a standstill — only to change direction as an artform.
Raymond Oppenheimer, a lecturer and the Staff Master Electrician for SF State's Theater and Dance Department, is working to enhance the user experience at the university with new tools such as Open Broadcaster Software, which is normally used for video game streaming. This software is meant to translate well to the new medium of online performance. Oppenheimer has opted to work on manipulating live video images for the rest of the semester. 
By no means can streaming replicate a live performance, but what it is doing is propelling a new type of artform. "It's not trying to do theater virtually or dance virtually. It's trying to express ourselves given the limitations of the new medium we find ourselves in," Oppenheimer said.
Leave a Comment
About the Contributor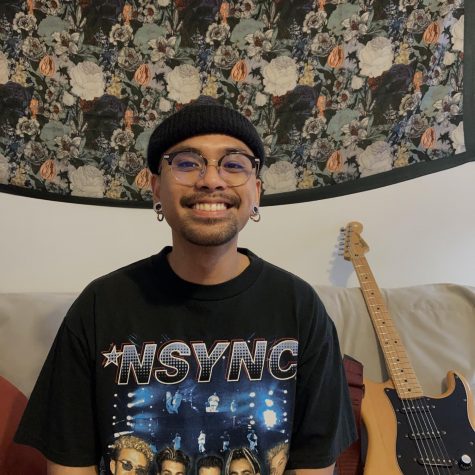 Christian Cabang, Multimedia Editor
Christian Cabang is a print and online journalism student at San Francisco State University. He's a former writer and music curator for an online music...