Exploring sound healing during lockdown
Finding Solace:
Music is a universal language. There's no question about it. A special power comes from rhythms, sounds and melodies of drums formed in repetition that convey emotion and allow it to be felt on a higher level, which connects us to our inner being. Whether that is sadness or happiness, music can create a spiritual environment for people to be present in, and is powerful enough to heal us from the chaotic vibrations running through the body. 
The level of discomfort that stems from COVID-19 causes a lot of fear, uncertainty and high levels of anxiety. Finding solace through music can help ease the pain and discomfort felt in  daily life.
Musical therapy, known for using binaural beats and brainwave entrainment, shows evidence of positive physiological and psychological effects on the brain, which help treat cognitive, social and emotional issues found in patients. David Gibson, leading researcher in the field of sound healing, finds that music helps us tune into our emotions.
"The basis of music is rhythm, and training you into the rhythm of the music, and then melodies which are [then] training you into different emotions," Gibson said. 
Being emotionally aware can help deal with problems revolving around mental health and self-esteem. Understanding how we feel allows us to reflect and have more self-awareness. 
The role of music in our daily lives: 
Regular consumption of music has the ability to affect moods, reduce stresses and improve our emotional well-being. Whether individuals are conscious or not, seeing music as an activity rather than an object will bring awareness to our personal music choices. Instead of putting on music as background noise, actively listen and take notice of how the music makes the body feel. Gibson recommends curating playlists tailored to different times of the day, as well as different issues that noticeably impact your mood. 
"If you're having a hard time, pull out the playlist," Gibson said. 
Music is personal. Listening to familiar music can cause a powerful response in the brain which releases dopamine.
"The most powerful music for someone is what is preferred and familiar to that individual, so there's no one type of music that's great for everyone," said Kathy Quain, founder of Power of Music LLC. 
Music can evoke emotions and memories from a happier time. By listening to old music from our past we can access regions in our brain that could hold feelings of love, happiness, even sadness. Music holds that feeling for people to revisit. 
"When you hear a piece of music, your mood will change depending when you first learned that or associated with it." said Erik Peper, expert on biofeedback and professor for Holistic Health at SF State University. 
In contrast, take the time to discover new genres, as well as new approaches to music. Becoming familiar with new approaches can stimulate the brain by teaching it how to interpret sounds differently. The following are a few examples. 
Multiple instruments at once:
By listening to songs with various instruments you're able to tune into them all at once and go into a "state, where you're hearing all the instruments simultaneously, as opposed to one at a time, kind of like an altered state. Your whole brain starts working again and that gives you more capacity to deal with the stresses that you're worrying about," Gibson said.
Musician's standpoint:
Musicians utilize both left and right parts of the brain more frequently. The left is responsible for logic, and the right is responsible for arts and creativity. This is not to say that musicians are smarter, but the use of hands, thoughts, rhythms, as well as deep emotions, simultaneously equips them with a higher functioning mind. By doing so, they are able to focus on multiple things at once. In relation to our current environment, it's important to be able to handle daily stresses, which can come simultaneously with the pandemic.
Channeling emotions into music is a form of communication. That in itself can create a dialogue for thoughts in our mind. For artists, channeling thoughts and emotions is beneficial to both them and listeners.
"For me, music and life have always been intertwined, and are two birds of the same stone. [The] musical journey as an artist is just going about your life. The more closely that I try to go through those, the better my music gets, the more real and more genuine my music feels," said Dillan Patel, a local Bay Area DJ known as Mntra. 
Healing qualities: 
Healing is not linear. Music isn't the solution to our world's problems, but it can be used to reduce the harm caused by unwanted noise. Co-founder of Sound Meditation Presents, Simona Asinovski, uses transcendental meditation as tools to access calmer states. Gongs, chimes, singing bowls and the Native American flute are all instruments used to access deep relaxation. 
In our overstimulated world it's easy to get entangled in the chaos.
"I would say that one of the superpowers that we must have in this era is to be able to slow down every day, and to be able to go into a meditative state and to do so when you feel activated," Asinovski said.
Tip from your writer:
Listen to your favorite album more often. It's more than likely that the album will put you in better moods throughout the day, and create a feeling you will want to be in. Dance, sing, even create music if you can. Don't stress if you're not classically trained. Try picking up an instrument and learning your favorite songs. If all else fails, gig out and play some air drums.
Kathy Quainn, Founder of Power of Music, LCC: Curated Playlist
"How Do U Feel Listening to This Music?"
Link: https://open.spotify.com/playlist/344uraWKCLHg5A4WtWeLIQ?si=HVt8CNnAS1OgJM-hkOycwQ
Playlist songs:
Enya – Watermark
Enya – Only Time
Israel Kamakawiwo'ole – White Sandy Beach of Hawai'i
Israel Kamakawiwo'ole – Somewhere Over The Rainbow
Kina Grannis – Can't Help Falling In Love
Bill Withers – Lovely Day
Bill Withers – Lean on Me
Claude Debussy, Alexis Weissenberg – Claire de Lune
Johann Sebastian Bach – Das Wohltemperierte
Erik Satie, Ole Zartbaum – 3 Gymnopedies
Franz Lizst, Danica Binx, Gerard Tahaud – Consolations, S. 172 Lento placido
Eva Cassidy – Over the rainbow
Native American Flute – Lullaby with Flute & Crickets – Soothing Crickets And Solo Flute
Billy-Joe, Moonlight Echoes – Another Lazy Day
Jasmine Thompson – A Thousand Years
Julie Andrews, Bill Lee, Charmian Carr, Heather Menzies, Nicholas Hammond, Duane Chase, Angela Cartwright, Debbie Turner – Edelweiss (Reprise)
Neil Young – Harvest Moon
---
Students from San Francisco State Top Songs:
Rachel Sowell, 20:
Major: Criminal Justice 
Minor: Africana Studies 
Listens to Ariana Grande's Thank You Next Album in low moods
"So if I am in a bad mood, it helps me get out of it, but also has a lot of songs that just kind of speak to what I'm going through." 
Top Songs: 
Harry Styles – To Be So Lonely
Willow Smith – Wait A Minute
Ariana Grande – Get Well Soon
Hozier – To Noise Making (Sing)
Harry Styles – Fine Line
Megan The Stallion – Realer
Beyonce – Brown Skin Girl
Ariana Grande – Needy
Lewis Capaldi – Before You Go
Link: https://open.spotify.com/playlist/6urHYLiVpdRWBB4UEvIp7d?si=15VxnGttTcGBgpo7vFQ_Og
Andrea Amezcua, 18: 
Major: Business
"My mom used to play her music on the little speaker. So every morning we [would] listen to her music in Spanish whether it be Spanish rock, or, you know, rock in Spanish." 
Top Songs: 
Harry Styles – From The Dining Table
SZA – Drew Barrymore
Frank Ocean – Nights
Harry Styles – Fine Line
The Smiths – Asleep
Miguel – Banana Clip
Kanye West – Runaway 
Beyonce – Pray You Catch Me
Lady Gaga – Joanne
SZA – Normal Girl 
Link: https://open.spotify.com/playlist/3Dub8wuYN3BGvC3XwY5eZN?si=0PsXNPBQR1CBnl2_uCR1Ng
Briana Argueta, 21
Major: Psychology
Minor: Human Sexuality & Studio Art
 "When at home, especially my dad, he listened to a lot of like, older rock music when he was taking care of me." 
Top Songs:
Heart – Crazy On You
Fleetwood Mac – Rhiannon
The Smiths – How Soon Is Now?
Marvyn Gaye – Piece of Clay
Pink Floyd – Shine On You Crazy Diamond
Link: https://open.spotify.com/playlist/5LqJg9Inz7Ix1COQi3uedo?si=cyie8kc4RBW5E0XsX-AORQ
Leave a Comment
About the Contributor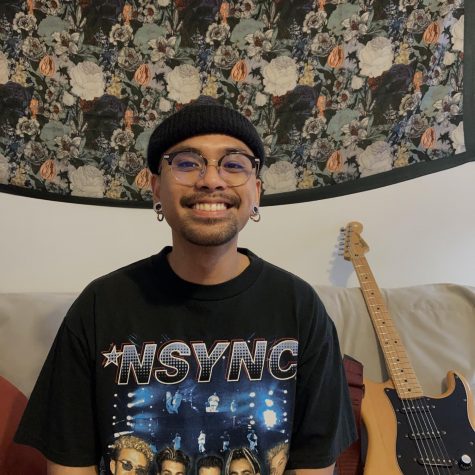 Christian Cabang, Multimedia Editor
Christian Cabang is a print and online journalism student at San Francisco State University. He's a former writer and music curator for an online music...