Finding pleasure during a pandemic
Self-isolation got you feeling lonely? Maybe craving stimulation? Here are some ways any San Franciscan can safely break out of pandemic-imposed abstinence.
Hookup culture has changed. It now includes flirting behind a face mask, standing 6 feet away. Nude pictures have become treasured commodities, as the outside bears a 'proceed with caution' sign. 
Self-isolation keeps people protected in bubbles as their phones become the primary connection to the outside world. Sexts convert the ordinary language of "dirty" talk into meticulous erotic fiction. Phone sex transforms evocative moans into symphonies of pleasure.
As a result of the world's drastic changes, people were granted the opportunity to evaluate themselves. The hope for change falls into the hands of those open to change.
Vigorous application of hand sanitizer doesn't negate the risk of hand-holding. In the COVID-19 era, physical touch can be lethal, but not receiving it can be just as harmful. 
Physical touch, ranging from hugging to a pat on the back, have been linked to lower blood pressure and higher oxytocin levels, according to the findings in, 'Lost Touch? Implications of Physical Touch for Physical Health.'
The pandemic has disrupted society and relationships as they were once known, challenging people to find a balance between preventing the spread and coping with their health.  
A survey among adults revealed 40.9% of respondents reported struggling with mental health issues or substance abuse, published by the Centers for Disease Control and Prevention in early August. 
Orgasms are a helpful mood boost as they release endorphins, hormones that have pain-killing and tranquilizing effects. 
In 'Making love in the time of Corona,' psycho-sexologist Chantelle Otten said, "Sex can help us to feel more in tune with our partner and ourselves; it can anchor us to the present, making us feel stable and secure in the now (which is a rarity at the moment)."
So what should a person who is craving sexual intimacy do? Necessity fosters invention, and each individual holds the power to reinvent their own sex life in the safest way possible.
The San Francisco Department of Public Health (SFDPH) released tips for safe sex during the pandemic, such as finding a 'sex buddy' and embracing dirty thoughts.
The guide pointed out that the safest person to have sex with is yourself. Literally, putting pleasure in the power of one's hands or carefully picking a sex toy to derive pleasure from.
The second safest person to get intimate with is a romantic partner, an ex, or someone you're already living with. 
The phone has become a part of the modern relationship. Not only is it a means to call, message or zoom that cutie, but it can also locate a cutie to accomplish that with. 
Arcelia Torres, a third year at SF State, prefers using Snapchat or Instagram to verify who she meets on Tinder. "Making sure you know the person who you're talking to is a real person and who they say they are, before you do anything with them, is the safe thing to do." Torres said.
According to Ivy Chen, a Human Sexuality lecturer at San Francisco State University, meeting someone online should involve choosing an individual that you're comfortable enough to tell what type of relationship you're looking for, opening up about sexual preferences, and disclosing health statuses. 
"
If me, showing my body and loving myself, living my stripper fantasy helps other people see they can essentially do whatever they want, that's the whole point.
— Bussy Dad
Mask4mask
SFDPH encourages people to keep their masks on during intense breathing activities such as panting, groaning, moaning or shouting, which all increase the rate of inhaling or exhaling particles, raising the risk of spreading COVID-19.
To put this simply: If you're outside of your home, you should keep your mask on. If you're having sex with anyone that you're not living with, you should also keep your mask on. 
While masks hide most of the face, they reveal a glimpse inside a person through the eyes. 
Looking through the eyes helps people gather visual information about external surroundings while simultaneously offering others glimpses of internal thoughts, emotions, and feelings, according to the results of 'Eye communication in a conversational 3D synthetic agent.'  
Nonetheless, masks challenge effective communication. According to Chen, some people rely on facial expressions during sex to figure out if their partner is experiencing pleasure or not. 
"That could make it a little tricky to assess how that person is doing and feeling," Chen said. "But that might make verbal communication that much more important and people might have to turn to that, to check in and get a real answer." 
When masks challenge the quality of verbal expressions, reaffirmation and confirmation become considerably more necessary. 
Not all hope is lost! According to Love is Respect, a project of the National Domestic Violence Hotline, when partners express a constant enthusiastic mutual agreement, also known as consent, it can illuminate the mood of the encounter as partners feel safe and comfortable to communicate what they want. 
Talking about health practices, discussing STIs, HIV, and COVID-19 statuses and expectations/needs for sex establish open communication.
Student Health Services at San Francisco State University are currently offering sexual health testing. Students are able to speak with a health professional through a phone consultation. After consultations, students can schedule appointments for in-person testing. 
The fantasy inside the window
If going out for a walk becomes feasible, going to the Upper Haight could be up for consideration. The Fishbowl, a housing collective at the Red Victorian, hosts variety shows, a theatrical performance with various acts, every weekend from the window on the first floor of the building.
The Fishbowl's voyeuristic nature taunts the average bypasser to peek inside and see what real self-exploration looks like. Every saturday, the window becomes a portal to a world full of gender-bending sexual expression.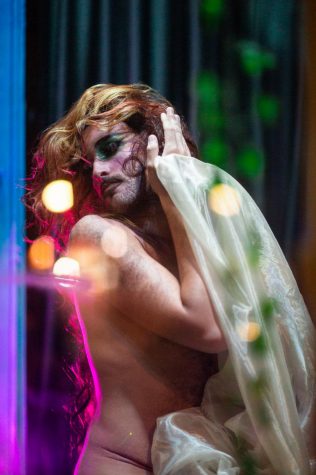 "The positive aspects of a transgender self-identification," an online survey that collected data of self-reports, revealed that transgender-identifying individuals reported several positive identity developments such as: enhanced interpersonal relationships, personal growth and resiliency, increased empathy and living beyond the sex binary.
"I think it's a powerful thing for people to see not just trans-bodies, but naked trans-bodies because we all have a trained ideas that people and bodies should act and look a certain way," said Bussy Dad, who uses they/them pronouns and is the co-creator of the Fishbowl, "it can make people change how they think about their identity, journey, or life." 
Its glass windows divide the performers from the viewers. Not to be mistaken with a drag show or gender performance, "these dancers are showcasing themselves," said Bussy Dad. 
Each weekend has different themes, performers embody feminine entities such as sirens, dolls and nymphs. Transgender and gender non-conforming individuals use their creativity to adorn the stage and their bodies for the show. Strapped into high heels, shiny nipples, and swinging hair down to their waists. 
"If me, showing my body and loving myself, living my stripper fantasy helps other people see they can essentially do whatever they want, that's the whole point," Bussy Dad said.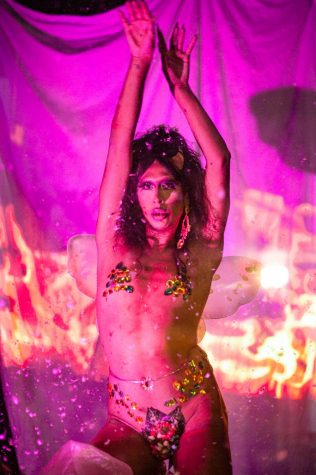 The show was created to support the Fishbowl which provides a safe space where queer and trans people of color can work and live, according to Bussy Dad. 
After San Francisco entered purple tier, the city implemented the State's Regional Stay at home order, which aimed to significantly reduce non-essential gatherings. As a result, the Fishbowl is being moved into a virtual space and details will soon follow on their Instagram @thefishbowlsf. 
While the COVID-19 pandemic seems like the world's most emanate treat, transgender and gender non-conforming communities are still fighting adversity. 
The Human Rights Campaign has tracked at least 41 transgender and gender non-conforming people fatally shot or violently killed, just in 2020. The majority of these people were Black or Latinx transgender women. 
Bussy Dad declares, "Live your fantasy so we can live ours, safely."
A note from the writer 
For others, self exploration seems like the best option. After all, masturbation is the safest alternative to prevent the spread of COVID-19.
Sex shops can provide the materials, but it's important to understand what sparks your curiosity. There are a couple things you should keep in mind before entering a sex shop or shopping for sex toys.
"Think about your sexuality, about your desires. What you respond to, maybe something you read about or saw in porn that's erotic and you thought about trying," said Carol Queen, a sexologist at Good Vibrations, a sex shop in San Francisco.
It's important to have a clear sense of what you are looking for. Asking: "what's the most popular toy?" wouldn't be the best strategy, according to Queen. Every individual is unique and built with their own needs. 
Queen expresses that most of these revelations come after developing a clear sense of comfort from within, which ties with having confidence in yourself.
Part of discovering your own sexual desires are about entering sexual experiences and subjects with an open mind, being curious enough to discover pleasure points, and confident enough to express what doesn't emit pleasure. 
According to Love is Respect, it's important to remember that every individual has a right to experience pleasure, alone or with a partner. Take control by deciding who's allowed to touch your body and explore within your sexual boundaries.
There's no one size fits all regime on how to find pleasure. Each person is individual, with their own needs, morals, and boundaries. In a world full of uncertainty, it's up to the individual to define pleasure for themselves. 
Pleasure can teach us what we like about ourselves and the world, and when we know what we like we can push away what we don't. Learning from our mistakes and embracing change, one step at a time.
Leave a Comment
About the Contributors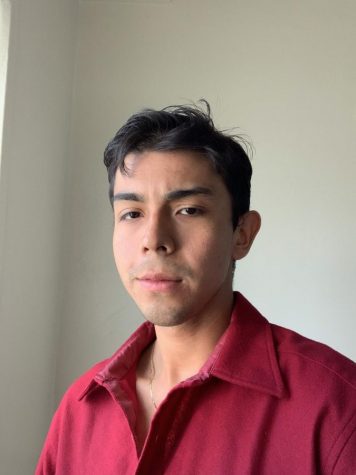 Fernando G. Pacheco, Staff Writer
Fernando G Pacheco is a student journalist minoring in queer ethnic studies at San Francisco State. He writes from Los Angeles, CA. His favorite mornings...