Tamales Wrapped in Different Flags
Four types of tamales to try in San Francisco.
May 13, 2022
It's 3:35 in the afternoon, and the smell of sweet bread and salsa combines as patrons of the Guatemalan panaderia, Eterna Primavera, get in line to order. Blanca Estella Ruiz is in the kitchen lining the inside of dried corn husks with masa, salsa and chicken. She is not preparing a Mexican tamale de pollo; she's making what Guatemalans call a chuchito. The tamales share the same wrapping, but they hold different flavors and identities inside.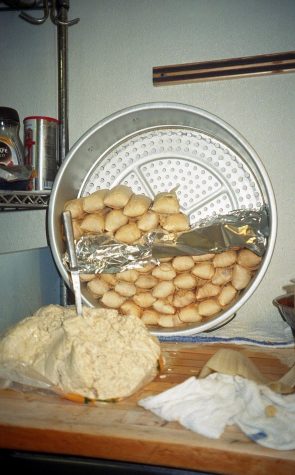 Corn, water, oil, heat and elbow grease form the basis of one of Latin America's most well-known dishes. A dish that can come wrapped in dried or fresh corn husks or banana leaves. They can be found at special holiday celebrations, family gatherings and stashed away in the freezer in case of emergency. The Mission District in San Francisco offers tamale seekers options from different countries and styles to satisfy your craving for this pre-Columbian rooted dish. 
What Is a Tamal?
The word tamale comes from the Nahuatl word tamalli, which translates to wrapped. Nahuatl is one of the various pre-Columbian languages spoken by some indigenous communities in Mexico's central valley as well as in other regions. 
The main ingredients consist of a maize masa or dough that can be filled with different kinds of meat, salsas, fruits or made plain. To make the masa, the maize goes through a process called nixtamalization, in which the dried kernels are soaked in water and cooked in an alkaline solution consisting of lime. This process releases the plant starch pectin, which allows for the masa to obtain the perfect consistency for culinary use in tamales, tortillas and other foods. 
Mexican Tamales
Mexico has a variety of tamales, from the corn husk-wrapped tamales of the north to the typically banana leaves-wrapped tamales of the south. La Espiga de Oro is a Mexican restaurant located at 2916 24th St, in the Mission District, a community with a proud Latin American culture. 
Pablo Moran is the owner of the restaurant that his father first established approximately 32 years ago, in 1990. His restaurant serves some of the more well-known tamales, including the tamale verde. This tamal is wrapped in dried corn husks and filled with shredded chicken and salsa verde and steamed in a large tamale-making pot. 
"I like the traditional Mexican chicken tamale with salsa verde. It's simple, not too extravagant, and that's the one we would eat in Mexico," said Moran.
Another Mexican style tamale that he offers is the tamale de elote, or plain corn tamale Michoacan style. This tamale is popular in the Mexican state of Michoacan, where it is referred to as an uchepo. It can be sweet or slightly salty and can be eaten plain or topped with salsas, cream and queso fresco.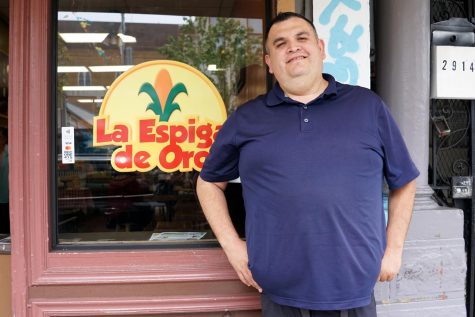 Moran also offers a variety of tamales, including ones filled with pork and red sauce, a cheese and jalapeno tamale called rajas, one with beef in salsa roja and a vegetable tamale. Tamales can also be sweet and include fresh fruits or fruits and nuts. The restaurant has a pineapple tamale and a strawberry tamal that can all be enjoyed with a cup of some hot atole, a corn-based, sweet beverage. 
Guatemalan Tamales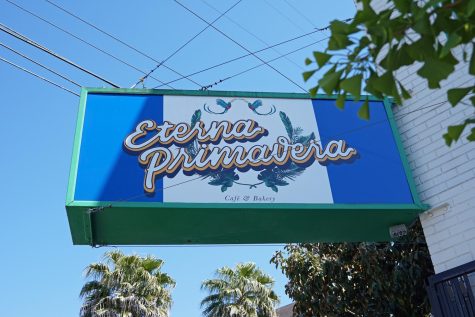 The traditional Guatemalan tamale is wrapped in banana leaves and tied with string to keep its square shape. The masa for this tamale is cooked before the filling is added. Eterna Primavera is a Guatemalan bakery located at 2951 24th St., San Francisco, that serves pork and chicken tamales. Manuel Barrientos has been the owner of the bakery for three years.
He said that they sell approximately 1,000 tamales per week and describes the taste of Guatemalan tamales as being more acidic than other tamales due to their sauce that contains multiple kinds of chilies. He prefers Guatemalan tamales but admits that he also enjoys trying tamales from other countries.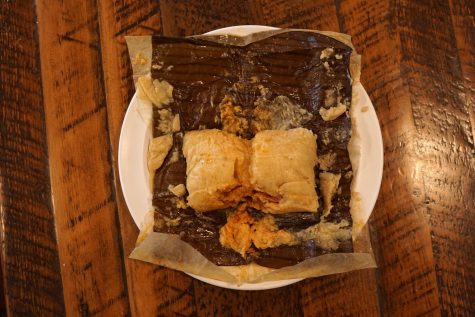 Blanca Estela Ruiz is in charge of making the tamales at Eterna Primavera. She says that she usually makes the tamales on Thursdays around 3 p.m. The masa is prepared with vegetable oil, salt and chicken broth and then cooked and stirred in a pot for about 30 minutes. The sauce, or recaudo, is prepared with tomatoes, bell peppers, chile pasilla, chile guajillo and squash seeds called pepitoria. 
"I have to taste it," said Ruiz as she explained the cooking process of the masa. "If I feel like it's done cooking, I take it out of the pot."
Ruiz also makes chuchitos, which are small chicken or pork tamales with an orangey, red sauce made primarily from bell peppers. It is wrapped in dried corn husks that are tied at both ends. The masa for the chuchitos is used raw and not pre-cooked, as is the masa for the banana-wrapped Guatemalan tamales. The recaudo for chuchitos requires fewer ingredients and includes red and green bell peppers. 
Honduran Tamales and Chipilin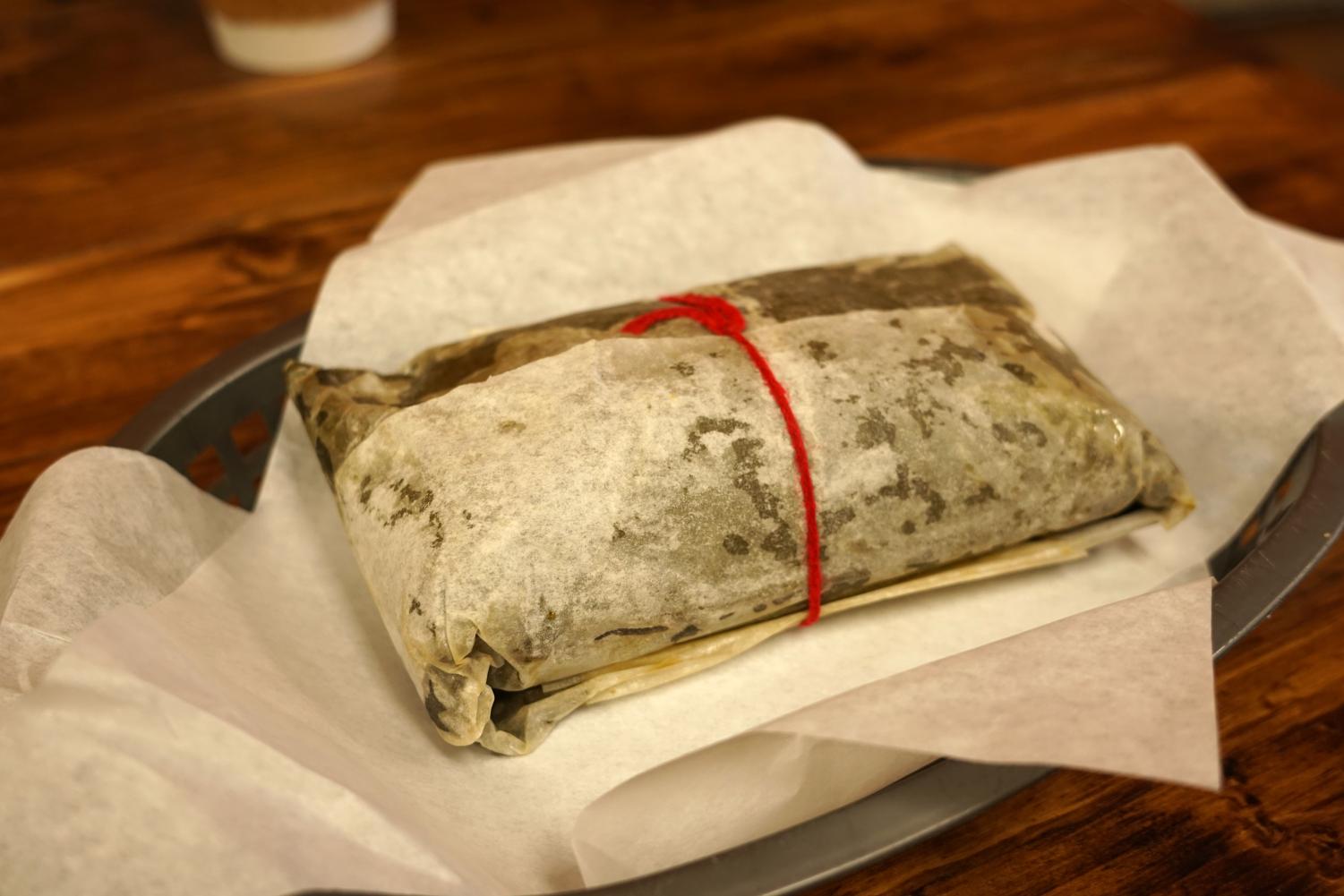 The masa for Honduran tamales is also cooked beforehand, like the Guatemalan tamales. The tamale is then filled with cooked white rice, beans, chicken, a mild red sauce and is wrapped in banana leaves. 
This is the only Honduran-style tamal that La Espiga de Oro offers. Moran's family is from Jalisco, but his restaurant's menu has tamales from countries like Guatemala and Honduras.
Another variety of Guatemalan tamales that you can find in the Mission is the chipilin tamale. This tamale contains a herb called chipilin, which is native to the southern parts of Mexico and Central America. It's a small herb with a slightly sour and salty flavor. The chipilin is mixed in with the masa, wrapped in dried corn husks and steamed. 
"Those three countries are the most popular tamales here in the neighborhood," said Moran.
A Modern Twist on Tamales
Roosevelt Tamale Parlor was established in 1919 and is located at 2817 24th St. in San Francisco. Aaron Presbery and Barry Moore have co-owned the business for ten years. Their menu offers chicken and pork, Mexican tamales and a modern twist called chiva.
The chiva tamale gets its name from the goat cheese that is inside of it. The word chiva, in Spanish, means female goat. It's an ingredient that is not commonly used in Mexican cuisine or tamale making. The tamale is filled with caramelized butternut squash, yams, purple potato and goat cheese. It is topped with green tomatillo salsa and toasted pumpkin seeds, or pepitas. 
"Anything that goes inside the tamales I do…all the fillings," said Moore as he prepped in the kitchen for that day's opening.
Maria Juarez Caraveza, or Doña Maria as she is affectionately called by the owners, is in charge of putting the tamales together. She is from the Mexican state of Michoacan and has been working at the restaurant since 1995. She is usually there twice a week in the early mornings.
"They're done in like two hours; sometimes, it's faster. If the leaves are good, they cook faster," said Caraveza.
The tamale making and cooking process are faster when you have corn husks that are complete, big and not cut up or small. If the husks are too small, then you have to gather them and form them into a larger husk. Masa can sometimes spill from the uneven sides of the husks while they cook.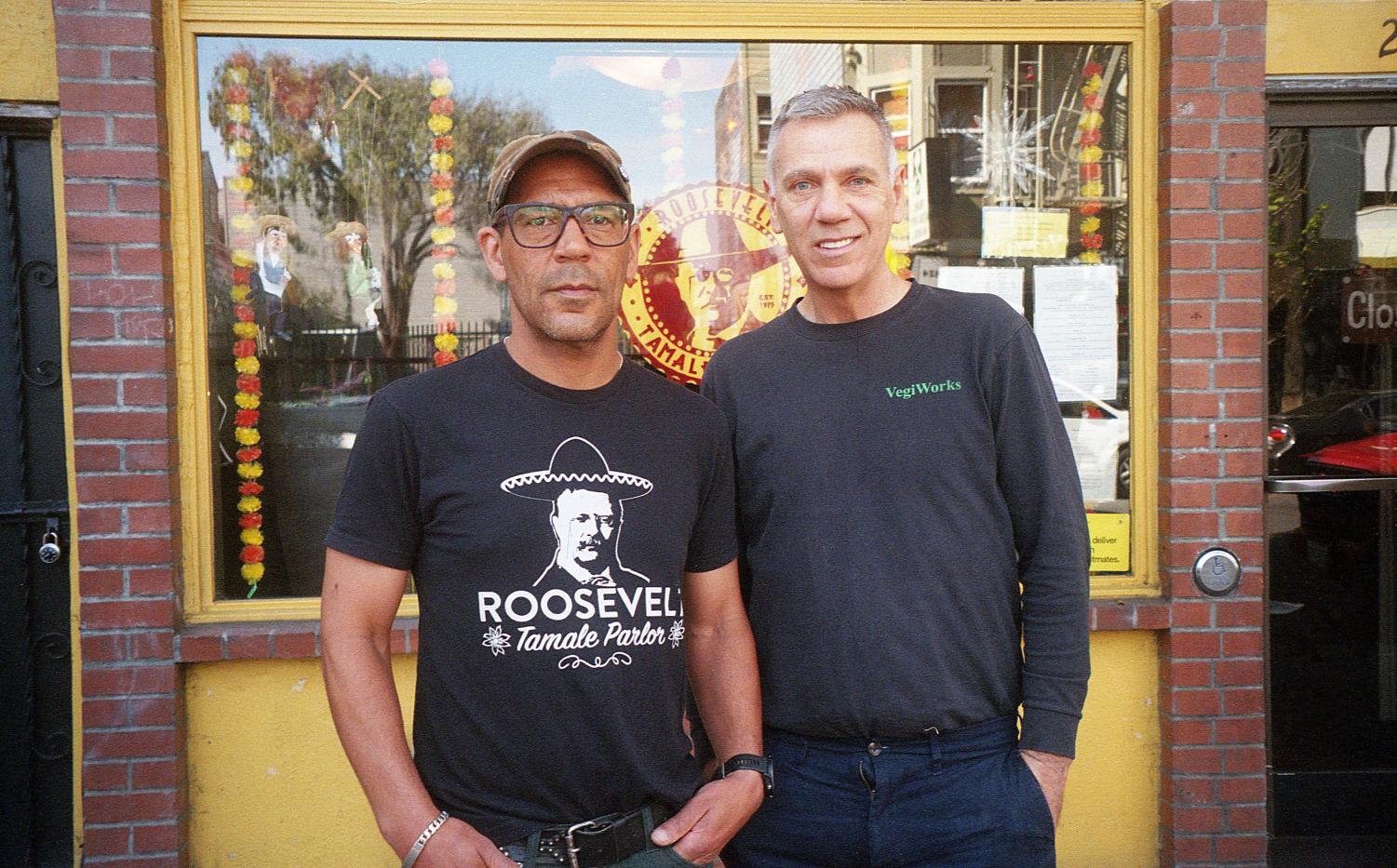 Presbery, who is also the restaurant's baker, said the reason they decided to open the restaurant was to help keep the historic restaurant's tradition going. 
"When we found this was available and saw that it was a really long-standing restaurant and it was a big part of the neighborhood, we decided to take it over and keep it going, make it better and give it some more life," said Presbery.