Sideshow Performer on the Main Stage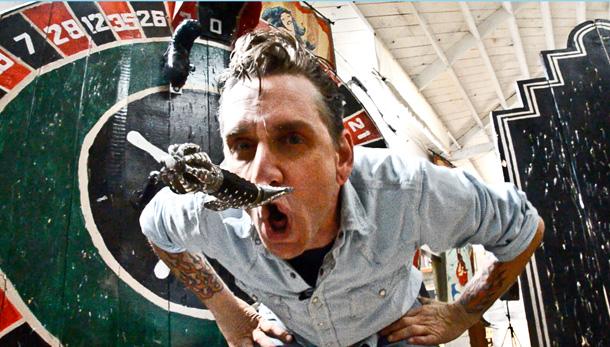 Written by Erika Maldonado
Photos by Nelson Estrada
Men with piled up pompadours and ladies in vintage animal-print dresses and high-heeled shoes swing dance across the floor to local band Lost Dog Found at Oakland's Uptown Nightclub on a Saturday night.  Shortly after their opening set, pasties and tassels gyrate as women strip down to just enough to leave something to the imagination as part of the "Hubba Hubba Revue," a burlesque variety show.
Some of the women watch, with arms crossed and blank expressions while most of the men loudly cheer and raise their beers. Burlesque dancing, once entertainment of the past, is experiencing a revival in the Bay Area, Los Angeles and Las Vegas.  Dixie DeLish, a blonde Marilyn Monroe-esque, five-year veteran and her new partner Molotov offer a fresh act in between the solo burlesque dances with an ode to classic Americana.
Molotov, who has been working in sideshow acts since 2000, lays on a bed of nails for their second act. He has been teaching DeLish the ropes to mesh their individual acts into more of a partnership.  Trick rope, bull whips, knife-throwing, sword-swallowing and fire-breathing are all acts Molotov performs throughout the Bay Area.

Sideshow culture continues to evolve with its roots beginning as early as 1829 with the exploitative exhibition of human "oddities," such as dwarfs and Siamese twins, as noted in "The History of Sideshow Exhibitions and Acts" published by the University of Sheffield.
With radio, television and now recently with smartphones and various social media platforms, live entertainment isn't sought after as frequently.  Sideshow acts became popular again in the '90s when the Seattle based Jim Rose Circus became a staple at the Lollapalooza Festival. In San Francisco, acts that incorporate sword-swallowing and fire-throwing in their performances are still prominent as seen with the The Yard Dogs Road Show. Performing at the 2011 Outside Lands music festival, their unique sound is now being featured in a biopic documentary.
"The farther we get from the real world with our gadgets and technology, the more there is a craving for something real. It's just me defying death for your own entertainment live on stage," says Molotov.
Off stage Molotov is Matthew Bouvier, owner of Bouvier Industries. No longer traveling across the nation with his late wife Felicity, he is settled in the Bay Area once again and is reconnecting with bars and nightclubs to do the thing he does best: amaze audiences and help take their minds off of life's burdens with his risk-taking showmanship.
"I look at myself as a nuts and bolts, hands-on kind of guy," says Bouvier. "Kind of in the here and now.  I like to tell jokes and make people laugh. They can just look at me and look at the funny life that I concoct. I put on a show for them so whatever is going on in their lives, they can forget about it for a minute."
San Francisco Sword-Swallower Molotov Perfects His Craft from Xpress Magazine on Vimeo.
View Comments (4)