The Dangers of Body Modification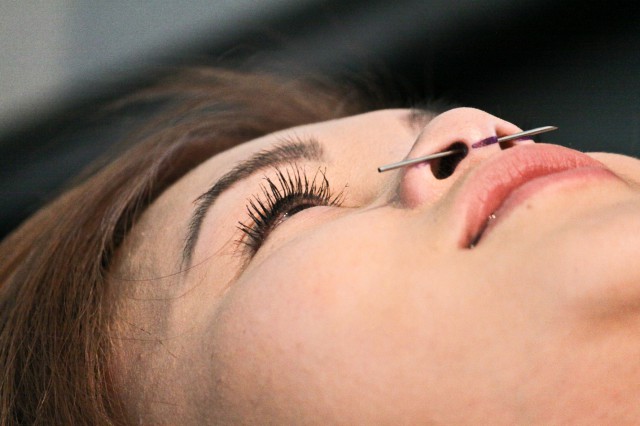 Written by Leigh Walker
Photos & video by Hang Cheng
As adrenaline pumps through her veins, Ashley Kilday waits patiently for her friend, an ex-piercer, to arrive. Kilday, a twenty-three-year-old veteran of the United States Army, decides to get twelve piercings: her nose, belly button, four on each ear, and two in very personal places.  Her friend arrives with the basic sterile equipment she keeps in a lockbox, and begins the process of cleaning each location with rubbing alcohol. Her ears are easy — the piercer marks the ears with a pen, places the jewelry in a piercing gun, places it on the earlobe, shoots. She repeats for a total of four piercings on each ear. No blood.
Kilday's nose ring is one of the worst: after the piercer marks the spot, and pushes the needle through – blood gushes everywhere. It takes a good twenty minutes to stop the bleeding. After the piercer cleaning the used needle, and douses it in rubbing alcohol for sterilization, Kilday's navel is next. Not only the bottom portion of her navel pierced crookedly, but Kilday needs to have it redone – twice. The amount of blood Kilday loses from her navel is comparable to her nose. Blood everywhere. Though she takes care of her piercings meticulously for three months, all of Kilday's piercings, except for her nostril, need to be removed due to infection.

Piercings or tattoos can be a milestone in someone's life. Body modifications can symbolize a rite of passage or represent something significant in a person's life. Some people do it "just because."  However, not everyone knows the importance of taking care of piercings and tattoos and don't always realize that things can go wrong if modifications aren't taken care of properly. But what happens when things actually go wrong?
Piercings
The most commonly infected piercing is a dermal piercing. Though dermal piercings are usually placed on the wrists and the back or side of the neck, it is not unusual to see it on other places on the body. A dermal piercing involves cutting two skin layers deep and resting the attached dermal on the muscle. The risk of infection for a dermal piercing is higher than any others because it is easily touched, caught on clothes, and exposed to bacteria. Unlike other piercings which can simply be removed by the wearer, dermal piercings must be removed with the use of a scalpel and should be performed by a medical professional or piercing expert.
Ear piercings are the most popular modification and the least likely to get infected. People often get multiple piercings on the earlobe. Many get piercings up and around their ear, others choose "edgier" ear piercings such as a rook (inside the ear), an industrial (diagonal from top part of ear through mid-upper part), and a daith (piercing of the cartilage bump close to the face).
Stretching
In today's pop culture, stretching the earlobe is a common trend. The jewelry for stretched lobes are called plugs.
"For lobe piercings, you gradually want to have the sizes get bigger," stresses Wade Mugrauer, a piercer at Mom's Body Shop with more than nineteen years of experience. "If you go from small to big in a short span of time, then not like the way it has turned out, the only way to fix it is by going to see a doctor and have it sewn up."
Tattoos
There are a number of risks and dangers that go along with getting a tattoo. The most common issues consist of allergic reactions to the tattoo dye, skin infections, keloids (fibrous tissue formed around a scar), and rarer complications – such as swelling around the tattoo or a temporary burning sensation during an MRI (Magnetic Resonance Imaging), according to an article by the Mayo Clinic. Blood borne diseases, such as Hepatitis B and C, are also possible if the needle used has been contaminated with another person's blood. If any sort of blood thinner such as aspirin or alcohol is consumed prior to an appointment, the client runs the risk of excessive bleeding.
"My tattoos were even worse," explains Kilday. "I was bleeding so bad that they thought I had taken either one too many aspirin or came in drunk."
The only way to remove a tattoo is through laser removal, which leaves scars where the tattoo once was.
According to Jaclyn Semenas, a thirty-year-old leasing consult for a property management company, the pain of getting a tattoo removed is one hundred times worse than getting the initial tattoo.
"The pain varies by location, but you have to remember that it's a needle-laser that removes it," says Semenas. "Since you're trying to get rid of the ink, numerous sessions are needed to get it removed."
Scarification
Scarification is the process of burning, cutting, or etching a design onto your skin. According to Mugrauer, a medical professional would be ideal for performing scarification because expertise in the anatomy of the human body and especially the epidermal layers is essential for scarification.
"The most common type of scarification is branding," explains Mugrauer. "We can't do scarification or its subtypes here at the shop, but shops in Southern California do it."
Branding is the most common type of scarification. A piece of metal is heated and pushed into the skin. This is done numerous times to form the word or picture a person wants branded into their skin.
Laser branding, also called electrosurgical branding, uses electricity to cut the skin similar to the process of welding. Electric sparks jump from the pen of the device to the skin, and vaporize it. This is the most precise way to perform scarification; it regulates the amount of damage done to the skin. Another type of scarification is abrasion, where layers of skin are removed to form a design using a sterile device, like a scalpel.
Since scarification involves the removal or branding of the skin, the dangers can be more severe than piercings or tattoos.  The process leaves an open wound and good hygiene and aftercare is incredibly important to prevent infection.
Scarification isn't practiced nearly as often as tattoos or piercings. The practice is not illegal in the state of California, but many body shops in the Bay Area are not equipped to do scarification.
Tattoo and piercing shops always emphasize good aftercare. Check out our tips. It's essential that steps are followed correctly in order to avoid infection or any other mishaps.
Aftercare
1. Always wash your hands before cleaning or touching your tattoo or piercing.
2. For piercings, using sea salt and warm water is one of the most effective ways to clean it; 2-3 times a day.
3. Avoid cotton swabs or balls.
4. For tattoos, shower, pat-dry it, and then moisturize it with non-scented lotion, such as Curel; 2-3 times a day.
5. If you see that these measures haven't worked, either go back to the shop or seek medical advice from your doctor.
6. The shop you go to get pierced or tattooed will give you care instructions based on the type of piercing you have, but this methods commonly used.
Reputable Shops in the Bay Area
View Comments (1)