Gator Groceries
Despite their struggles, SF State's food program feeds and educates the student body.
The sun warms SF State's campus midday on a Friday. Inside a dark basement in the Cesar Chavez Student Center, students line up in front of a sign that reads "Gator Groceries." Each student patiently waits for their turn to walk through the small market and pick out food to take home. The line seems to never end, as students keep making their way down the stairs, hopeful that they would be able to take home their next meal. Big piles of sweet potatoes and celery can be seen from the stairs while walking towards the basement. Students slowly browse through the small aisles to pick out snacks or vegetables that they carefully pack in their bags.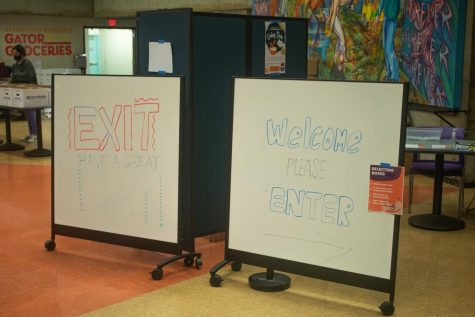 Gator Groceries was created to help students in need get through the week by giving them free groceries. The staff collects the food from the SF Marin Food Bank and separates it into boxes for students.
"We make sure everyone gets something," said Alena Wong, a supervisor for Gator Groceries. "If we feel like there's not enough food, we'll talk to our point of contact at the SF Marin Food Bank and ask for more groceries."
Wong explained that putting together the Gator Groceries boxes is no easy feat, especially since they are currently understaffed. 
Gator Groceries serves more than 400 students weekly as it aims to combat SF State food insecurity. However, the program struggles to keep up with student demand.  
"As much as we want to provide for all of the students in need, it's a full load on us, and it's very difficult because there's not a lot of us," said Lubat Asadov, a student worker at Gator Groceries.
Currently, there are only four to five people working behind the scenes to make sure the boxes are packed and ready to be picked up. Gator Groceries supervisor Horace Montgomery says they prepare and stock 7,000 pounds of food weekly.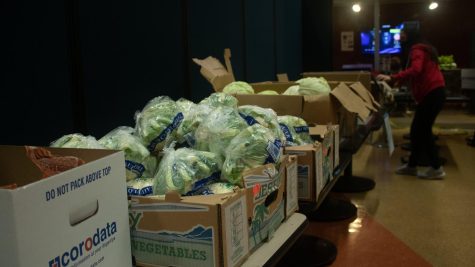 However, it does not seem to be enough. 
Ana Beatriz Silvera, along with many other students, was not able to reserve a box the past week, because the reservation spots on the site ended too quickly.
"Word spreads fast, so reservation spots end very quickly, which causes a long line to be here on Fridays," Wong said. 
On Tuesday afternoons around 2 p.m., SF State students can reserve a box and a pick up time through a link posted on the Associated Students Farmers Market SFSU Instagram page. All that's needed to make a reservation is a name and a student identification number.
Most of the food donated to Gator Groceries comes from the San Francisco-Marin Food Bank, but sometimes local businesses, such as Trader Joe's, also contribute. Pantry assistants put the boxes together, clean vegetables and make sure none of the food is past its expiration date.
Due to the high demand, many students find themselves without their weekly groceries. They have one last chance to collect some free groceries by lining up on Fridays. Silvera was standing in line, waiting for her turn at the student center and hoping she would get a chance to bring home some groceries. 
Asadov explained that because not all students are available to pick up a box on Wednesday or Thursday, they created a first-come, first-serve event on Fridays. Many students pick up a smaller amount of groceries compared to what they would find in a box with an appointment, but it's still a huge help for some.
During the pandemic, Montgomery started making a bigger push towards fresher food. The SF Marin Food Bank now provides Gator Groceries with a lot of healthy options. His only concern was whether students knew how to prepare and cook the fresh ingredients that now made up the majority of their boxes. 
"Our goal is also to educate about food," Montgomery explained. 
That's when the Gator Groceries staff had the idea to start sharing easy recipes to make using items from the boxes. 
"Sometimes we make the food in our own time at home, and we just post it on Instagram with recipes or videos to explain the process," Wong said. 
Since the Gator Groceries workers already have a lot on their plate, they also worked out a partnership with SF State's Health Promotion and Wellness program to create bi-monthy cooking demos on campus, where quick and easy recipes are shown live to students.
Michell Martinez, a Nutrition and Dietetics student, is in charge of bringing quick and delicious recipes to life on Thursdays at 1:30 p.m. in the quad. She tries to make use of as many ingredients from the current week's box as possible in her recipes, so that students can get inspiration.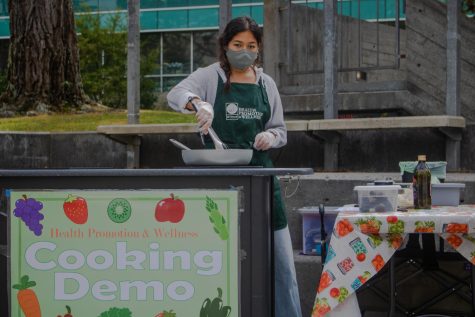 At their table in the quad, Health Promotion and Wellness also hope to give students a huge variety of recipe ideas by offering postcards of dishes with step-by-step instructions of how to make them.
While walking around campus towards the end of the week, students can be spotted lugging their white, cardboard Gator Groceries boxes. Rui Schuen Tan, an international student from Malaysia, carried a heavy box with the help of a friend. 
"Groceries are so expensive here, so it's very useful to have this help," Tan said. 
Tan enjoys cooking, and does so daily. Although, she pointed out that a box contains a lot of food and she wouldn't be able to finish it if it wasn't for the help of her roommates, whom she shares the box with.
Silvera, an exchange student from Brazil, said she eats healthier when she is able to get the weekly box. 
"The variety of food that I eat when I get the box and when I don't is completely different. I eat more vegetables when I get the box," she said. 
The main goal that the supervisor Horace Montgomery mentioned — to offer students a healthier lifestyle and relationship with food — seems to be mostly achieved. Students who like to cook healthy food enjoy Gator Groceries because it also gives them the opportunity to make recipes more connected to their home country.
Gator Groceries is not simply a weekly help for students in need, but is also indirectly helping students create communities as well as share moments and traditions together. Cooking is a good and original way to bring people together, and the help of this project is giving students more opportunities to do so. 
"I get to cook a lot of Brazilian food," Silvera said, "and I like to share it with my friends."
Leave a Comment