SF State's Finest in Fashion
Four Apparel Design & Merchandising students share their vision and inspiration for the 2023 spring runway show.
Zitlali Ramirez walks into the J. Paul Leonard Library dressed in head-to-toe black: baggy bondage pants detailed with chains and white lace, a hoodie with silver studs and platform Dr. Martens with black laces. Ramirez, a senior at SF State, wears her jet-black hair in pigtails, showing off red highlights and feathered bangs. She waits to meet with her first model, Emma Wolfe, to take measurements and gauge what Wolfe will be comfortable wear down the runway.
Wolfe arrives and Ramirez begins to measure, starting with her neck, then shoulders, waist, thighs, calf, back, arms, forearms and wrists. She measures everything at least twice, a third time when a measurement is inconsistent. While measuring, Ramirez points out a tattoo on Wolfe's wrist that reads "Riot."
"It says 'Riot' — it's the name of a Paramore album," said Wolfe. "Yeah, I was gonna ask! That's cool," said Ramirez. 
This sparked a 30-minute conversation between the two about their favorite bands (the Cure and Korn), to tattoos and where they're both from. Ramirez from San Jose and Wolfe from Sacramento. 
This is just one step in the semester-long process for Ramirez and the other Apparel and Design majors at SF State as they get their collections ready for the spring fashion show on May 11. 
Every spring, the Apparel Design & Merchandising department puts on a fashion show to showcase senior student collections from its advanced apparel design class. The show will be coming back in its full form for the first time since the pandemic. While students adapted well to last year's show, which was free to the public and held outside due to pandemic restrictions, this time they'll go back to the in-door runway. The name for this year's show: Runway 2023: Kinetic. 
The process can be broken down into about four stages; inspiration and concept creation which can include mood boards and sketching out designs. Then, designers must take measurements and create paper patterns that are used to cut out fabric and map out the garments. Afterwards, designers must make a toile out of plain/cheap fabric which is used as a test garment on the model where they make adjustments fit. Finally, with the fabric they decide to use, they make the final garment that they again test on the model.   
Professor Amy Dorie, who graduated from SF State in 2012, has been teaching Advance Apparel Design since 2017. This class serves as the Apparel and Design students capstone, an accumulation of everything the students have learned during their time at SF State. Their finished work is graded on the garment's construction with the use of specific principles of design, the collection's overall cohesiveness and garment fit. 
"The collection should have a definite theme or inspiration that they're drawing from," Dorie said. "So it's all clothes, right? It's all the things we've seen before, but it's the combination of their unique perspective with their interesting inspiration that will make those clothes look new and exciting."
Each student brings a different aesthetic and background to their collections — it's a show that has something for everyone to enjoy.
"I'm always really excited to see everything they've come up with," Dorie said. "Our students tend to be just so creative, it's really inspiring."  
Zitlali Ramirez
Ramirez's collection will feature three outfits, two tops, a maxi skirt, paints and a dress. Her inspiration for the collection comes from gothic culture taking inspiration from a gothic style church she visited. Another inspiration comes from a trend she described as "floor sweepers" which is when garments like skirts, jackets, pants and dresses hit the floor, sweeping everything in its path. Red, black, white and gray are the main colors for the collection.
"The look I want Emma to wear, it's going to have a low neckline, long sleeve but with bat wings and then flared pants." said Ramirez. "I wanted it to be kinda layered but I don't think I'm gonna do that anymore."
Ramirez said that her favorite part of the process is concept design and mood boards, while pattern drafting is her least.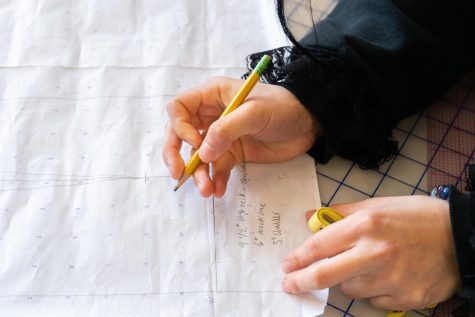 "Looking at fabrics, creating your mood board, although every part of this is stressful, our deadlines are short and we need to constantly be working on it." Ramirez said. "It's a lot of pressure too cause you're trying to think of ideas and nothing is coming to mind."  
After graduation, Ramirez plans to continue working on her own brand, she's already made shirts and other garments but is pausing for now as she finishes school. In total, Ramirez has spent about $100 on materials for the collection. 
Humbe Buisan
Humbe Buisan is another Apparel Design & Merchandising major, with a concentration in design, who will produce garments for the spring show. They transferred last semester from San Diego Mesa College. Fashion has been a part Buisan's life for a long time, their mother and grandmother had their own clothing boutique in Mexico.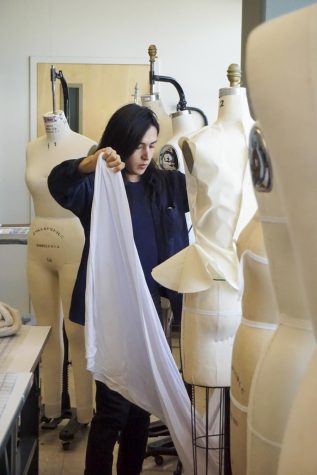 "That's where my love of fashion began. I have memories of my mom showing me pages of Versace, so many Italian designers and so many Parisian designers," Buisan said. "I think that's where my love grew and developed."
For their collection, they were inspired by feminine figures like sirens, early Renaissance art, Catholicism and famous women like Princess Diana, Marilyn Monroe and Kim Kardashian.
"I have a lot of influence from art history, interplaying how religion was this big topic growing up for me but it also having these big sexual undertones," Buisan said. "Also growing up as a nonbinary individual, kinda going against everything that you're taught."
For Buisan's collection, they are making three matching sets of tops and skirts. The fabric will be a green plaid, a red plaid and vintage fabrics from deconstructed garments. With fabric and other supplies needed, Humbe estimates that this collection will cost about $500. 
"I prefer to do matching because the client is the one that ultimately decides which pieces they want," Buisan said. "It's also fun seeing people play with your creativity and see how they interpret the design." 
Cassandra Cueva
Cassandra Cueva is producing three outfits for the show: a pair of pants, a skirt and top and a dress. The concept for her collection is distortion, inspired by nature and a poem called "Reflection" by her favorite childhood poet Shel Silverstein. 
"I wanted to show that through fabric manipulation and playing with the fabrics and essentially distorting them," Cueva said. "Also showing a-symmetrical silhouettes, things both fitted and oversized."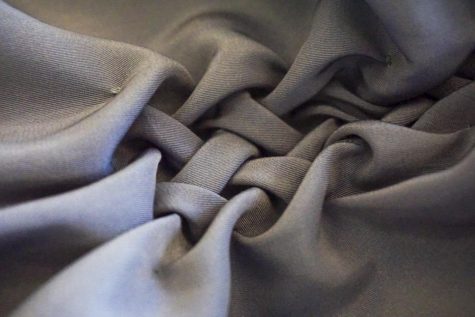 For Cueva, sewing and pattern making are her favorite parts, but when it comes to test fits, it can make her nervous. 
"You could have done all this work and realize, oh, it doesn't fit, I have to go back and do everything again," she said.  
One of the techniques that Cueva is implementing is Canadian Smocking, where she manipulates the fabric by gathering and sewing small sections of the fabric together to create a textured look.
"It was used for elasticity in the fit of garments before they had elastic," Cueva said. "but I'm just using it for aesthetic purposes." 
Cueva has a personal passion for sustainable materials. For her collection, she is using mostly second-hand fabric she acquired from taking used clothes apart and has spent about $100 on all materials. 
"I try to go to stores like Scraps [a second-hand fabric store], I love that place," Cueva said. "It's dangerous, I'll go in there and end up coming out with way more than I need."
After graduation and maybe some additional schooling, Cueva wants to go into textile research, looking at new ways to find sustainable materials. 
"There's a lot of innovations that have been recently made like cactus leather," Cueva said.
Nathan Barnes
Nathan Barnes is a transfer student from De Anza College in Cupertino. Fashion has always been a part of his life — he started out by reselling clothes in high school. Personal style and dress have helped him express his creativity. For the collection, his inspiration came from hobbies such as nature, cars and guns. 
"Those are just the things I fuck with, the things I like to be around," Barnes said. "My personal lifestyle choices." 
For Barnes, this collection is an opportunity to create the first looks for the brand he plans to launch once finished with school. 
"All my notes from my brand and stuff I'm using for this project and taking it as a push forward like someone telling me to do it," Barnes said.
Barnes' looks are composed of three tops, one hoodie and two puffer jackets, one almost floor length, and the other cropped. For pants, he's implementing baggie oversized cargos and jeans, some with prints that resemble trees with earthy tones in each of the garments.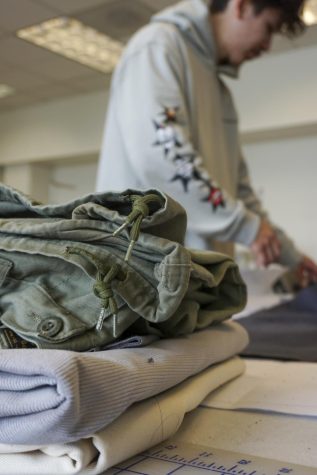 "Ima have some pants with gunshot holes in them and everything's faded, like it's been in the weather — it's all ragged and torn-up," Barnes said.
Barnes gets most excited when he sees the model with the final look, where he makes the finishing touches and sees the vision become a reality.
"In the future what I plan to do is think about some shit, tell people to do it, and then they get it done and I'll help them through it," Barnes said. "But the actual hard work is not fun, it's technical, a lot of looking and feeling like it's not going to actually work." 
After his expected graduation next fall, Barnes plans to launch his own brand promoting it on social media with the hopes of opening a store.  For his collection, Barnes will only spend $200 on all the materials. 
"A lot of the random Instagram come-ups, those are really inspiring, the ones that are at like under 2,000 followers, the ones that are just starting up," Barnes said. "I can just watch their following every day and it's just growing like crazy and they're just posting one piece at a time. Those are what I'm basing my style off of."    
Leave a Comment