On Oct. 10, 2023, the Dream Resource Center and the student organization Improving Dreams, Equity, Access and Success welcomed back SF State alumnus Yosimar Reyes for an open panel, "Beyond Graduation: A Conversation with Yosimar Reyes." The panel was the second event of the Undocumented Student Month of Action, a series of programs inspiring solidarity for undocumented students. 
Born in Guerrero, Mexico, and raised in San Jose's East Side, Reyes graduated from SF State in 2015 with a bachelor's in English with a concentration in creative writing. Since his self-publication of "For Colored Boys Who Speak Softly" in 2009, Reyes and his work have achieved accolades such as an Undocupoets fellowship in 2017 and a Lambda Literary fellowship in 2018. This past May, he was named the first-ever Performing Artist in Residence at Movimiento de Arte y Cultura Latino Americana, a San Jose-based Latinx-centric art center. 
At the panel, which took place at the Cesar Chavez Student Center, Reyes spoke on his experience as a first-generation college student and some of the classes he took during his time at SF State, the over-saturation of "fear narratives" within Latinx literature and his future plans. He also read three of his poems: "Dirty," "Undocumented Joy" and "Caldo de Pollo."
From Oct. 20 to 22, Reyes performed staged readings of "Prieto," his first autobiographical play, at the Chicago Shakespeare Theater as part of the city's Latino Heritage Month.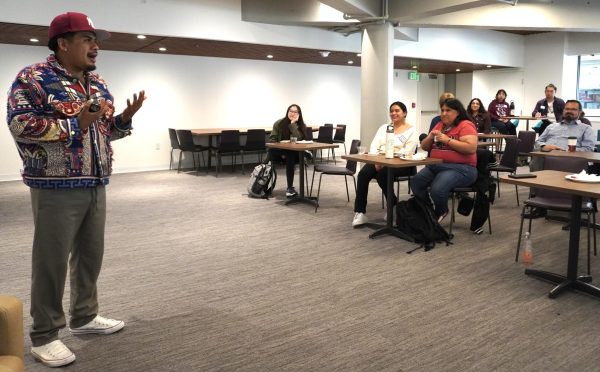 How did you feel about being back at SF State?
"It was good — definitely nostalgic. Every time I go to a college campus, I'm like, 'Oh, I miss school, I miss how fun learning was, being around students, all of that — I think it's inspiring."
"For Colored Boys Who Speak Softly" was self-published — how did you end up in such a lucky position?
"When I was 18-19, I got the opportunity to meet Carlos Santana. He was donating money to the school that I was attending. They asked me to come read a poem for him. That poem ended up opening up his concert series that year, and obviously I was just excited to be a part of it, to be hanging out with him and to just be doing something really cool. 
He was very generous with teaching me different things or just talking to me, inspiring me. Just for me to have access to him, I think it was really, really awesome. At 19, I think not a lot of people have that. And so he asked me what I wanted, how he could pay me for my work. I was like, 'Dude, I want a book.' He was very generous in providing me with the financial backing to produce it. I would hustle these little books at my shows or my presentations. I was blessed enough that people found value in it."
Similar to how Javier Zamora wrote "Solito," which is a memoir about his 9-year-old self's trek from El Salvador to the U.S., you wrote "Prieto," which you said in an interview with Shondaland, is a word which "means dark skin, or someone who's dark." What do you think about this cultural pattern of having native words for certain experiences and how despite their specificity, they promote cultural and ethnic solidarity? 
"I knew that I wanted to title my show one word and in Spanish. I wanted to have a deep R because 'Prieto' — you have to say it, you gotta feel it like it's a thing. I think that was important because it's also a derogatory term that a lot of people use in Mexico because we have a lot of colorism. It represents who I am; I am a dark-skinned Mexican. I can't help it and I want to own it. 
'Solito' is a word that talks about being alone. All of that was very emblematic and I wanted to represent in that way. Also, I felt like one-word titles are very impactful because I was like, 'Oh, what more is there to uncover?' I feel like my show — you hear the word 'Prieto' but throughout the show you find different definitions of what it is, and ultimately how I define it. 
It's a love letter to dark-skinned undocumented Mexicans or immigrants. It's a love letter to all these people who are conditioned to believe they were ugly. There's beauty in all of that. Uncovering all these definitions to that word — that's the journey my show takes people on."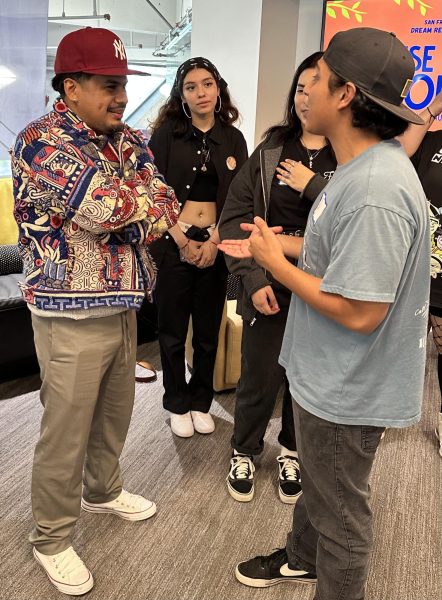 In an interview with INTO, you expressed a particular excitement for a TV adaptation of "Prieto." Is there a particular actor that you'd like to see star in it? 
"I definitely want a child actor. The narrative was from a kid's perspective, so it's gonna be like an 8 to 10-year-old, kind of like 'On My Block' meets 'Atlanta.' 
'Atlanta' is a little bit more greedier. It's a little bit more in your face and raw. I imagine what it means to put a kid in that setting with all that violence, but they're still a kid. That was a reality of where I grew up.
There are also other things that are important for me to develop 'Prieto' into a TV show. One of them is that it needs to be Mexicans, but it needs to be a particular kind of Mexican — dark Mexicans. I want Mexicans who are dark, who are looking indigenous. And obviously Hollywood doesn't really have those kinds of actors. That was important: showcasing poverty, but poverty with dignity. How do you showcase poverty that's dignified, a poverty that people are proud of, a poverty that showcases the beauty of it as opposed to this 'Oh my God, they don't have anything'?"
"I definitely like that concept because I am first-generation, but also 1.5 because I'm very Americanized. I came here when I was three, so I'm fucking American. I'm not second-generation, but I could pass as second-generation. I think there's power in being both. Even my writing is bilingual; you'll find words in Spanish and English. The references are very much rooted in that experience, but I feel like now that I accepted it, I don't find it challenging at all."
Brava for Women in the Arts described the setting of "Prieto" as a world "made up of books and 90's R&B." Are there any music artists that you take inspiration from or just enjoy listening to/reading on your downtime? 
"Yeah, I think of a lot of 90s R&B that I listen to — SWV, Total, Xscape. With all those groups, I immersed myself in my writing process, because it took me back in my memories when [my family was] living in the apartment complex. Also, Spanish songs that my grandpa would listen to, like Los Tigres del Norte, Los Ángeles Azules, all that. I think a combination of Mexican music and American music combined is what makes me who I am. All of that was quite a part of the show; you'll see one song skip from a Spanish song to a hip-hop song to an R&B song."
You've been doing "Prieto" readings since 2016 — has there ever been a point where you felt a little choked up and maybe even needed to stop? 
"Last year was a hot mess. I premiered it and I ended up in the E.R. because I had anxiety attacks after. I feel like I performed that show and I opened up all these emotional portals of my life — all these things that were unprocessed trauma, all these things I haven't talked about. Since that year I've been doing the work to calm down, to slow down, to acknowledge. I started therapy, I started doing things that can calm me down." 
Back to that idea of ethnic solidarity — how was your Zoom lecture for Saarland University? 
"What was interesting for them that they find shocking is U.S. policy and the way in which it treats people like me. They couldn't believe it. They were like, 'Oh, we don't get none of this information here. I wasn't aware that it looked like this.' Another thing that was cool was them sharing what was happening in their own country and how that was also impacting them."
You turned 35 last month — when you were an undergrad, did you ever think your life would turn out the way it did?   
"Not at all. Even now, I feel like I'm still building. I'm successful, but I would consider myself mid-career — I'm still not where I want to be. I get to travel around the country. I have a lot of amazing people that support me. I get to do a lot of cool projects, but I think my goal ultimately is to figure out how to establish myself as a well-known author. One of the things that I appreciate about my artistic journey is that it's been gradual. It's slowly progressing into what I want to do. I just gotta keep focused and be disciplined in my craft to achieve that."