After an awful day at school, Gisselle Peñuela Solis was feeling frustrated and annoyed. Letting out an exasperated sigh, she decided to walk over to Stonestown Galleria to see if they had any Sonny Angel blind boxes — luckily, they did. 
She poured over the cases, strategically picking and shaking each individual box, hoping to feel which Angel she might be holding. With each mystery box she grabbed, she could slowly feel her tension slipping away and turning into excitement.
After a thorough inspection of each box, she ultimately decided that the New York-themed Sonny Angel series was calling her name. Solis left the store eager to test the power of her intuition. Finally disposing of the box and ripping open the interior packaging that conceals the Angel, Solis is ecstatic to see that she pulled the Gold Taurus, a very rare Secret Angel specific to that series. Letting out a sigh of relief, she knew that this was a sign that everything was going to be alright.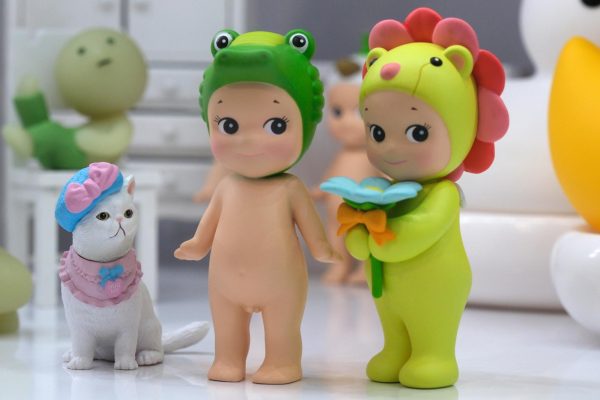 Standing just under three inches tall, Sonny Angel is a little cherub boy who enjoys dressing up in different headgear, and closely resembles an American Kewpie doll. He is wide-eyed with a charming smile, blush-saturated cheeks and adorably chubby body, complete with a set of small angel wings. Born on May 15th, 2004, Sonny Angel was created to be a small boyfriend, according to the Sonny Angel official website, who can be pocketed and carried around. 
His mission: to bring protection, healing and happiness.
 "I mean, they're obviously adorable, but I really liked the whole concept [that] Sonny Angel is one little cherub baby," said Devin Dean, an avid Sonny Angel collector. "He's not many, he's just one boy who wears many costumes and hats to bring entertainment to whoever is looking at him."
Although he's been around for nearly 19 years, Sonny Angel has only recently blown up in popularity within the past year. On TikTok this month, #sonnyangel has accumulated over 406.6 million views. According to ZoomInfo, a software company which provides data about companies and businesses, Sonny Angel has amassed a revenue of over $5 million. 
According to Megan Harrington, a sophomore at SF State and employee at Woot Bear, Sonny Angel's manufacturer, Dreams Inc., has recently been facing difficulties producing enough supply to match the drastic spike in demand, making it difficult for fans to get their hands on reasonably priced Sonny Angels, let alone any at all.
When Dean first started collecting, he would normally get his Sonny Angel merchandise from Woot Bear on Haight Street, but explained that they, as well as stores in Japantown and other locations that normally carry Sonny Angel, are having a hard time keeping their shelves stocked. 
Other stores that are still somehow keeping their shelves stocked, such as iFun in the Stonestown Mall, are charging upwards of $17 for Sonny Angel, compared to Woot Bear which sells them at $10 to $12.
"Something that a lot of people don't know is that it actually takes one year to produce a whole collection," said Harrington. "A lot of people [ask] 'When are you gonna get some back?' It's kind of stressful because we don't know exactly, we communicate a lot with Dreams, we email them all the time, and it's definitely not their fault because it blew up so unexpectedly." 
Sonny Angel wasn't always the short and stout travel companion his fans now know and love. He started out at a whopping seven inches and didn't have the never-ending wardrobe he has now. The first mini figure was introduced in a series called "Animal Series Ver. 1," and featured the character wearing various animal-themed headgear. Since then, over 18 series of Sonny Angels have been developed.
Sonny Angels comes in a box of 12 individually wrapped figures that can all be collected. Each series is manufactured in identical packaging to ensure that no one knows the exact identity of the Angel in the box they choose. The blind box packaging wraps the figures in mystery and anticipation, making it a fun and exciting experience for fans.
"[I] started to get them at this one store on Haight Street. It's called Woot Bear, and they sell all sorts of different blind box collectibles, but [I] go for the Sonnys and my collection grew embarrassingly fast," said Dean. "I have at least 120 and they're all displayed by series."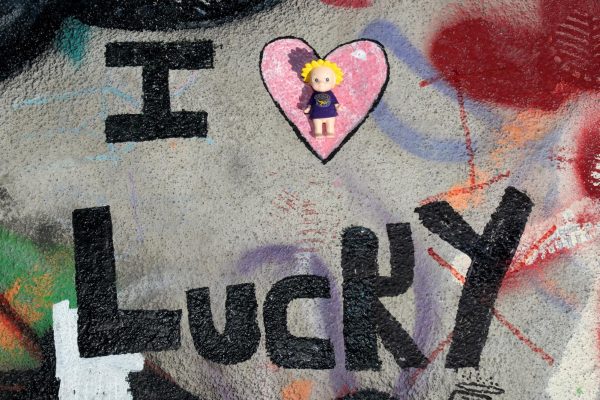 According to the Sonny Angel official website, in addition to the 12 Sonny Angels in each series, the collections also feature a Secret Angel and a Robby Angel whose designs are not disclosed to fans when the series is released. Robby Angel is described as a close companion to Sonny Angel who has the ability to change the color and pattern of his body, much like a chameleon. These mystery figures are considered to be ultra-rare, as not every box of 12 is guaranteed to contain one. Secrets are only packaged in one of every 12 series boxes, rendering the odds of pulling a Secret Angel 1-in-144.
However, trying to complete a series over time allows for a higher likelihood of pulling duplicates. Blind boxes are a gamble, as collectors always run the risk of receiving an unfavorable outcome.
"I've noticed over the years, some of the reactions of people, like when [they] don't get what [they] want […] you gotta be grateful," said Harrington. "There will be a second chance, and you just always have to hold yourself responsible and not blame the workers." 
Luckily, Sonny Angel fans came up with the perfect solution to get around this dilemma: Sonny Angel meetups. Every couple of weeks, enthusiasts schedule a time and day to meet up and share their love for the babies. These gatherings are generally held in local parks and tend to look like giant picnics. People come prepared with their blankets and Sonny Angel collections, which they display, and walk around buying, trading, selling and, of course, admiring other's collections.
"My favorite part is probably seeing everybody's huge collections and just wanting to get mine there," said Solis, a first-year sociology major at SF State. [9]
One of the best aspects of these silly little babies is the memories and sentiments tied to each individual Sonny Angel in a collection. Even just looking at them, Solis said, she can recall when she bought or traded them and how she felt in those moments. After trading off any of her Angels, she likes to exchange social media with the people who are getting her Angels and even makes a point to keep in touch and connect with whoever they end up trading to. 
"Sonny Angel collecting brings communities together," said Harrington. "I'm so grateful that it's brought people together because there's no sense of community without it." 
Chloe Geilenfeldt and her girlfriend Jennifer Schildge hosted a meetup on Sept. 9 at Main Parade Lawn in the Presidio. After drawing up a flier for the event, they sent it to stores such as Woot Bear and iFun and posted it on TikTok which ended up receiving around 500 likes. The event itself ended with a turnout of about 50 to 60 people and over 1,000 Sonny Angels.
"We wanted to [host] it because we had just moved [to San Francisco]," said Geilenfeldt. "We hosted one in San Diego that was really successful and so we were like, 'Oh, that'd be a good way to meet people and have that common interest.'" 
With the slogan "healing in the heart," Dreams Inc. defines itself as a company that manufactures products that deliver healing to their customers' lives. This is certainly emphasized by the comfort and happiness that Sonny Angel has brought his fans. As silly as it may seem, Sonny Angel establishes a sense of community and support when feeling lonely or hopeless.