Every first Sunday of the month, over 800 vintage and antique vendors set up shop in a former Alameda naval air station overlooking the San Francisco skyline and the Oakland harbor for the monthly Alameda Point Antiques Faire. Among furniture booths, glassware, knickknacks and clothing stalls, Ryan Ly and Renz Paningbatan, the owners of Flipside Market can be found selling their clothes. To be there every first Sunday of the month, the duo gets up at 3 a.m. at their homes in Daly City and South San Francisco and by 4 a.m., they're on the road, driving over 20 miles to the largest antique show in Northern California. By 5 a.m. the duo arrive at the fairgrounds, bundled up in hoodies and a furry flap hat to beat the dawn's cool brisk air and begin unloading their minivan full of vintage graphic T-shirts featuring Nike slogans and Studio Ghibli characters, worn-in distressed Levi's denim jeans and industrial Carhartt jackets onto their 15-by-20 lot. Just before sunrise approaches, the event opens to the public at 6 a.m., bringing life into the formerly empty lot and transforming it into a bustling open market.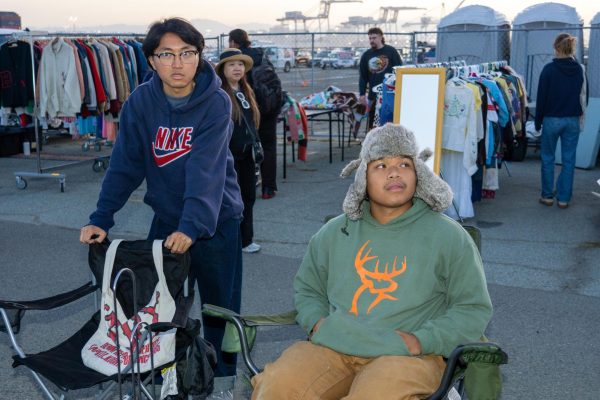 Ly and Paningbatan are part of a larger trend. According to the ThredUp 2022 Resale Report, the secondhand market is expected to grow three times faster than the global apparel market overall and double profits by 2027, exceeding $350 billion. Over the past year, pop-up markets such as OK Marketplace, Secondhand Saturdays and Sensitive Vintage have been appearing throughout the city, reinforcing the trend's growing popularity and making vintage clothing more accessible and widespread to the public. While San Francisco's Haight Street has long been home to more than a dozen vintage stores, these pop-up markets make secondhand shopping even easier. Ly and Paningbatan, like many other young entrepreneurs, are trying to make a career and develop a new business model from vintage clothing reselling- a business model where people buy secondhand vintage styles and flip them for a higher profit.
But What Is Considered Vintage?
According to the Journal of The Textile Institute, vintage is defined as anything that is 20 or more years older. Even the Alameda Point Antiques Faire has a strict policy that only allows vendors who sell clothing and furniture that are 20 years or older.
Cecily Hansen is the owner of the store Decades of Fashion on Haight Street. Hansen operated other vintage stores before settling into her current location on the corner of Belvedere and Haight Street in 2005. However, Hansen first began collecting and selling vintage clothing in the late 1960s and has a positive outlook on the new generation of clothing resellers on Haight Street. 
"I welcome any other vintage stores here because I want that for the neighborhood," Hansen said. "I don't want to see any empty storefronts. I wish they were all vintage clothing."
However, Hansen is confident that no one can compete with her selection.
"If you're really serious about vintage […] you can check in with me," Hansen said. 
Decades of Fashion carries clothing ranging as far back as the 1840s and as early as the 1980s and is unlike many other shops on Haight Street for that reason.
Making A Living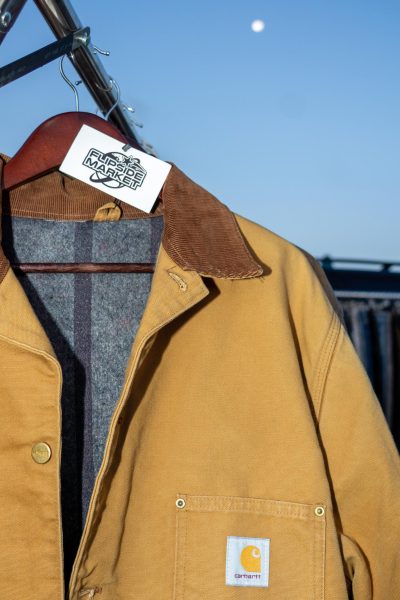 Ly and Paningbatan started their reselling business in July of 2022. The longtime friends first met in middle school summer
camp. They began thrifting and buying secondhand clothing long before they started selling, resulting in them amassing a collection of clothing throughout the years.
Ly first approached Paningbatan about flipping the clothes they no longer wore to make some extra cash. Paningbatan recalled attending a clothing market in San Jose and being shocked by an $80 "Stone Cold" Steve Austin tee and realizing the potential there was to make high profits. 
"I didn't know… used clothing could be marked up like that," Paningbatan said. "And that's where I remember the earliest spark… like, let's just make this thing happen."
Since then, the duo has been selling at vintage clothing markets throughout the SF Bay Area almost every weekend. 
Maya Schraeder is a current SF State student and owner of Wardrobe Vomit, a vintage curation brand specializing in women's clothing from the '50s through '70s.
Growing up, Schraeder watched her mom sell vintage clothing and furniture, which sparked an appreciation for all things vintage early on in life. After Schraeder was laid off from her waitressing job during the pandemic, she began selling some of her personal collection online to get by, quickly realizing she had found her calling.
"I kind of got addicted to selling stuff online," Schraeder said.
When pandemic restrictions were lifted and Schraeder had the option to return to her old job, she chose to pursue reselling full-time. She has been traveling throughout California and selling her clothes ever since.
Schraeder travels between Southern and Northern California for vintage vending events on the weekends; however, the income from these events can be unstable.
"It can… feel so disappointing, sometimes discouraging if you have a bad market and you've driven hours to go to the market and you don't make any money, but you paid a fee to be there," Schraeder said. "But ultimately, I would rather deal with that aspect of it than having a real nine-to-five job." 
To maintain another source of income, Schraeder rents a clothing rack at Virgo, a Santa Cruz-based vintage shop and at Moody Goose, a San Francisco-based vintage shop. Like many other vintage shops, the stores both have a "rent-a-rack" business model where vendors can pay a monthly rent to occupy a clothing rack in the store. Vendors are responsible for restocking and maintaining their rack, but the store processes all the transactions.

From these stores, Schraeder makes around $2,000 a month on average, and markets are a way to generate extra income.
 "I'm not really able to save money, but I'm able to continue to buy clothes and to pay for all of my expenses," Schraeder said. 
On the other hand, the nostalgia of different decades for customers has amassed Ly and Paningbatan a monthly income ranging between $10,000 and $15,000 on a good month. In addition to vending clothes at vintage markets around the Bay Area every weekend, they rent a rack in a vintage store in San Mateo for $700 a month.
Ly is currently a business administration major at SF State and has been able to apply what he learns in the classroom to his business. The pair have their business registered as a limited liability company and keep track of all of their expenses. 
"I think I got really good at bookkeeping," Ly said. "Just keeping track of expenses, how much we spent […] what we can afford to spend."
Schraeder sometimes struggles to balance school and her resell work. Schraeder lives and commutes from Santa Cruz, over 70 miles away from SF State's Campus. Because of this, she stacks her classes onto two days a week and fits in homework throughout the week, sometimes while vending at markets. Schraeder enjoys these parts of her life and the flexibility that reselling has allowed her to have. 
"I like the nomadic aspect of what I'm doing now and being able to have the freedom to travel," Schraeder said. "I get to choose when I want to work and how hard I want to work."
The Appeal
According to an article by Tracy Diane Cassidy and Hannah Rose Bennett in the Journal of Fashion Practice, another reason for the prominence of secondhand clothing is its implied environmental benefits. The fashion industry is under scrutiny for being responsible for 10% of humanity's carbon emissions and polluting the earth's natural resources, in addition to creating textile waste.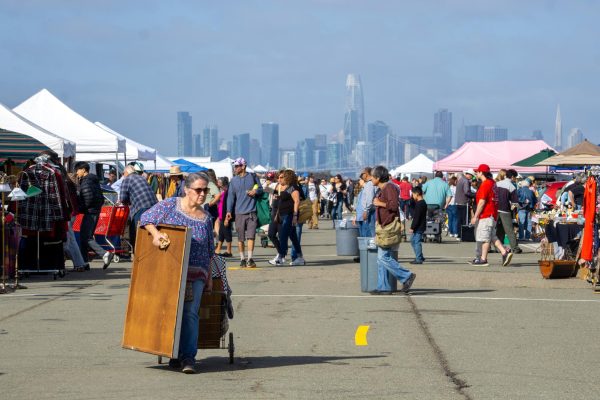 "Every 20 years or something like that, is when cycles kind of come back around and immediately when one cycle is waning […] people really just find those fashions very distasteful," said Nancy Martin, a lecturer in the Apparel Design and Merchandising department at SF State. "And then, over time, people start to love them again."
Cassidy and Bennett's research also linked consumers turning to vintage clothing and secondhand fashion as a reactionary act against fast fashion and growing demand for eco-fashion. They also found that people enjoy eco-fashion for its individuality and unique styles.
"It's good for the environment," said Patty Pieper, a customer at the Alameda Point Antiques Faire. "And especially considering how many clothes are produced all the time, why not reuse them?"