Nowadays, the younger generations have become more comfortable in speaking out and advocating for their political and social causes. Millennials and Gen-Z take to social media with trending tags such as #BlackOutTuesday, which people used during the Black Lives Matter protests, or the #MeToo expressing solidarity with rape victims. While at SF State, some may participate in in-person protests and confidently voice their concerns and opinions online, there is still a large fraction of the college-age population that does not participate in voting.
The United States Census Bureau found that out of 3,460 voters in California aged 18 to 24, only 900 ended up voting in the November 2022 general election. But a poll from the UC Berkeley Institute of Governmental Studies shows that most of the people who vote in California are 50 and older (71%), white (71%), homeowners (68%) or college graduates (55%). 
So, what motivates young people at SF State to vote?
Biology major Annie Deng, 20, said she is somewhat involved in different movements but is not very politically active in the sense that she does not go out and protest or join strikes.
"I don't vote," Deng said. "When I'm not already knowledgeable […] of what [running candidates] are standing for, it's really difficult to do the research in that." 
According to Marcela Garcia-Castanon, an associate professor in the political science department who focuses on obstacles to voting and political socialization, it is very common for young people to see voting as unimportant.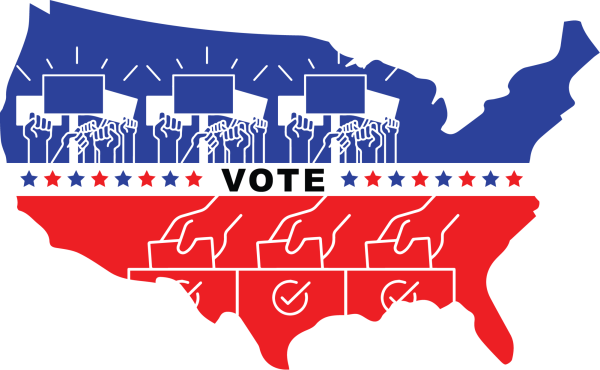 "In the United States, you have to register to vote. In most cases, it's not mandatory and it's not automatic, which means you have to remember to do this extra thing," said Garcia-Castanon.
She also says that a lot of political parties target college students, as they generally have more resources. As a result, these parties tend to ignore the youth who are not in a privileged position to go to college. 
Another factor in political participation goes along racial lines. According to a research survey by the Public Policy Institute of California, from September 2019 to July 2020, white people were 55% likely to have voted, whereas Latinos were 47% likely, and Asian Americans and African Americans were both 54% likely. 
This also goes for Giovanna Jimenez, 20, double-majoring in Latin Studies and Broadcast Electronic Communication Arts. Her parents are from a different country, and as a first-generation U.S. citizen, she feels like the power is in her hands to change things and thus fuels her interest in politics. 
"I was in middle school when [Donald Trump] got elected […] he inflicted lots of fear," Jimenez said. "My friends and I were like, 'Oh my gosh, we're all going to get deported.' We had to have serious talks with our parents — if they were to get deported, who would we end up with?" 
Since 2014, youth ages 16 and up have been given the opportunity to pre-register, which legally allows them to vote in an election once they turn 18. However, Garcia-Castanon said that while pre-registration brings an increase in youth registration rates, it doesn't translate to an increase in turnout. 
Reported voting and registration of CA Voting-Age population, by Age and Voter Status: November 2022, Data from United States Census Bureau – Graphic by Faya Beeldstroo
Despite this, pre-registration has helped some young people like Alex Vanscoy, 19, get more involved in voting. Vanscoy is a member of the Young Democratic Socialists of America, a national organization that advocates for students and workers while fighting for more radical structural changes. 
"I love voting," said Vanscoy. "[I've] voted in every election that I have been eligible to vote for, and I am very engaged in the political process. I actually got pre-registered when I was 16 because I started to work at the polls." 
Jimenez said it is tough to get registered when you move.
"Since I'm gonna spend more time here […] I'm gonna try to switch over to see if I can vote here when we have some elections going on," Jimenez said. "I have a friend […] he's gonna try to help me because he was able to switch [his address] from Los Angeles County to San Francisco County."
SF State provides resources for voting such as the Gators Vote program. It encourages students to vote via tabling, voter registration days at Malcolm X Plaza and ballot drop-off opportunities. Adrian Ortanez, 24, double-majoring in race and resistance studies and nutrition, said that experiencing racism at a young age pushed him to learn how politics works and how he can create change. 
"I think there should be more classes geared toward ethnic studies and […] exposing [students] to politics at a really young age," Ortanez said. "A lot of kids are seeing the world around them and they don't know where to put those things."