Simple Do It Yourself Gift Ideas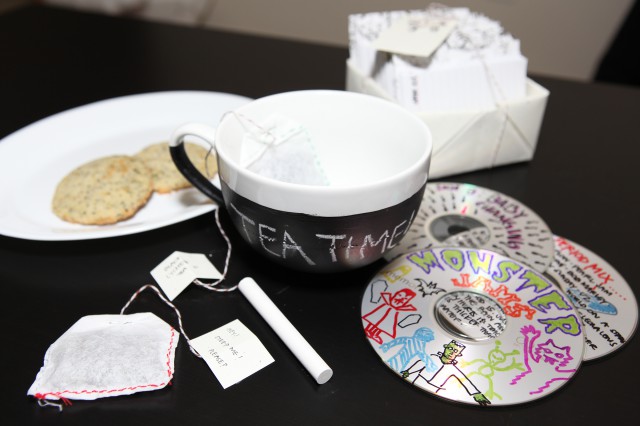 Words & Photos: Charlene Ng
It's that time of year again. One of the most anticipated and, simultaneously, dreaded times of the year: the holidays. It's a time for family, friends, and of course, gifts.
No matter which holiday is celebrated, holiday shopping can be a stressful experience. Not only is it just time-consuming, but it can definitely burn holes in the wallet without some careful planning. And as a college student, holiday shopping can be even more of a nightmare with the lack of time and money.
So as a holiday gift to you from Xpress Magazine, here are a few do-it-yourself gift ideas to save you the time, money, and torture of holiday shopping.
DIY Calendar Journal
As the year comes to end, it's time to throw away those old calendars and bring in the new. This DIY calendar journal is a great gift for jotting down daily appointments!
Materials
 A small container of some sort. Preferably square or rectangular to fit the index cards (For this tutorial, a origami box was used)
12 Postcards, cards, or photos These will be used to divide the months.
183 4 x 6" lined index cards These will be cut in half, thus resulting 366 cards (One card for every day of the year! Including February 29!)
A date stamp (optional) Dates can be written out too!
A paper cutter or scissors
Twine or ribbon (For gift wrapping)
Instructions
Step 1: Cut the index cards in half. 183 cut index cards will yield 366 smaller cards.
Step 2: Using the date stamp, stamp the month and date on the top of the index card. The dates can also be written out. By leaving out the date, this calendar journal can be reused every year!
Step 3: Trim the postcards, photos, or cards down so they will be the same width of the cut index cards. Be sure to keep the length a little longer than the cut index card.
Step 4: Organize the cut index cards by date and separate them by month using the dividers.
Step 5: Tie some twine or ribbon around the box and you're done!
DIY Chalk Mugs
Mugs are great gifts for all ages and customized ones are even better. And what's best about this chalk mug is that you can customize it all the time!
Materials
Porcelain mug
Pebeo Porcelaine Chalkboard Paint Do not use regular chalk paint (Porcelain paint can be found on Amazon)
Painter's tape
Paint brush
Chalk
Instructions
Step 1: Before beginning, make sure the mug is clean and dry.
Step 2: Using the tape, tape off the designated region you don't want to paint. It's best not to paint the rim of the mug or where you'll be drinking from.
Step 3: With the brush, apply a layer of paint on the mug. Go over white spots if needed.
Step 4: Before the paint fully dries, remove the tape to avoid peeling the edges of the paint.
Step 5: Leave mug out to dry for 24 hours.
Step 6: Bake mug at 300 degrees F for 40 minutes. It is best to avoid preheating. Rather place the mug in the oven as it heats up to prevent the mug from cracking.
Step 7: After the allotted time, turn off the oven and leave the mug in until it cools down to room temperature.
Step 8: Decorate the mug with chalk and it's ready to hold your favorite beverage!
DIY Tea Bags
What goes better with a mug than some handmade tea bags? These DIY tea bags are a great gift for tea lovers, especially for those who enjoy loose leaf tea.
Materials
Coffee Filters
Loose tea leaves
Scissors
A needle and thread
Twine
Stapler and tape
Construction paper
Instructions
Step 1: First take two coffee filters and align them. Cut a rectangle out of the center.
Step 2: Using the needle and thread, stitch the two filters together. Only stitch three sides together for now. Leave an opening to put tea leaves in.
Step 3: Fill the tea bag with loose tea leaves. The amount of tea leaves varies depending on the size of the tea bag. The tea bags are filled half way in this tutorial.
Step 4: Stitch up the opening of the tea bag.
Step 5: Folding over two corners of the bag, insert a 3 – 4 inch piece of twine under one of the corners. Then fold over the top and secure the string and bag with a staple.
Step 6: Cut the construction paper into a desired shape (rectangle, heart, etc.) and tape it to the other end of the twine. This will act as a tag for the tea bag.
Lemon Cookies
Somebody really smart once said, the way to someone's heart is through his or her stomach. So why not give the gift of food this holiday season? These lemon cookies are an easy and delicious gift.
Ingredients
¾ cup of butter
1 egg
2 cups of all purpose flour
1 cup of granulated sugar
2 tablespoons of honey
2 teaspoons of lemon extract
1 teaspoon of baking powder
1 teaspoon of baking soda
parchment paper or wax paper
½ cup of sugar for rolling cookies
Instructions
Step 1: In a bowl, mix butter and a cup of sugar together until the mixture is a creamy consistency.
Step 2: Mix in the egg, honey, and lemon extract
Step 3: Next add the flour, baking powder, and baking soda. Stir until dough forms.
Step 4: Chill the dough in the refrigerator for at least 1 hour.
Step 5: Preheat oven to 325 degrees F. Form chilled dough into small sized balls and roll the rounded dough in the remaining sugar.
Step 6: Place the sugar covered dough onto a parchment paper covered cookie sheet.
Step 7: Bake the cookies for 12 minutes or until they achieve a golden brown color.
Step 8: Let the cookies cool for 5 minutes before serving.
Mixed Tapes and CDs
And if you don't have any time or money for gifts, then a mixed tape or CD is the way to go! Mixed CDs are a great personalized gift for friends and family.
Materials
Blank CDs
Sharpies or markers
Awesome jams that say how you really feel!
Instructions
Step 1: Compile a list of desired songs.
Step 2: Burn playlist onto a blank disc.
Step 3: Decorate the CD!