Haight for the Holidays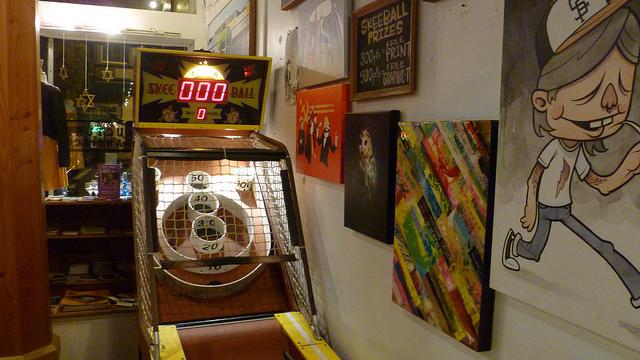 Words & Photos: Babak Haghighi
Money. Power. Free beer. These are the things that drive the human life force, the latter of which was in no short supply at the Lower Haight Holiday Art Walk. "Happy Holidays" is damn right.
Spirits were high, both in terms of mood and alcohol, at this makeshift block party. Free beer, free wine, free live music, free live art, and free good times. The handful of blocks that comprise the Lower Haight turned into the ultimate neighborhood holiday party on the first Friday of December. Shops, restaurants, and bars all had special events to celebrate the holiday season. Many boutiques invited people in for complimentary drinks, as long as they also enjoyed live DJs and local art. Idle Hand, a tattoo parlor, offered "get-what-you-get" tattoos for $60. Burger shops gave patrons free munchies. Every local business seemed to have something special going on. Some businesses took their parties to the streets with live music and art shows. Each store threw its own party, but it brought the neighborhood together in a very special way.
D-Structure, a clothing boutique and art gallery, is one of the hot spots of the Art Walk. The place is packed. DJ Oli spins vinyl upstairs while guests enjoy the showcase of new local art downstairs while sipping on free booze. Others bring their own booze. It's like a house party, only cooler. D-Structure owner Devon Chulick mingles with the crowd as he enjoys his own party, perhaps the most popular on the block. Next door, a folk band plays some tunes on the sidewalk in front of their apartment. The crowd dances accordingly.
San Francisco State University student Wesley Deimling arrives at Lower Haight. This night isn't formal by any means, but it's one hell of an introduction to one of San Francisco's hippest neighborhoods. Deimling grabs a six-pack from the local grocer and hits the streets.
"The only thing I didn't like about the event is that I didn't show up earlier," says Deimling.
Deimling arrived at Lower Haight at around 10 p.m., towards the end of the Art Walk, which started at 6 p.m. Although things were supposedly "dying down," the party was still in full effect. Shops stayed open late and there were plenty of after parties.
"The vibe felt a lot like a music festival," says Deimling, "except a lot less expensive and in a cooler location. Each shop was its own stage, and each piece of art was its own song."
Various shops' walls were covered with local art of all styles, from oil paintings to stencil art to photographs, and everything in between. In all of these shops and on the street, everyone seems to have beverages in their hands and smiles on their faces.
Beer in hand, Deimling walks into P-Kok. On a regular day, P-Kok is a quirky fashion boutique. On this night, it's a dark-room art show turned dance party. To the left of the entrance, a plastic table holds an abundance of beer, wine, and liquor for all to enjoy in typical house party fashion. A DJ spins her favorite beats in the back while people dance their feet off in the middle. Nearby, local artist John Benko puts finishing touches on a fresh painting that Deimling can only describe as a "panda on acid." Benko insists it's a polar bear. His art is displayed all over P-Kok's walls. Impressed by Benko's art, a man asks him to paint his face, to which Benko kindly agrees, as he did to many others earlier. "Do you accept tips?" the man asks. "Yeah sure," laughs Benko. "I'd be glad to take your money," he says as he pockets a lone dollar bill.
Nearby, a Seattle Seahawks fan does the unthinkable and shows his face in division rival 49ers territory. This sparks a heated but friendly debate between him and a Niner-loyal local. They flash each other with their team's respective swag before realizing that they were both here for the same reason—to have a good time.
"There was a real sense of togetherness that this city doesn't seem to ease up on," says Deimling about the event. "It was easy to forget that we were walking along a busy San Francisco street and not some sort of eccentric museum grand opening."
A few doors down, Nickies bar and restaurant holds the official Lower Haight Holiday Art Walk after-party, but it pales in comparison to the party at P-Kok. Regardless of the venue, the Art Walk provides good vibes to anybody looking for them.
Lower Haight holds similar events throughout the year, but the standouts are the Summer Art Walk and the Holiday Art Walk. These cherished traditions shouldn't be going anywhere anytime soon.
"There's nothing better than free drinks," says Deimling. "Except when accompanied with free music, great people, and amazing art."
It's hard to imagine a better way to celebrate the holidays.