In the Friendzone: Rap's most unlikely contenders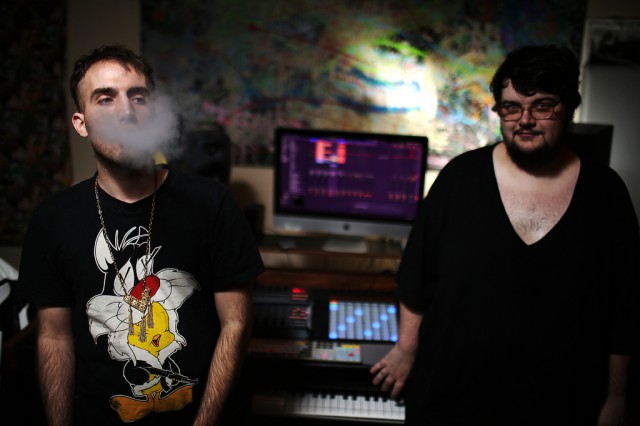 Written by Tom Rizza
Photos by John Ornelas
There is a house – a large house – on a hill in a gated community in Pleasanton. Winding through a maze of McMansions, it would be no surprise that white, sheltered, twenty-somethings live there. The assumption is they probably don't have full-time jobs and are living off their parents' success, like most of contemporary, American slob society.
This couldn't be further from the truth.
This is the home of Dylan Reznik and James Laurence, collectively known as Friendzone.  They're members of a new wave of artists that are changing the perception and feel of hip-hop.
"Two random people like us could never have worked with someone like Tupac back in the '90s." says Reznik. "It was it's own world and it wasn't open like it is now. The Internet opened it up."
Since the release of their first full-length album Collections I in 2012, the duo has ridden a hype stream to success. Their work is featured on A$AP Rocky's newest album Long.Live.ASAP on the track "Fashion Killa." Some of their tracks will be appearing as bump music on Adult Swim.
They attribute this success to the Internet and being in the right place at the right time. Twitter and Soundcloud has allowed them to reach out and collaborate with artists across the globe, such as Ryan Hemsworth (Nova Scotia) and Yung Lean (Sweden).
"You don't need to build up a local following anymore. That's not what it's about," says Reznik. "Like kids from the Midwest. They don't have a lot of shows but they collect music like it's comic books."
They met Oakland rap duo Mondre M.A.N. and Squadda B of Main Attrakionz through Twitter.  Collaborating with all of the artists featured on their Kuchiburu Network 3 tapes, wouldn't have been possible without reaching out online.
Reznik and Laurence have been making music in various capacities, both together and in separate projects, since they were in high school in the early 2000s. From hardcore punk to experimental noise, their range seemed limitless. While hip-hop was relevant to their tastes at the time, they never considered making it.
"Right after high school I was getting really into old school hip-hop like Nas and A Tribe Called Quest, but never considered making it until Lil B," says Laurence. "When I first heard Lil B, we both came across him at the same time, and we said 'oh shit this is music we can do. This is touching.'"
For Reznik, Lil B shattered hip-hop's barriers.
"Rap seemed like a very closed art form," says Reznik. "All of a sudden that was out the window and it was so obvious that there was an incredible amount of things you could do. People hadn't scratched the surface."
In the mind of an average music fan, two white kids from the suburbs does not equate to hip-hop producers. Hip-hop's origins are set in contemporary, Black urban America. Lil B and social networking, for Friendzone, pioneered a new landscape for hip-hop where only one thing matters: Can you make people move?
After having their hearts and minds opened, Friendzone put together A.L.L/JD, their debut to the hip hop scene. On the surface, it doesn't sound like hip-hop. The tracks have snares and bass. The similarities end there. A.L.L./JD sounds more like cuts from an Aphex Twin album than anything Dr. Dre or WuTang's RZA have produced. But that's the point. It doesn't matter. That mold doesn't exist anymore.
With anything new, there's pushback. Coming from the noise scene, Reznik and Laurence say their fanbase was thrown off by the newest experiment.
"There was a lot of stigma in musical circles that we were involved in about making melodic music for the masses," says Reznik. "That's what made it exciting to me. It was like noise music to noise music people."
"I remember showing songs to some friends and they were like 'What the fuck? Why don't you make Black Metal?'" adds Reznik with a laugh. "And I was thinking 'you don't even know about this yet. This shit is coming. That shit that you're doing is retired.' Thats how it happens. Things move cyclically.'"
Friendzone's new album DX, set for release on Oct. 8, is a departure from the dark, sometimes erratic, yet pretty tones of Collections I. Instead, listening to DX is a euphoric and daring experience from a group still trying to define its sound. The result is a much needed breath of fresh air for a genre with a whole lot of been there, done that. Friendzone is proof that it's an exciting time to be a hip-hop fan. Stay tuned.
DX is scheduled for release on Oct. 8 and is available at friendzone.bandcamp.com Listen to tracks for free at soundcloud.com/friendzone and follow them on Twitter @_FRIENDZONE.
Leave a Comment