Cool Ghouls: They Are Scary Good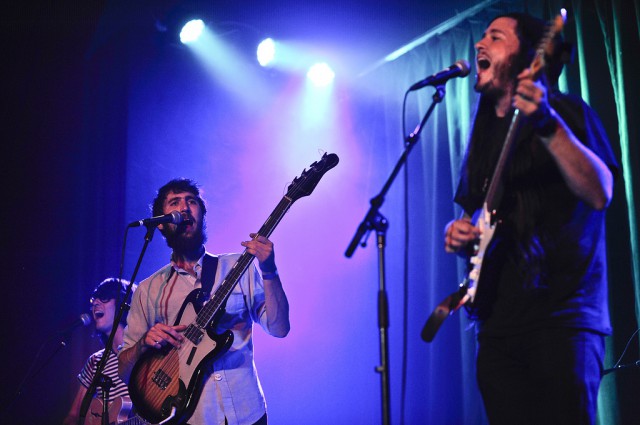 Written by Macy Williams
Photos by Benjamin Kamps
If the Rolling Stones had a baby with Motown, and the babysitter was the Beatles, Cool Ghouls would be the epitome of that offspring's sound.
Well, according to the band's guitarist and singer Ryan Wong, that is.
Since the Cool Ghouls landed on the San Francisco music scene in early 2011, they have become local favorites to students and city dwellers alike. The boys give new meaning to indie retro rock, adding their own twist to music reminiscent of the past.
Their musical influences aren't the only part of the Ghouls that go way back. Band members Pat Thomas and Pat McDonald—yes, two Pats—have known each other since the fourth grade. They later met Wong while he was in his freshman year of high school.
When McDonald went on to SF State, he met the fourth member of the Cool Ghouls. "I went to visit Pat in San Francisco and that's when I met Alex Fleshman, who was apart of this really cool group of friends who all hung out in the DSA," says Thomas, who attended UC Santa Barbara. "These kids were all really smart but they also liked to party."
Soon enough, the four guys were making music. Just months before coming together, McDonald had discovered a band name with a lasting impression. "I was hanging out at a friend's apartment watching a DVD of a Parliament Funkadelic live concert and in between songs George Clinton said to the crowd, 'How y'all cool ghouls doing?'" McDonald says. "I thought that was a really cool name and I kept it in mind even before the band started."
Friends wanted to hear more of the band, asking when they could see upcoming shows. "It didn't feel like we were getting popular at any particular point," Thomas says. "It was the positive feedback that we were getting that made us feel really good about we were doing."
Creating the songs that put the Ghouls on the map is always a collaborative effort. "We start to write songs by ourselves on our own time," says Thomas. "When we bring them to each other, they aren't done yet, which I like because the other guys may have other ideas. I don't necessarily want to answer all the questions I have myself."
The band has noticed that the more they progress, the more equally everyone puts input into the music.
"After the phase of writing the lyrics, everything else is created organically," Wong says. Sometimes listeners say that they can't tell the difference between songs that Thomas and Wong write. "That just shows that we are on the same page," Thomas says.
The Ghouls are also on the same page when it comes to their proudest accomplishment as a band thus far: It was when Empty Cellar Records released the Cool Ghouls' first self-titled album. "Just seeing the album that we created engraved into this thing, this vinyl, it was amazing," says Wong.
Thomas feels that the first album will leave a lasting impression. "It's cool how permanent it is," he says. "If I get hit by a bus, and the rest of the band gets hit by a bus, this record is still going to be here."
The Ghouls wasted no time celebrating after their first release. "When the test pressing of the record came in, we had an awesome time barbecuing and getting drunk and basically just celebrating ourselves," Fleshman says. "The shipment of the records was a defining moment in my life. It was proof of what I have been trying to do for the past decade, for most of my life."
Listeners are not the only people giving the Ghouls the positive feedback they love. The likes of Nylon.com and 7×7.com, amongst many other publications, have taken notice of the group.
After the first flood of positive reviews and feedback, the Cool Ghouls are now recording their second album, expected to be released in 2014. Although they are in the midst of making their sophomore record, they promise a few surprises. "For the first album, we recorded all the tracks and instruments individually," says Thomas. "This time around, we are all playing live together at the same time."
When asked what their fondest memory as a band is so far, the Cool Ghouls are hesitant to answer. "This is still happening, we are still in the moment," says McDonald. "It's not time to reminisce yet."
So what can listeners look forward to in the future of this supernatural phenomenon? "More shows, more albums, we are just going to keep doing what we're doing," says Thomas, "Its only going to get way cooler. It's going to get more vibrant."
For future show dates and more information check out the Cool Ghouls at coolghouls.tumblr.com.
Leave a Comment