Deck The Malls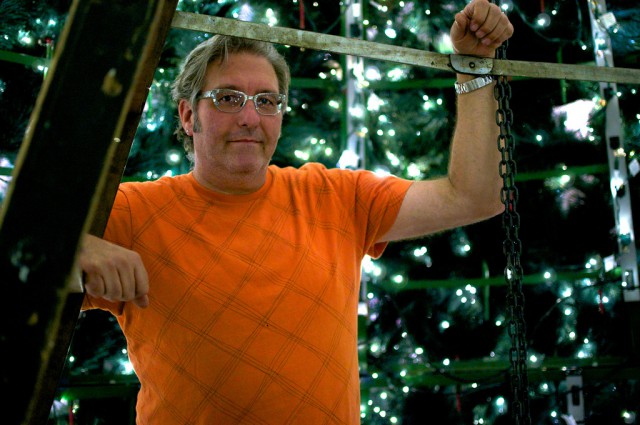 Written by Macy Williams
Photos by Kate O'Neal
Late at night, hours after shoppers have swiped their credit cards at Stonestown Galleria, a man and his team are hard at work transforming the mall into one of the most festive locations in San Francisco.
The story usually goes, "Twas the night before Christmas." What most city dwellers do not realize is, most of the magic happens long before that night—just ask Edward Dahl, owner of visual communications company, After Science.
"I pride myself on the details," says Dahl, who has set up the towering forty-foot-tall Barrango tree in Stonestown fifteen times now. He has also decked the halls of Ghirardelli Square, Capitola, Carmel and Serrano shopping centers.
Opening the secret trap door to the massive tree and entering the hollow center filled with efficient LED lights, Dahl looks over his work with pride.
"These branches are twenty years old," he says. "We are different from other companies. Instead of just yanking the branches out of the packaging and throwing them up there, we touch up and fluff each and every piece."
The process of decorating shopping centers is not an easy one. Dahl and his team work through the night over the course of five days. What makes the process all the more enjoyable for Dahl? After Science is a family affair.
"Our kids have worked with us since they were little," says Dahl's wife, Rebecca Womble. "It is amazing that we can work together and get along so well."
Womble couldn't be more proud of how well her children Taylor, Morgan, and Gabe, work in their father's environment.
"We all know what we are good at, we all have our own thing," she says. "We never have to micromanage."
When he's not dressing San Francisco in Christmas charm, Dahl is also a teacher at the Fashion Institute of Design and Merchandising, where he gives opportunities to newly graduated students to participate in the decorating.
"When I started teaching, I was scared as shit," he says. "The head of the department asked me if I could teach a visual communications class and I was terrified."
Once Dahl began, he realized that teaching was his calling. As he is speaking of his students, a pupil texts him at ten 'o' clock regarding a homework question. Dahl gives his students 24/7 access to ask him anything pertaining to their studies.
"Teaching is my spark of life," he says. "I trust my students and I treat them like equals. I just know more things because I have been doing this for longer. Most of those kids have more talent than me."
There's a reason why Dahl's students continue to work with him after graduation. Joanna Andreoni, a FIDM visual communications graduate, has the utmost respect for Dahl.
"Ed doesn't do anything by the book," she says. "He's an incredible mentor…and he's really crazy, in a good way."
Dahl has been working in visual communications and merchandising for over twenty years now, creating everything from holiday installations for Emporium Capwell to runway shows for local fashion designer Ilanio. Dahl's talent comes from experience; he never attended any formal design school.
When asked what he does in his spare time, Dahl laughs. "I'm doing this," he says as he gestures to the hustle and bustle of the holiday installation behind him. "I have to be constantly creating or I will combust."
Leave a Comment